Trending:
What Dante's Inferno could look like: artificial intelligence shows eerie footage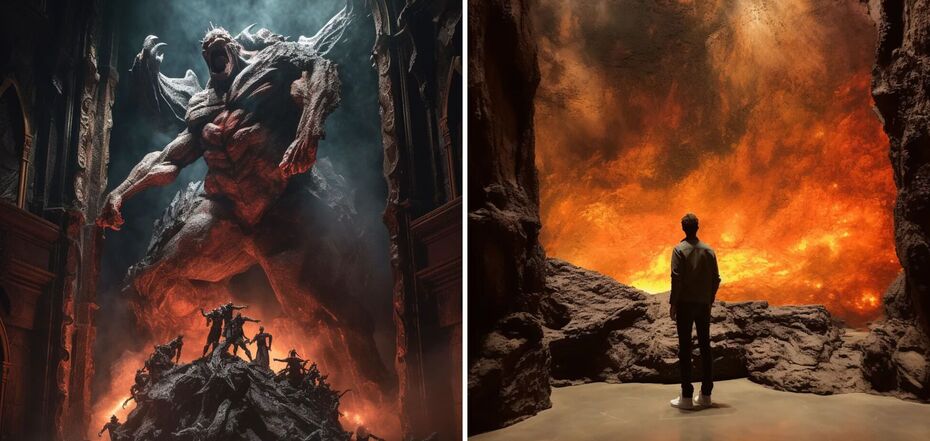 The author called his work an exciting and unforgettable adventure
The Divine Comedy, a philosophical and fantastical poem by the medieval Italian poet Dante Alighieri, went down in the history of world culture for many reasons. One of them is the incredibly detailed image of the otherworld, through which the protagonist travels in search of God. Even people who have not read this masterpiece are familiar with the concept of the circles of hell that Dante outlined in his work.
According to the poet's idea, the container of sinful souls is divided into 9 circles, each of which is a punishment for different types of guilt. And in the centre of this giant funnel, Lucifer, frozen in ice, torments the greatest sinners - traitors. The emergence of neural networks that can create images according to specified parameters prompted a Reddit user under the nickname Willy_B_Hartigan to try to depict Dante's hell. (To see the image, read the news to the end)
Many illustrators have created their own vision of this terrifying location. But the Midjourney neural network, which the author used, makes such images particularly effective.
"An impressive realistic journey through the depths of Dante's Inferno. Vividly rendered scenes unfold as you travel through the infernal confines. Witness ghostly landscapes of fire and brimstone, rising demonic creatures, whirlwinds of hellish storms and lost souls trapped in eternal torment. The immersive experience captivates with the grandeur and darkness of Dante's vision, inviting viewers to an exciting and unforgettable adventure," Willy_B_Hartigan described the results of his work. He also said that he used the Midjourney 5.1 version for generation.
Earlier, OBOZREVATEL showed how artificial intelligence depicted Volodymyr Zelenskyy and other politicians as cartoon characters from Pixar.
Subscribe to OBOZREVATEL's Telegram and Viber channels to keep up with the latest news.