Trending:
What a secret bedroom looks like aboard a Boeing 777 passenger plane. Photo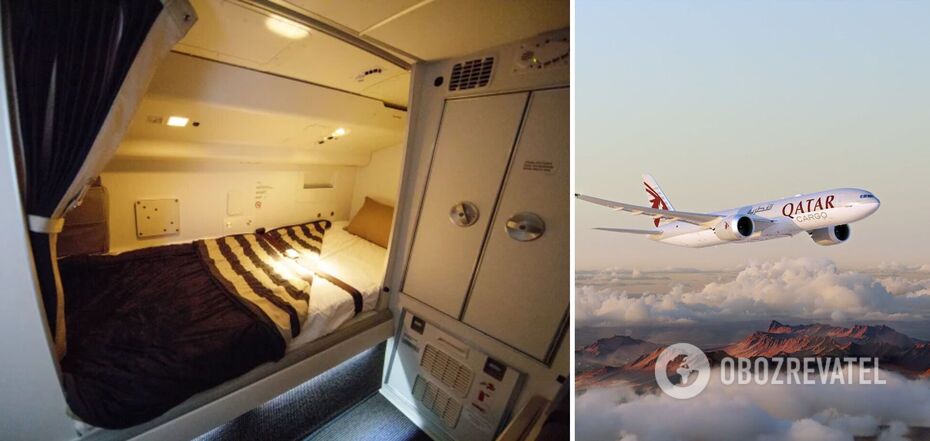 There are bedrooms for stewards and even pilots on long-haul flights.
During long flights, most airplane passengers are resting, sleeping in their seats, watching movies, and chatting. Meanwhile, flight personnel are busy working all the time. But it can't be the case that they can't rest for the entire hours of a flight.
The Sun has answered this question by publishing a photo of the secret room that Qatar Airways has set up on Boeing 777 airliners for flight attendants to rest. And it looks like quite a cozy bedroom.
This room is located in the back of the plane. It has single beds separated from the cabin by curtains. And even the pilots can use them on long flights, which last up to 16 hours.
It is known that similar rest rooms are on the planes of other carriers. Sometimes stewardesses and stewards share photos of these rooms in social networks. For example, travel expert and TikTok user Michelle, who uses the nickname laxtoluxury, said that on the Boeing 787 Dreamliner the crew lounge is upstairs behind the cockpit, and a hidden staircase leads to it.
Qantas First Officer Rob Noonan also showed off some of the hidden areas of the plane that passengers don't often see, particularly the sleeping areas, which are only open to crew members. "On a flight it's important to get a good night's rest, so we have a little secret crew rest area that's hidden in the ceiling above the cockpit. The pilots have a place with one bedroom up front and there are two bedrooms in the back for the flight attendants," he said. So flight personnel do have the opportunity to rest during long work shifts.
As OBOZREVATEL wrote earlier, a flight attendant revealed what code names flight personnel give to passengers to determine who should be served well and who doesn't deserve it.