Trending:
Were crabs and sharks on Mars? NASA's Mars rover showed unusual photos from the red planet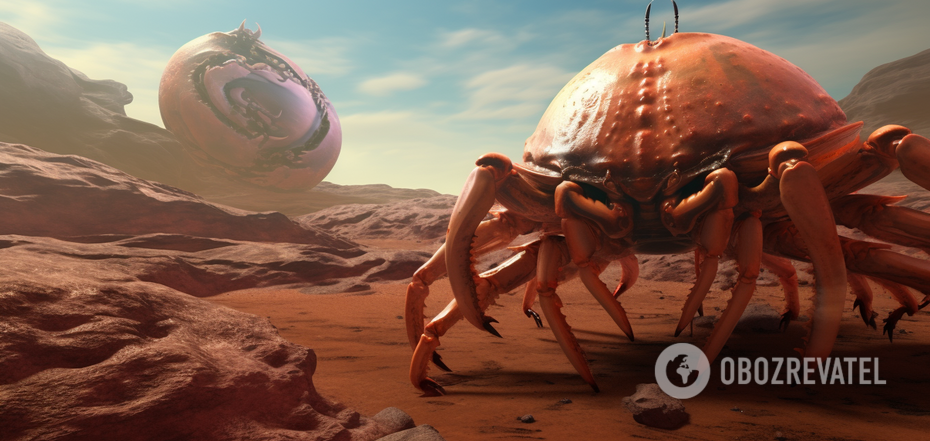 New photos of the rover Perseverance reminded users of social networks about the sea
The Mars rover Perseverance has been tirelessly exploring the surface of the Red Planet for more than two years, delighting fans of space mysteries with interesting images from its surface, and scientists with various data about its environment. And sometimes these photos show really unexpected objects.
As writes the publication IFL Science, in June NASA showed several photos of the stone, made by one of the cameras of the rover, and the block reminded users of social networks a huge donut. It does indeed have a rounded shape and a hole in the middle. But in late August, images of two rocks that look like parts of sea creatures appeared on the mission's X page (formerly called Twitter). (To see the photos, scroll to the end of the news)
The triangular rock on the left looks like a shark's fin, while the oval rock next to it, with a horizontal cleft in the middle, looks like a crab's claw. Given the long-standing speculation that there was once water on Mars, such a find may seem very promising.
But scientists have explained this similarity in a slightly different way. The phenomenon when our brains begin to see familiar shapes in random objects, like a shark's fin or a crab's claw in a rock, is called pareidolia. It's a tendency that evolution has rewarded us with so that we notice potential danger as quickly as possible. It is better to mistake a stick for a snake or a bush for a bear and run away from an imaginary threat than to actually encounter these dangerous animals. Those who were able to see such visual patterns were more likely to survive and pass on their genes and so this trait could take hold.
At the same time, pareidolia often causes us to see things that don't really exist. Some people use this phenomenon to develop their imagination, inventing what clouds in the sky look like, for example, some people search for supernatural and divine signs in this way, and some people start to see earthly objects on Mars.
Earlier, OBOZREVATEL told about the trace of a giant "bird" discovered on Mars, and what it actually turned out to be.
Subscribe to OBOZREVATEL channels in Telegram and Viber to keep up to date.