Trending:
'Walking under bullets to a friend': Azov fighter gave up the World Cup and broke through to besieged Mariupol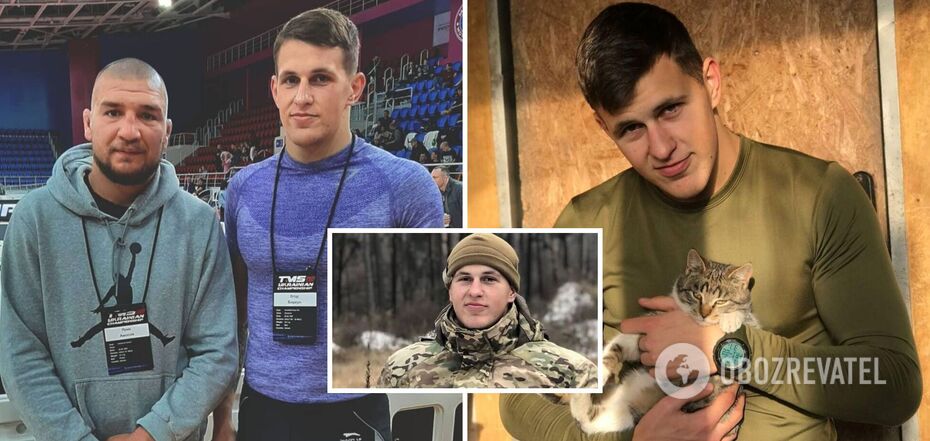 Egor Birkun defended Mariupol
A year ago on these days, the heroic defence of Mariupol against the Russian invaders, who were trying to raze one of Ukraine's industrial centres to the ground, had already begun. The European MMA champion and fighter of the legendary Azov regiment, Egor Birkun, was not in the city - his contract expired in 2021, and he was preparing for the World Cup. But in early March, he managed to make his way to Mariupol and stood up to defend it. And a few weeks later, he died in a hurry to see his wounded friend...
OBOZREVATEL decided to tell the story of one of Azov's best soldiers, a loyal friend and athlete who was predicted to have a brilliant future. But Egor, whose call sign was "Bir", could not stand aside after February 24 and gave his life for Ukraine.
The best of the young
"I got acquainted with Bir in 2018. Winter, February, Atek. We passed the commission. After that, we went to one of the bases to wait for MRT (Military recruit training). During the 2 months of waiting for the selection, we became friends, so we supported each other during the trials," said the Kryvyi Rih fellow Azov soldier on Instagram.
Egor passed the course better than anyone else, so he could choose the unit he would serve in.
"But Bir decided to stay with the guys in the artillery, where all those who could stand up were sent. I remember how we got to the city on the first weekend after the MRT. It was the anniversary of the liberation of Mariupol. Khrystyna Soloviy came, and we were in the front row singing her songs," the soldier added.
Even in the army, Egor, according to his comrades, was a keen athlete and continued to keep fit. While serving, he took part in various tournaments, including boxing.
"I always tried to get to the top of the competition. I remember that we always agreed to go to the gym to fight with words: "Burba? Burba!" And he died fighting for the sovereignty of his land!" - the comrade emphasised.
Birkun served in Azov for three years and made friends in Mariupol. But after the end of his contract in 2021, he decided that military life was not for him. But sport was his element.
"He didn't look like a beast"
Birkun, 24, was a native of Kryvyi Rih, where he graduated from the 81st Lyceum, then studied at a metallurgical college and Kryvyi Rih National University. Intelligent, well-read and serious beyond his years, he could have made a career in many fields, but chose martial arts.
"Even as a child, Egor was very responsible, loyal and genuine. I liked that he was a thinking and reading boy. We exchanged literature and talked about various topics. He wanted to discuss not only children's topics, but also psychology, history, and documentary literature. Egor was very sociable and friendly. I am very proud of him," said the fighter's first coach Serhii Sukhynenko.
His generous physical and technical skills, tremendous diligence and analytical mind made Birkun an excellent fighter.
"I don't stop when I'm tired. I stop when I'm done" - this was the principle of the athlete.
After completing his contract with Azov, Egor returned to Kryvyi Rih and began to train hard, planning a successful sports career. At the same time, he worked as a coach at the local Viking club, where he started going in 2020 when he came home on holiday.
"When I walked into the gym... A healthy guy! At that moment, everyone was raking from him. His right punch felt like a blow to our head," Serhii Lytvynov, one of Viking's coaches, recalled with a smile in a conversation with history.1kr.ua.
Everyone in the club was impressed by Egor's high fighting IQ. According to Roman Akhremchyk, Birkun was able to analyse his actions during the fight and could change the plan of the fight.
"Egor listened to what we were saying. Because he listened well, he repeatedly ended the fights early. I remember two outings well. He fought with a guy at the regional Patriot competition. I said a combination, he heard me and won by knockout in the second round. And I remember a trip to Verkhnodniprovsk - he also boxed the first round there, during the break we told him what to do and how, and Egor came out and finished the fight early," Roman recalled.
In the autumn of 2021, Birkin became the European MMA champion, and on March 23, 2022, he was to compete at the GAMMA World MMA Championships as part of the Ukrainian national team. And not just participate, but win. But all his plans were thwarted by the bloody Kremlin regime when it launched a full-scale invasion.
According to one of Egor's friends in Azov, after February 24, Bir could not find a place for himself in his native Kryvyi Rih, when he realised that his comrades were fighting off hordes of Russians. He could not stand aside while the enemy was destroying Ukraine. Although he was very kind by nature and did not want to kill anyone.
"He didn't look like a beast at all. You couldn't tell from him that he had been at the front and fought. He was a kind, honest person. He was so kind... You know, there was never any talk in the room about the war or that we should destroy someone. It is now that hatred of Russians has appeared. We never heard that from him," Akhremchyk said.
The last battle for AZOV
At a time when everyone was trying to get away from Mariupol, which was being shelled with all kinds of guns, Birkin managed to get to the city in early March and join the ranks with his comrades.
"An artilleryman had to become an infantryman in a few days... During the full-scale invasion of Ukraine, the enemy did not slow down for a minute. The encirclement of the city, the work of the artillery, navy, and aviation could not suppress Egor's morale," his Azov comrade recalled.
"We will win the Ukrainian state or die fighting for it", "Only until victory" - these were Egor's last posts on Instagram when he was in Mariupol.
The athlete wrote about how difficult it was in the besieged city in his notebook on his phone. One of his entries was shared with the Pershyi Kryvyi Rih editorial team by the deceased soldier's fiancée, Yulia.
"Mariupol is being taken in a ring, and perhaps I will never leave it again, but since it was destined to happen, I decided to accept death like a man. With a fight and enemy losses. Now 10 days have passed since the beginning of the war, and our positions are far from being the best. The city is in a deplorable state, and we are cut off from basic amenities such as water and electricity. And soon, I feel, there will be problems with food," Birkun wrote.
"Probably not a single day goes by when I don't think about death. Some days this thought just passes by somewhere, and sometimes it gets into my mind and causes panic. I don't know how it will end. I will reconsider all my views on life, I really want to survive and return home, marry my beloved girl, hug my mother and live a peaceful life. But I don't know if I will survive at least this night..." - these were Egor's thoughts.
But the champion was not destined to hug his mother and marry. He died on March 22, rushing to help his wounded friend.
"The day. The central district of Mariupol. Fierce fighting along the entire frontline. The weather is atypical for late March - warm, sunny, but everywhere there is a smoke screen with the smell of gunpowder from artillery shelling and huge craters from air bombs. Bir hears on the radio that our brother, Legend, has been wounded. Without wasting a minute, he ran to help," Egor's friend wrote on Instagram.
"Running across the road, he was shot in the legs and bled to death, unable to put on a tourniquet. I found out about it only a few days later and could not believe it for a long time. Are we not going to eat hinkalki anymore? We will no longer see him with another gold medal? Was he really dead? But it is true... Bir is no longer on this earth, but he is forever among us! Glory to the Hero!" said his comrade-in-arms.
STONE WALL
Despite the fact that Birkun died in March, the hero was buried only on August 8, and on the 9th he would have turned 25. His native Kryvyi Rih greeted the soldier's body on its knees. And the city's billboards featured a picture of the still-smiling Bir.
"I always dreamed that you would be on billboards, that everyone would look at you, be proud and look up to you, and it happened, but... I thought that your picture would hang in the city centre because of your achievements in sports, I never thought that the war would come and take you away from us! Now your photo is all over the city and the web, you are a hero everywhere, a hero of your country! I will always respect, appreciate and remember you. I will do everything you told me to do," Karina, the soldier's sister, wrote on Instagram.
Perhaps because Birkun was an older brother, he got on so well with his young students. Egor's death was a big blow to his students. One of them was Bohdan Kuz, who always felt supported by his coach: "It's very nice when you go out to fight and there's a stone wall behind you. And you realise that you have to fight for it. Hearing his words of praise was incredible, I fought for those words to the last, even when I wanted to give up."
Now Bohdan wants to continue Egor's work. He doesn't know yet whether it will be in sports or the army, but he will fight for the hero to the last.
Neighbours remember Egor as a very bright, kind and courageous guy. He never refused to do anything and always responded to requests for help: "We will remember him as he was - always smiling."
Egor's comrade-in-arms, call sign Zheleznyak, said that Bir was indeed the best in everything: "He did not have any particular areas of expertise, Egor was the best both physically and at the training grounds and shooting ranges. He was calm and balanced. On the eve of his death, he told me his plans for life, but this is war..."
"Friendship at the cost of a lifetime. I would do the same in your place. I would go to you under the same bullets as you went to me, brother! You are a real warrior! You are a real hero! To be a warrior is to live forever! See you soon, dear," wrote Egor's friend Dmytro, to whom he rushed to help. Fortunately, he survived and was evacuated from Mariupol.
Earlier, OBOZREVATEL reported that a Ukrainian cyclist and father of two died of blood loss in Mariupol.
Only verified information is available on the Obozrevatel Telegram channel and Viber. Do not fall for fakes!