Trending:
Venus will bring love adventures: what the horoscope promises for all signs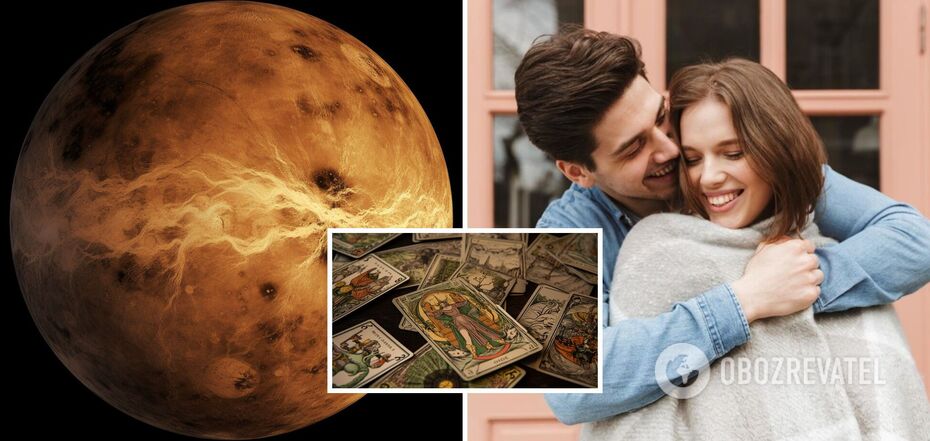 On May 7, Venus will move into the emotional and intuitive sign of Cancer. This transit will last until June 5 and will create a cozy stable atmosphere for relationships and sincere conversations.
According to astrologers, some signs will feel a desire to get away from the outside world and spend time only with family and a partner. More about who May will bring love adventures, and to whom - fateful meetings, told the Tarot cards.
Aries
Tarot card: Three of Wands.
Don't plan anything. Because all plans will go awry when your life is filled with unexpected and surprising events. The Three of Wands shows that an incredible opportunity is coming, and you need to be ready for change.
Taurus
Tarot Card: Nine of Cups
It's time to make a wish - one for two. This is your window of opportunity to join forces, create shared goals or visions for your future and join together to make it happen. The Nine of Cups indicates the realization of goals.
Gemini
Tarot Card: Hanged Man.
Use this season of Venus in Cancer to ask your partner questions that have never come up before. Try to understand, and make sense of an opposing point of view, values, or outlook on life so. The conversation will help develop your relationship in the best way possible.
Cancer
Tarot Card: Death.
Don't be frightened. Death is not the end of everything. It is a renewal, rebirth, and liberation. Something will disappear and end only to have something better come into life. Don't cling to the old. You need to heal from past hurts.
Leo
Tarot card: Ace of Swords.
You're in for a grand momentous conversation that will change a lot of things in your relationship. The Ace of Swords shows that with truth and sincerity, you will save your feelings.
Virgo
Tarot Card: Five of a Coin.
This card asks you to leave a traumatic relationship behind and move forward without heavy baggage. You need to find ways to heal.
Libra
Tarot Card: Three of Cups.
Get ready to party and celebrate with your loved one. The three cups invite you to relax, unwind and enjoy a nice time. Go on a trip, have a date, book a vacation, and do anything that gives you pleasure. Bring joy and fun into your relationship.
Scorpio
Tarot card: Five of Swords.
A little storm is brewing in your personal life. Don't turn it into a raging storm with harsh words and accusations. Don't add fuel to the fire. Then focus on finding a solution to the root cause.
Sagittarius
Tarot Card: Fool.
It's time to start over, to turn the page, to find a new path. The Fool is the patron saint of new beginnings. Things are always changing, but it's a change you both agree to and control.
Capricorn
Tarot Card: The Jack of Coins.
The Jack of Coins is a card of learning. You can achieve something important if you take the time to educate yourself and improve yourself. The cards recommend developing together with your partner: enroll in interesting courses, go to lectures, go on an excursion, or travel.
Aquarius
The Tarot card: Ace of Cups.
You're in luck. The Ace of Cups is the main card of love. No matter how difficult the situation in your personal life is right now, things will get better very soon. The changes will be incredible: it could be a marriage proposal, news of an addition to your family, an engagement, a marriage, or a life-changing acquaintance.
Pisces
Tarot Card: Seven of a Coin.
You feel calm and comfortable, but you will have to go through important changes in your relationship. The seven coins are a card of renewal and transformation. Be open to change and improvement.
Previously OBOZREVATEL published a horoscope Tarot for all zodiac signs on the eclipse.
Subscribe to OBOZREVATEL channels on Telegram and Viber to keep up with the latest events.