Trending:
Ukrainian amateur astronomer has discovered a new comet that was hiding in the brilliance of the Sun. Photo.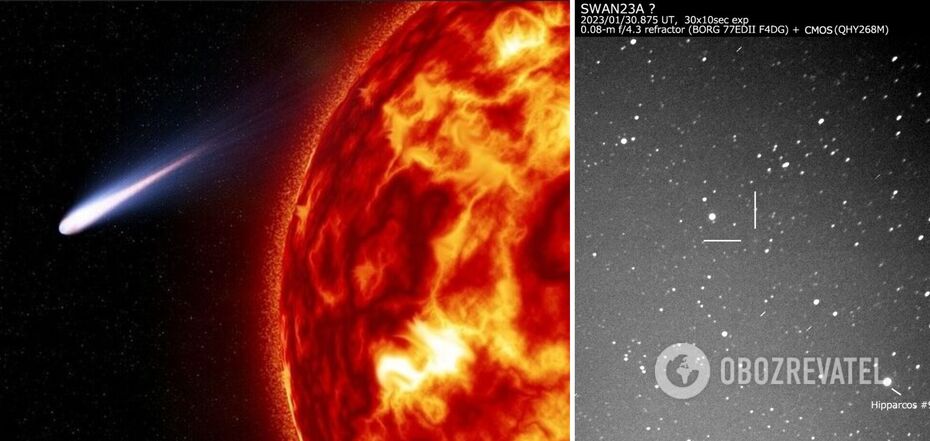 The comet was discovered when it was too close to the Sun to be observed from Earth
Volodymyr Bezuglyi, a Ukrainian amateur astronomer from Dnipro, has discovered a new comet C/2023 A2. He made the discovery by studying images from the SWAN instrument installed on board the SOHO space solar observatory.
According to the Telegram channel Nebo Segodnya | Astronomy, the discovery of the Ukrainian was officially announced in the published circular of the Minor Planet Centre No. 2023-D49.
It is noted that Bezuglyi notified the astronomical community of the discovery of the moving object in SWAN ultraviolet images taken between 6 and 13 January.
"By persistently alerting the astronomical community and tracking the comet throughout January in additional SWAN images when the object was too close to the Sun for ground-based observations, Bezuglyi was eventually able to convince others (astronomers. - ) to find the image in the STEREO A exposure, as well as in images taken from Earth, which captured the comet's appearance after it had moved out of the sun's glare," the circular said.
At the time of Bezuglyi's observation of the comet, it was located in the constellation Eagle, near the border with the constellation Serpentus, and had a brilliance of about +12 magnitude.
According to preliminary calculations, the comet moves in a very elongated elliptical orbit and orbits the Sun in the opposite direction to the planets of our system. On January 19, 2023, the comet has already passed its perihelion point, approaching the Sun by 0.9 AU.
The comet discovered by the Ukrainian is no longer available for observation in the middle latitudes of the Northern Hemisphere.
It is worth noting that this is not the first time Bezuglyi has discovered comets. From 2005 to 2015 alone, the Ukrainian amateur astronomer discovered or co-discovered at least five more comets.
Earlier, OBOZREVATEL reported that scientists managed to see a perfect explosion in space, which makes no sense and contradicts the laws of physics.
Subscribe to OBOZREVATEL's Telegram and Viber channels to keep up with the latest news.