Trending:
Ukraine is warming, but part of the country will be covered with rain: forecasters gave the forecast for the beginning of the week. Map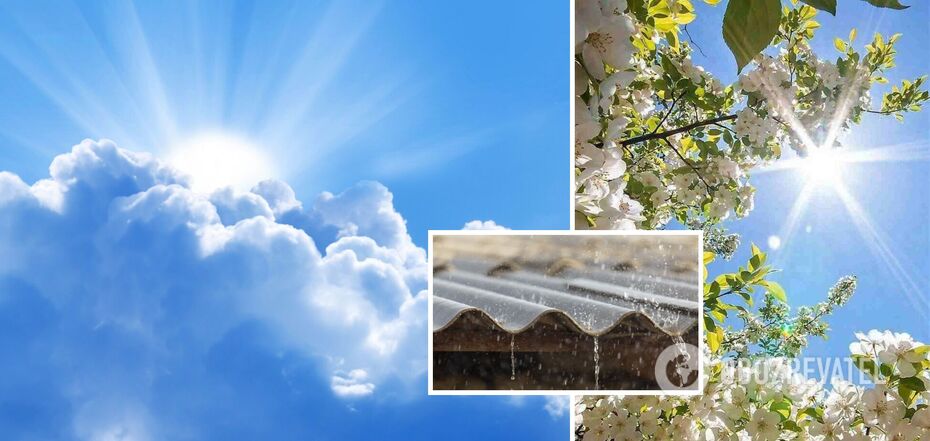 Early May will bring a significant increase in temperature to +19 degrees in Ukraine. Also, almost all the territory of our country will stop raining.
On the first day of May small short-term precipitations are possible only in the east of Ukraine. This was reported by the Ukrainian Hydrometeocenter.
According to forecasters, from May 1 to Ukraine will come a significant warming to +15+19, and the termination of precipitation. Only in the east of the country in some places, there will be rain.
Ukrhydrometeocenter reported that on May 1, short rains will occur in Poltava, Dnepropetrovsk, Zaporizhzhia, Kharkiv, Lugansk, and Donetsk regions. It may also rain a little in the Kherson region and the Crimea.
Rains will not affect significantly the air temperature - in the east and south of our country, the thermometers will show +13 ... +18 degrees.
In the rest of Ukraine will be variable cloudiness. The highest temperatures are expected in the Zakarpattia region - up to +20.
In Kyiv on May 1, it will be mostly sunny. Daytime temperatures will warm up to a comfortable +17 degrees.
On Tuesday, May 2, the rains will recede from some areas. There may still be some precipitation in Kharkiv, Luhansk, and Donetsk regions and Crimea. The air temperature will continue to rise throughout Ukraine and in many areas will exceed +20 degrees.
In Lviv, Ternopil, Volyn, and Transcarpathian regions will be warmer up to +22 degrees. Precipitation is not expected in the west, south, center, and north of the country.
In the Ukrainian capital, May 2 will be mostly sunny. Nighttime temperatures will be 6-4 degrees above zero, and during the day the thermometers will show +17 ... +19 degrees.
On Wednesday, May 3, rains will move to western Ukraine. Precipitation is expected in Zakarpattya, Lviv, Chernivtsi, Ternopil, Khmelnytsky, Rivne, and Volyn regions. The air temperature in these regions will warm up to 15-19 degrees.
In the rest of our country will be variable cloudiness. The night temperature in some places may drop to 3-5 degrees below zero, but during the daytime, a comfortable 17-19 degrees above zero is expected across Ukraine.
In Kyiv on Wednesday will be dry, at night the thermometers will drop to +6 degrees, but during the day in the capital comfortable +19 degrees is expected.
Recall that meteorologists believe that in the first decade of May 2023, the weather in our country will be quite contrasting.
According to estimates from the US National Oceanic and Atmospheric Administration and the European Center for Medium-Range Forecasts, the spring in Ukraine will be warm. The average temperature may be 1-2 degrees higher than in previous years.
Only verified information in our Telegram channels Obozrevatel and Viber. Do not be fooled by fakes!