Trending:
Tulip Field and Sakura Garden: Where to spend a weekend in Kyiv and the region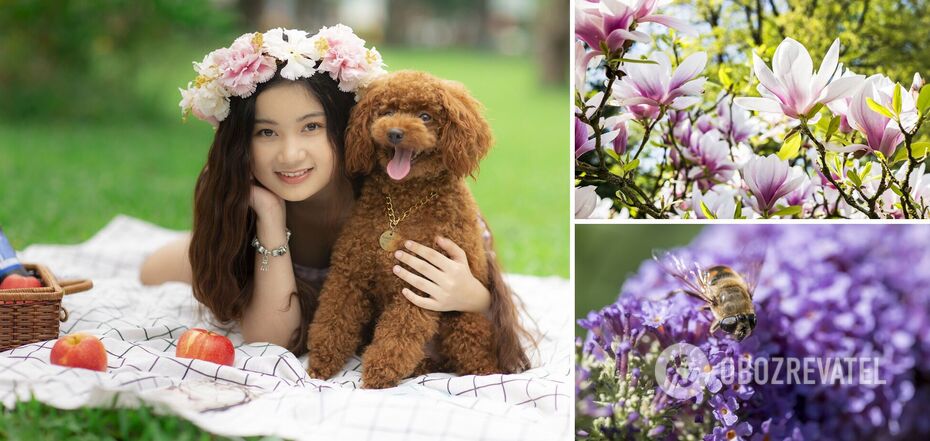 Where to go for a picnic in Kyiv
Warm days have finally arrived in Kyiv. The rains have receded a little, so it's time to go for a walk. Especially now everything around is blooming and coming to life with renewed vigor and beauty. Magnolias, sakura trees, lilacs... It's all on the streets of the capital. Read the selection on OBOZREVATEL.
Kyoto Park
A small Japanese island in the middle of the Ukrainian capital - that's how you can describe Kyoto Park. Only 10 years ago it did not differ at all from other green zones of the capital, but now everything has changed greatly. Here you can find the longest alley of sakuras in Ukraine, which is about a kilometer long. They don't bloom for long - only two weeks from the end of April to the beginning of May.
But that's not all. There is a traditional Japanese rock garden, a decorative lake with a bridge, torii gates, and thematic sculptures on the territory of this recreation area.
"Kyoto" is very popular with parents with children, because there is a well-equipped playground with various swings and merry-go-rounds, as well as a sports ground with outdoor fitness equipment.
Botanical Garden named after Academician A. Fomin
The oldest botanical garden in Ukraine is located right behind the Shevchenko University. Interestingly, before 1839, there was nothing here at all - just a usual wasteland. However, thanks to the Kyiv teachers and scientists of that time, a real corner of paradise appeared here.
Currently, the garden has a collection of more than 10 thousand species of various plants and trees. Most of them can be seen for free by visiting the open part of the territory. Here, in particular, you can admire magnolias and chestnuts, sit by the fountain and stroll along the long alleys.
There is also a scientific area, which can not be accessed without the assistance of staff of the garden. Almost daily tours of the grounds are offered, during which you can admire the succulent exhibit, enter the aquatic plant greenhouse, stroll under the branches of tropical trees, and visit the local museum.
N. N. Grishko National Botanical Garden
Another capital botanical garden is located near the subway station "Druzhby Narodiv". Its history began with the foundation of the National Academy of Sciences of Ukraine, but had many interruptions and obstacles. There was a revolution, because of which you could not start construction in time, or a war, which again delayed the opening of the green area for many years, but the botanical garden survived and under the leadership of Nikolai Grishko became one of the largest in Ukraine. Now there are thousands of different species of plants from all over the world.
In spring the lilacs and magnolias bloom in the most beautiful place in Ukraine. Together this is an unbelievable sight that captures you at a glance. Also in the second half of spring, Daurian rhododendrons bloom, exuding an amazing fragrance.
Dobropark
In 2020, a huge and very unusual Dobropark opened not far from Kyiv. Then it surprised visitors with a million colorful tulips. Now the park has transformed from a simple open-air area into a large country complex for recreation.
What can be found here? Of course, there are a lot of plants and trees, among which tulips dominate in the spring. In addition, there are areas for glamping, barbecues, family recreation, a swimming pool, children's areas and various recreational activities.
You should come here with the expectation that you will spend a whole day or even a night in the park. It is impossible to walk around the whole area in 2-3 hours.
VDNH
At the beginning of May the VDNH traditionally opens a location that thousands of Kyivers have already appreciated. It is an apple orchard, ideal for family recreation in the countryside.
The green area occupies a large area of the Expo Center. Hundreds of fruit trees are planted here, and there are sun beds and small benches. The area is divided into several fenced parts. In some of them you can barbecue, while in others it is forbidden.
Nearby is the Dinosaur Park, the greenhouse and museum. There are also various events, including Courage Bazaar with a fair and interesting lectures.
Earlier OBOZREVATEL told about the most beautiful places in Ukraine for a family vacation.
Only verified information in our Telegram channel Obozrevatel and Viber. Do not be fooled by fakes!