Trending:
Trying to sit on two chairs: where is the star of "Svaty" series Artemyeva disappeared and what she said about the war in Ukraine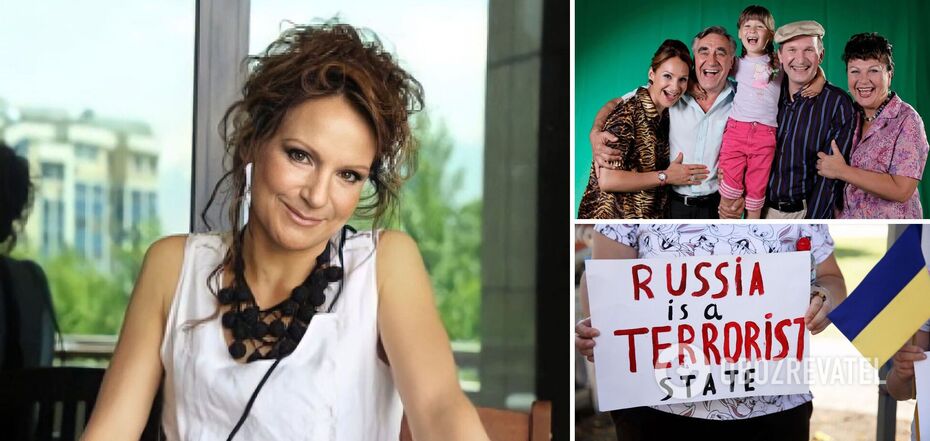 Where did Liudmila Artemyeva disappear to and what she said about the war in Ukraine
The well-known Russian actress Lyudmila Artemieva was once a favorite of Ukrainian audiences, who adored her for her talented performance in the comedy series "Svaty". After the full-scale invasion, fans expected the actress, who had worked in Ukraine and with Ukrainians for so long and therefore knew the truth for sure, to speak out against the war. However, the performer of the role of Olga Nikolaevna Kovaleva chose a different position.
For more than a year of murderous and destructive full-scale war, Artemieva has simply remained silent. In the beginning, she made some contradictory statements without any specifics, and then she disappeared altogether. OBOZREVATEL decided to recall how the actress tried to sit on two chairs.
Artemyeva is not an active user of Instagram, but sometimes she does appear in social networks. Over the past year, she made many posts on "Svaty", in which she called her colleagues on the show her favorite movie family, and also told fans that the filming of the eighth season is not planned. But to say that new series will not be filmed, in particular because of the fact that the Russian Federation attacked Ukraine, the artist forgot.
Although the topic of war and peace was raised in the star's social networks. For example, in March of last year, she posted absolutely irrelevant posts on her profile, from which it was immediately clear that Artemieva aspires to the role of "dove of peace" and is not going to demonstrate a clear position.
"There have to be pauses in life. Those pauses when nothing happens to you, when you just sit and look at the World, and the World looks at you... I will never join the anti-war movement. Call me when there is a movement for peace. Let's not have an information war between peoples from different countries, the best thing is to unite in this difficult situation for each of us," the artist wrote.
Russians saw this text as support for the so-called "special operation," because the actress said that she "would never join the movement against the war," and some Ukrainians thought that Artemyeva still supported Ukraine. But let's be frank, the star decided on a position - "my house is on the edge." And, as you know, ignoring the war is already support and assistance to the aggressor.
Artemyeva stopped acting in movies. The other day she complained that she had problems with her finances, so she decided to take up cryptocurrency.
"Income has sagged. What used to be bought "for change": clothes, handbags, jewelry, has now become an "expense" item. Mortgages tightened the noose around my neck. At times, I had to borrow to make another payment. Lost everything. Began to look for options to earn "- shared the actress.
Recall that most of the Russian actors from "Svaty," who were so beloved by Ukrainian audiences, were pro-war. For example, Fyodor Dobronravov, who played Ivan Budko, went to speak to wounded occupants in Russian hospitals, calling murderers and rapists of Ukrainian women, children, and elderly people "heroes. And Tatyana Kravchenko - Valyukha Budko - spoke indignantly about Volodymyr Zelensky, with whom she collaborated. She believes the "myths" that Putin's regime "feeds" to all Russians, and she hates the West, because it helps our country to defeat the Russian Federation.
The performer of the role of Larisa Bukhankina also makes no secret of her great love for Putin and the war. Olesya Zheleznyak said that she was "happy to have such a president".
Only Aleksandr Feklistov, San Sanych Berkovich, turned out to be adequate. Last April he recorded a video appeal to Ukrainians with words of support. He noted that propagandists are trying to close the eyes and ears of Russian citizens, but it is impossible to hide the truth from everyone.
As OBOZREVATEL wrote earlier, Ukrainian actress Anna Koshmal explained why after 2014 she continued to star in the TV series "Svaty" together with her Russian colleagues, who supported the annexation of Crimea. The performer of the role of Zhenka Kovaleva frankly admitted that she was not politically conscious and did not delve into studying all of these topics, trying to avoid them later on the set.
Only verified information in our Telegram channel Obozrevatel and in Viber. Do not be fooled by fakes!