Trending:
Tomatoes will be just like in the picture: the best way to plant seedlings in the soil was named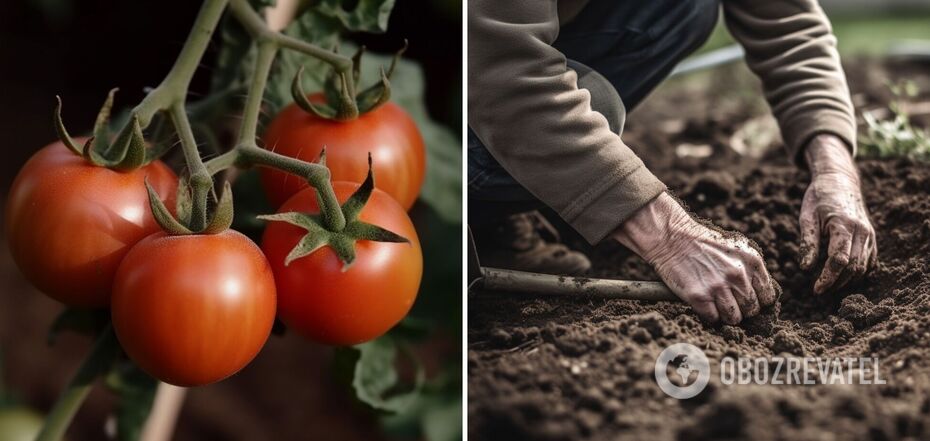 With the onset of stable heat, it's time to move seedlings from pots to the open ground. This, of course, applies to tomatoes as well. But this demanding plant needs a careful approach to this process.
OBOZREVATEL looked into how to properly plant tomatoes. And what are the most suitable conditions for this?
It's time to take the young plants into the open ground or greenhouse when the soil is heated to the depth of the bayonet of the spade to a temperature of +14 degrees. The air should be at a stable temperature of +20 degrees or higher.
Making a hole for planting tomato seedlings should be done with a shovel. Only this tool will provide the necessary width of the groove for the root system of the plant. This is especially true for high-growing varieties.
The next step is to level the ditch with a rake and plant young tomatoes in it. A distance of 50-70 centimeters should be left between bushes. Before planting, mineral fertilizer is applied to the place of each plant, which will help it to take root.
Next, it is necessary to fill all the pits prepared under the seedlings with water - it will supply them with nutrition for the first time. And only after this, the plants can be buried in the ground.
The best time for planting tomatoes is morning or evening. The weather should be chosen for this necessarily windless so that the plants are better received and even better with cloudy weather.
Previously OBOZREVATEL told you how to save seedlings of tomatoes and peppers if they began to wilt.
Subscribe to the channels OBOZREVATEL in Telegram and Viber to keep up with the latest developments.