Trending:
Three rules for planting onions in the fall: they are used by experienced gardeners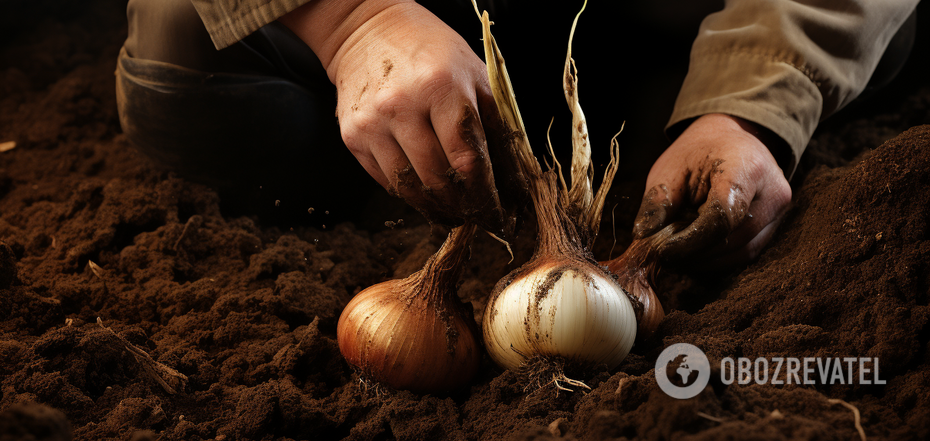 Rules for planting onions
At first glance, onions seem to be a fairly unpretentious crop. Gardeners often neglect the rules of planting, and then wonder why small, rotten bulbs grew instead of a bountiful harvest.
Autumn planting of onions should be done especially carefully. OBOZREVATEL talks about three rules that can help you grow a quality crop.
Rule 1
The first step is to choose the right place to plant onions. Here you need to take into account the rules of crop rotation.
Onions are best planted in the beds where the following crops grew in the summer:
legumes
cucumbers
carrots.
Gardeners often emphasize that onions will grow well in beds where potatoes have recently been harvested.
Rule 2
After choosing a place to plant, you need to cultivate the soil. Obviously, after harvesting, there are few nutrients left in the garden. The deficiency of useful minerals and trace elements should be replenished.
An important caveat: fertilize the soil in advance, not the day or a few days before planting onions.
Wood ash is a versatile, high-quality fertilizer that is ideal for autumn crops. The consumption is quite low: only 200 g of fertilizer is needed per square meter.
Alternatively, you can use potassium sulfate. We take 20 g of potassium sulfate and 40 g of superphosphate and apply it to the soil. You can adjust the volume of fertilizer, it is only important to observe the 1:2 ratio.
Rule 3
After fertilizing the soil, you can start cultivating the onions themselves. High-quality planting material is the key to a bountiful harvest.
Experts advise trying an environmentally friendly and safe method.
The necessary ingredients:
Pour four glasses of water into a container and add one spoonful of salt. Leave the planting material in the saline solution for no more than 20-30 minutes.
Earlier, OBOZREVATEL told you how to freeze green onions for the winter.
Subscribe to OBOZREVATEL's Telegram and Viber channels to keep up with the latest developments.