Trending:
They were admired by millions: five famous actors who have changed beyond recognition. Photo by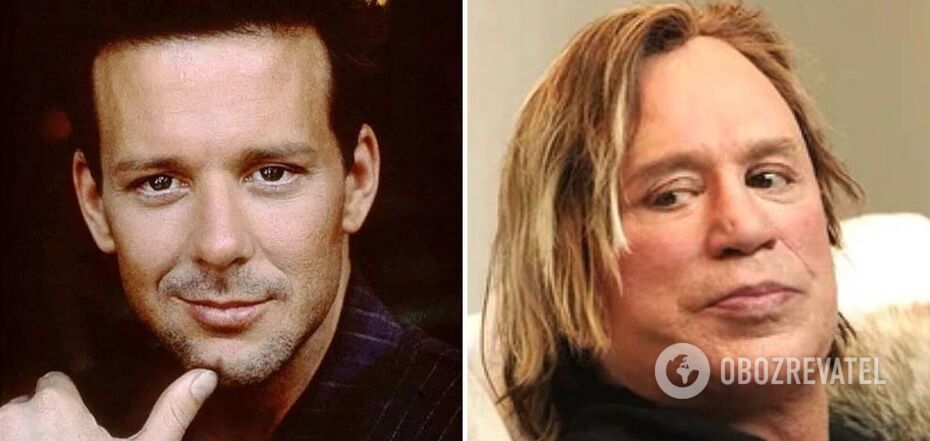 Mickey Rourke was a professional boxer
Sometimes fame and money play a cruel joke on the world's celebrities. Not only actresses, but also actors, resort to sacrifice and endure a large number of plastic surgeries in order to continue to conquer the audience. Lifestyle, drug and alcohol use also affects the appearance of stars.
OBOZREVATEL brings to your attention the artists that fans can hardly recognize now. But 10 years ago they were considered sex symbols and received huge royalties on television (to see the photos, scroll to the end of the page).
Melanie Griffith
American actress Melanie Griffith, who delighted the public with her beauty in her youth, is the only daughter of model Tippi Hedren. The star's appearance was affected by drug addiction, as well as her divorce from Antonio Banderas in 2015. The celebrity has had several plastic surgeries to prove that she is no worse than her ex's young chosen one. On the account of Griffith about 100 movies, the most famous of them - "Fear City", "Business Girl", "Stranger Among Us".
Courtney Love
American actress, vocalist and guitarist of the rock band Hole, and widow of Nirvana bandleader Kurt Cobain, Courtney Love has had drug problems since she was a teenager. At the age of 14, she ended up in a juvenile detention facility for shoplifting. In 2004, the star ended up in a mental hospital after an attempted suicide. A lifestyle and a difficult fate have had a significant impact on the woman's appearance. Love's first work was the British biographical film "Sid and Nancy", the last - a biographical film about Kurt Cobain, where she played herself.
Meg Ryan.
American actress in 1986 played the role of a pilot's wife in the movie "Top Gun" with Tom Cruise in the title role. She is remembered all America with the phrase: "Take me or lose me forever". The Hollywood star, in the pursuit of attractiveness and youthfulness, became addicted to beauty treatments, which has led to the fact that today few people can recognize in a woman charming lady from the past. Ryan does not pay attention to criticism and continues to systematically visit a plastic surgeon.
Mel Gibson.
The legendary Australian and American actor, known for "Lethal Weapon," "Mad Max," and "The Man Without a Face," has aged a lot in recent years. The idol of millions grew a thick beard, which, according to fans, added a few more years to him. However, the new image does not spoil Gibson, because he continues to appear on movie sets and captivate the audience with his talent.
Mickey Rourke
Mickey Rourke's acting career began in 1979, but he got his first major role only in 1983. Selebrity played a motorcyclist in the movie "Fight Fish". In addition to cinematography, the man distinguished himself in big sports. Rourke is also known as a professional boxer, because this sport began to engage in, as a teenager. This activity has had a great impact on Mickey's appearance. Over the years spent in the ring, he was not once hit in the face, and he decided to turn to a professional to restore the original shape of the nose and cheekbones.
Recall that recently OBOZREVATEL told about which actors cannot be said to have an angelic personality. These artists, taking advantage of their position, behave aggressively, demanding and rude to those around them.
Only verified information in our Telegram channel Obozrevatel and in Viber. Do not be fooled by fakes!