Trending:
The original cottage cheese and poppy seed Easter cake: how to make a tasty treat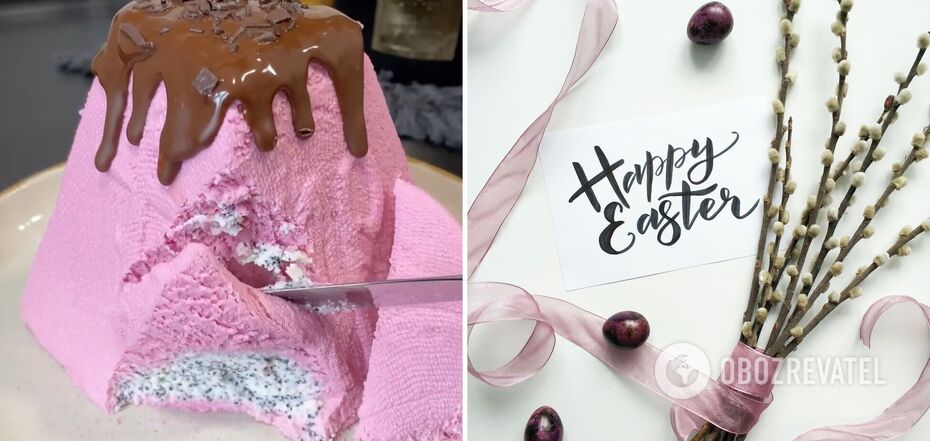 Easter cake recipe
Cottage cheese Easter cake is one of the simplest types of Easter treats. It is worth noting that such pastries are always successful, all you need to do is to choose a delicious, fat cottage cheese. For a brighter flavor you can add: chocolate, berries, dried fruit, coconut, cherries, condensed milk, salted caramel.
Culinarian Tati Chudnova shared on Instagram a recipe for a delicious cottage cheese pastry with poppy seeds, butter and beet juice.
Ingredients:
poppy seeds - 40 g
sour milk cottage cheese - 500 g
powdered sugar - 70 g
sour cream - 100 g
vanilla sugar or extract
butter - 100 g
beet juice - 1 tsp.
Method of preparation:
1. Pour the poppy seeds in boiling water for 30 minutes.
2. Mix the cottage cheese, powdered sugar, sour cream, vanilla sugar, soft butter and beat with a blender so that there are no lumps. Divide the cottage cheese into two equal parts. Add the beet juice to one and the poppy seeds to the other and mix.
3. Place the mold in a deep bowl so that the whey has a place to run off. Cover the mould with damp gauze and place the pink part in the bottom and the poppy seed in the center. Cover the top with the pink part and wrap the edges of the gauze. Put a weight on top and send to the fridge overnight.
5. Then remove the mold, gauze, garnish with chocolate and serve.
Also on OBOZREVATEL you can read the recipes:
<a href="https://food.obozrevatel.com/vyipechka-i-desertyi/shokoladnaya-paska-s-tsukatami.htm" target="_blank">Chocolate Easter cake with candied fruits</a>
<a href="https://food.obozrevatel.com/vyipechka-i-desertyi/byudzhetnaya-paska-na-smaltse.htm" target="_blank">Cheap Lard Easter cake</a>