Trending:
The most ridiculous research of 2023: who won the Schnabel Prize. List of winners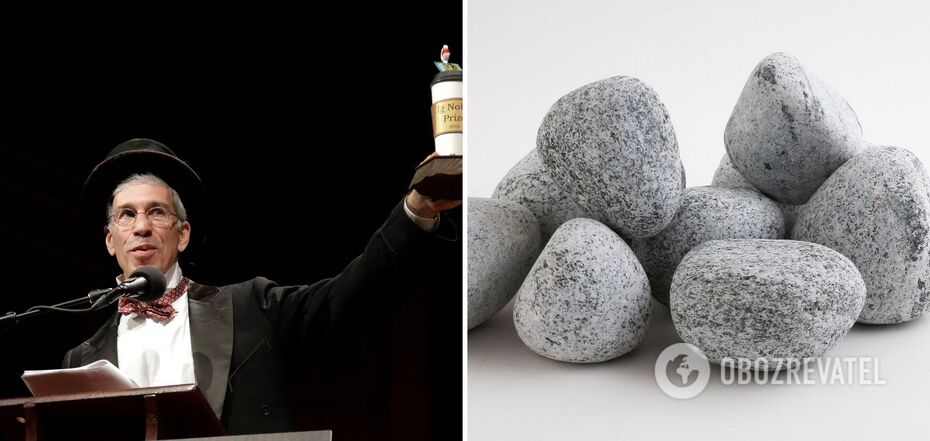 Mark Abrahams has created a prize that can be awarded for studying the habit of licking rocks
On the night of September 15, Kyiv time, Harvard University hosted one of the most important scientific award ceremonies that the whole world follows every time. We are talking about the Schnabel Prize, a satirical award given for research that seems ridiculous at first, but then makes you think.
The prize is in no way shameful or humiliating. This is evidenced, in particular, by the fact that the winners willingly participate in the award ceremony year after year. Moreover, Shnobelivka precedes Nobel Week, the period when the winners of the world's most prestigious scientific award are announced. OBOZREVATEL tells you who won the prize in 2023.
Every year, there are ten nominations for the Shnobelivka. But the list is always different. This time, the awards were as follows:
Prize in Chemistry and Geology
Awarded to Polish scientist Jan Zalasiewicz for explaining why many scientists like to lick rocks. His award-winning work is titled "Eating Fossils".
Prize in literature
Awarded to researchers from France, the United Kingdom, Malaysia, and Finland "for studying the sensations people experience when they repeat a word many, many, many, many, many, many, many, many, many, many times." You've probably played this game as a child, where you repeat a word until it loses its meaning. And these people have studied this phenomenon called "word alienation" and "semantic saturation."
Prize in Mechanical Engineering
Researchers from India, China, Malaysia, and the United States received this prize for reviving dead spiders for use as mechanical gripping tools. They searched nature for biotic materials that could be used as ready-to-use actuators.
Public Health Prize
It was won by South Korean and American researcher Park Sung-min, who decided to simplify the task of health monitoring and set out to design a toilet that would collect many samples itself. He received the award with the wording "for the invention of the Stanford Toilet, a device that uses various technologies, including a urine test strip, a computer vision system for analyzing bowel movements, a paired anal fingerprint sensor with an identification camera and a telecommunications channel, to monitor and quickly analyze human excretions."
Prize in Communications
The prize went to a team from Argentina, Spain, Colombia, Chile, China, and the United States who studied the mental activity of people who can speak backwards.
Prize in Medicine
The winners from the USA, Canada, Macedonia, Iran, and Vietnam studied human cadavers for one specific feature. Whether the same number of hairs grow in both nostrils.
Prize in Nutrition
This award was shared by the Japanese Himei Miyashita and Hiromi Nakamura. They experimentally investigated how electrified chopsticks and drinking straws affect the taste of food and drink.
Prize in Education
A group of researchers from China, Canada, Japan, the United Kingdom, the Netherlands, Ireland, the United States, and the United Kingdom went to the most boring lectures to write their paper to investigate how this feeling affects teachers and students. The title of what they wrote as a result speaks for itself: "Boredom breeds boredom: A sample study of the impact of teacher boredom on student boredom and motivation."
Prize in Psychology
It was awarded to the American scientists who wrote the paper "Notes on the Attractive Power of Crowds of Different Sizes". In simple terms, they conducted experiments on city streets to see how many passersby would stop to look up if they saw a person standing and looking up.
Prize in Physics
This award was given to scientists from Spain, Galicia, Switzerland, France, and the United Kingdom who decided to measure the extent to which the sexual activity of anchovies affects the mixing of ocean water.
The Schnoebel Prize was established in 1991 by science journalist Mark Abrahams and the Annals of Improbable Research, where he serves as editor-in-chief, to reward authors of unusual and witty research to increase people's interest in science, medicine, and technology. At different times, the award has been given to researchers who finally found out why wombats poop in cubes, a Ukrainian woman who designed a bra that can be turned into two respirators, the authors of a study on how swearing affects pain relief, and the crew of a warship who shouted "bam!" instead of real shots during exercises - the sailors received the Schnabel Peace Prize.
Earlier, OBOZREVATEL told in detail about the most ridiculous discoveries awarded with the Schnobel Prize.
Subscribe to OBOZREVATE 's Telegram and Viber channels to keep up with the latest developments.