Trending:
Seven stars who left Hollywood: how they look now and what they do. Photo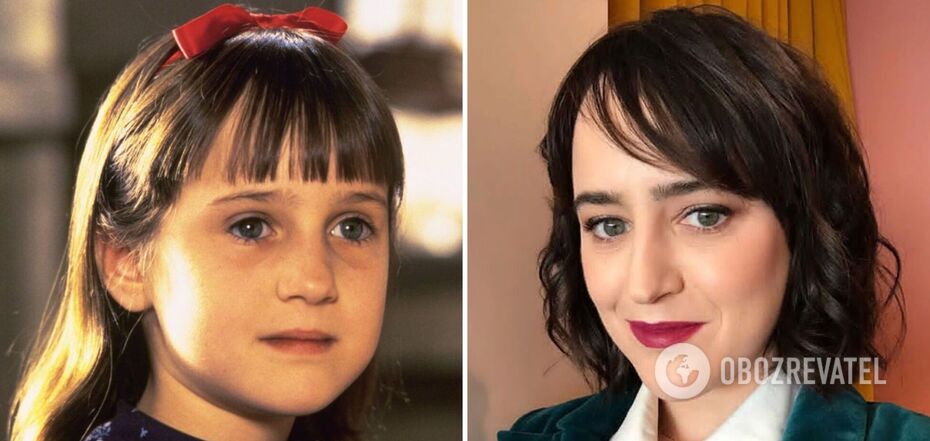 Mara Wilson
The fact that a person is a talented actor does not mean that he enjoys his activities and will delight audiences with novelties for the rest of his life. Some celebrities have given up acting and chosen a completely different path in their lives. Someone became a chef, someone a veterinarian or a prosecutor.
OBOZREVATEL offers to find out what former actors do now. In addition, they have changed a lot in appearance, because more than a dozen years have passed (to see the photo, scroll to the end of the page) .
1. Peter Ostrum - "Willy Wonka and the Chocolate Factory"
Peter Ostrom was 12 years old when he starred in Willy Wonka and the Chocolate Factory (1971). He enjoyed the filming experience, but the young actor decided not to sign a contract with the company for the next films. Peter is now reluctant to talk about his only role and works as a veterinarian on a dairy farm. He lives in New York State with his wife and two children.
2. Danny Lloyd - "The Shining"
Danny Lloyd, who played Danny Torrance in The Shining (1980), is now a biology professor at Elizabethtown (Kentucky) College. He was interested in pursuing an acting career, but after a series of setbacks and rejections, finally said goodbye to fame at age 14. However, the man did return to film in 2019, playing a cameo in Doctor Sleep, which is the sequel to The Shining.
3. Mara Wilson - "Matilda," "Mrs. Doubtfire," "Miracle on 34th Street"
Wilson got her first role in 1993, when she was 6 years old. The actress played in the film "Mrs. Doubtfire" directed by Chris Columbus. The girl was twice nominated for the "Saturn" award for best role of a young actress. Mara went on to continue her acting career, but appeared less and less frequently in films. Now the celebrity is positioning herself as a writer.
4. Lucas Babin - "School of Rock"
American actor Lucas Babin is known for the films "School of Rock" (2003), "Angel" and the TV series "C.S.I. Crime Scene," which was filmed from 2000 to 2015. He has also appeared in commercials for Gucci, Versace, Calvin Klein, Roberto Cavalli, GAP and Louis Vuitton. Lucas graduated from American University School of Law and in 2018 was elected prosecutor of Tyler County, Texas.
5. Ariana Richards - "Jurassic Park"
Richards made her debut as an actress in 1987 in the film "Homeland," playing the title role. She also appeared in Shiver of the Earth and Jurassic Park. The last time Richards visited the set in 2013. Now the girl draws pictures and wants to develop in the field of art.
6. Freddie Prinz Jr.
Freddie Prinz Jr. played his first role in 1995 in the television series The Mathers Family. He went on to star in youth films such as I Know What You Did Last Summer and It's All Her. The star later played leading male roles in "Squadron Leader," "Just You and Me," "Summer Games," "Scooby-Doo" and "Scooby-Doo 2: Monsters on the Loose." By the way, in 2000, "People" magazine named Prince one of the 50 most beautiful people in the world. Now the celebrity works as a chef and is the author of a cookbook.
7. Charlie Cosmo - "Captain Hook."
Charlie Cosmo learned what it was like to be an actor from "What About Bob?", "Captain Hook" and "Can't Wait." After his acting career, the man earned a degree in physics from the Massachusetts Institute of Technology and went on to work for the Environmental Protection Agency and the Republican Party's House of Representatives. He also received his J.D. from Yale Law School in 2006. Charlie is now a professor of law at Case Western Reserve University School of Law.
OBOZREVATEL previously reported how child actors from popular movies of the 90s have changed. To learn more about the lives of Macaulay Culkin, Alison Porter, Michael Oliver, Haley Joel Osment follow this link.
Only verified information on our Telegram-channel Obozrevatel and Viber. Do not be fooled by fakes!