Trending:
Scientists have created a fairy robot that is carried by the wind: impressive video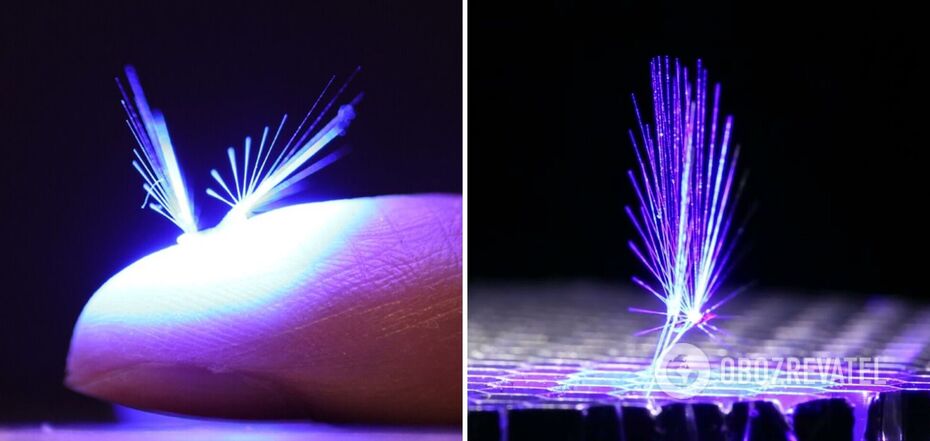 Robot resembles a dandelion seed
The development of polymers that respond to stimuli such as heat or light has taken nanorobot technology to a new level. Remote-controlled, soft-body devices have been taught to walk, jump and even swim. And now researchers from the Light Robots group at the University of Tampere (Finland) have developed a technology that should make such a robot fly.
According to SciTechDaily, the authors of the development were Hao Zeng and Jianfen Yang, who named their project very romantically - FAIRY. But at the same time is an abbreviation of Aero-robots based on Light Responsive Materials Assembly, that is, "flying aerial robots based on light-responsive materials" (to watch the video, scroll to the end of the news).
The device moves in the air due to the wind, and it can be controlled by light.
The material from which the robot is made consists of light-sensitive components such as liquid crystal elastomer. The bristles made of it cover the "fairy robot" and react to light by opening or closing.
If you shine an LED or laser on the device, they change their shape and thanks to this the robot can take off, sit down or change the direction of movement. And in the air, it moves thanks to the power of the wind and can potentially cover quite long distances. The robot is also powered by light and does not require a separate recharge.
Now scientists are working on improving the prototype so that it can work from sunlight and carry various microelectronics, such as GPS-sensors, as well as biochemical compounds. In the future, this should help with artificial pollination of plants in fields and gardens.
Due to the current mass extinction of insects, particularly bees, caused by climate change, the problem of plant pollination has become very acute. Therefore, swarms of these robotic fairies could be the solution. They could be useful not only for agriculture, but also to help maintain ecosystems by slowing the decline in plant biodiversity.
So far, scientists have several challenges that have yet to be solved. For example, how to precisely control where the robots land, how to reuse the devices, and how to make them biodegradable? The roboticists must work on these together with material scientists.
Earlier OBOZREVATEL told about already legendary robots Boston Dynamics, recreated Mick Jagger's dance from The Rolling Stones' video for the song Start Me Up.
Subscribe to OBOZREVATEL channels in Telegram and Viber to be aware of the latest events.