Trending:
Russians decide to send Cheburashkas "Cossacks" to the frontline: they say Putin's troops are "fighting in a good way"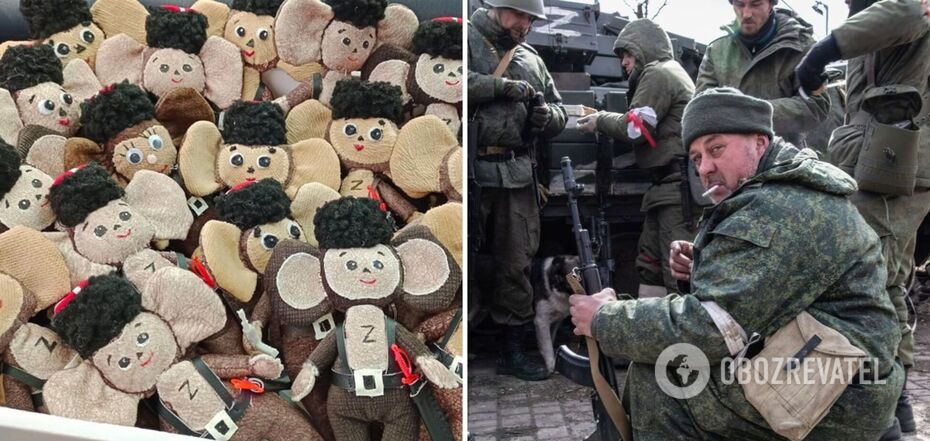 Russians sent toy Cheburashkas to the ''good'' occupiers in Ukraine
Russia has found a surefire way to help the occupation forces win a full-scale war against Ukraine. For this purpose, about 50 Cheburashkas "Cossacks" were made in Tomsk region, which they intend to send to the frontline in Ukraine.
The initiator of the "action" explained the strange choice of "gifts" by saying that Russia is allegedly "even fighting in a good way". This is what Russian propagandists write about.
Andrey Kolomin, the head of the Krivosheinsky district of Tomsk region, came up with the strange idea of sending toy Cheburashkas stylised as Cossacks to the occupiers in Ukraine. Justifying the choice of the fairy-tale character as a "gift" to the invaders, who are killing Ukrainians and destroying Ukrainian towns and villages to rubble, he explained that Russians are allegedly "very kind" and kill Ukrainians "in a good way".
"We have a festival of Cossack culture and life called 'Bratyna', we have a Cossack branch in the district, several Cossack classes at school, and that's why we have Cossacks. I am a Cossack myself. We are good Russian people, we even fight in a good way - our soldiers are good, they will always help civilians, so Cheburashka was chosen as a good man. He did good deeds, and so we decided to create the Cossacks in the form of Cheburashka," the official said.
Children from the village of Kryvosheino were forced to make "good" Cheburashka for the "good" murderers, looters and rapists in Russian military uniforms. They made about 50 such "presents".
"We put them in boxes in different units. They will go to those who will unpack these boxes. Maybe not even all the people from Kryvyi Rih will be there, not even all the people from Tomsk. They will go to those who are in the platoon, in the company with our guys, their brothers in arms," Kolomin said.
The occupiers in Ukraine will receive "reinforcements" in the form of homemade Cheburashka at the end of July. Together with them, "good Russian people" from Tomsk region have donated trench candles, dry army showers and pillows.
Earlier, Russia said that the Russian Federal Security Service had allegedly prevented an attempted assassination attempt on propagandist Margarita Simonyan and journalist Ksenia Sobchak. According to the Russian special services, a group of Russian "neo-Nazis", some of whom were allegedly underage, intended to kill both of them with a Kalashnikov rifle and "Nazi chevrons and books".
They allegedly prepared the murders at the request of the Security Service of Ukraine, which "estimated" each of the "victims" at one and a half million Russian rubles.
It is noteworthy that the "organiser of the contract killing", a 19-year-old Muscovite, was allegedly detained when he came to collect the weapons left for him from the hiding place. He did so, according to the Russian FSB, wearing a T-shirt with the inscription Waffen-SS.
Only verified information is available in our Obozrevatel Telegram channel and Viber. Do not fall for fakes!