Trending:
Russian infospace silent on successful AFU strike on Chongar bridge: ISW names the cause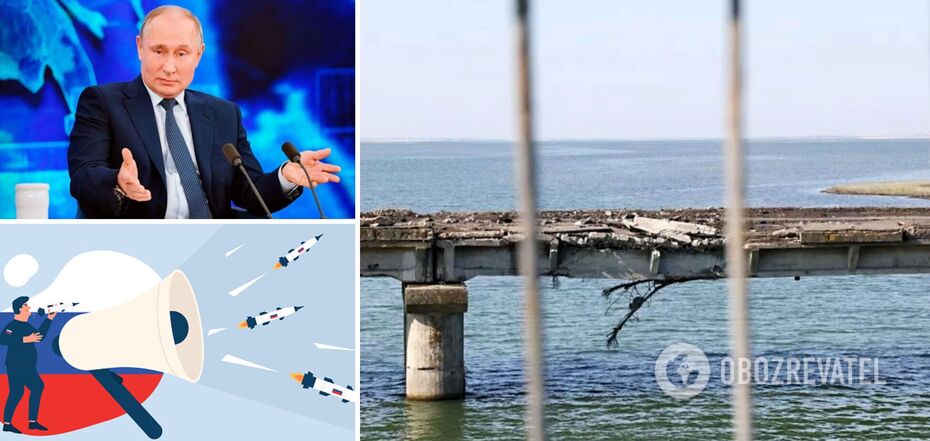 ISW explained why Russian bloggers were silent about the successful AFU strike on the Chongar Bridge
The Russian information space had almost no reaction to the Ukrainian strike on the Chongar bridge, which represents a noticeable overreaction in their reporting on the war. The reason could have been the propagandists' fear of ending up behind bars, like the terrorist Igor Girkin, for any assessment of the events on the front and especially criticism of the Russian troops.
But it could be more evidence that the Kremlin has ordered bloggers to refrain from covering certain topics. This is the conclusion reached by the Institute for the Study of War (ISW).
Back on July 29, the AFU confirmed a successful strike on the Chongar bridge on the M-18 highway (Dzhankoi - Melitopol) between temporarily occupied Crimea and part of the Kherson region.
And so far there has been no recorded discussion by Russian bloggers about the Ukrainian strike or those promoting the claim by Vladimir Saldo, head of the occupation "administration" of Kherson region, that Russian forces "intercepted 12 Ukrainian cruise missiles" Strom Shadow aimed at the bridge.
The only other Russian source to comment on the occupiers' defeat was a local pro-Russian news Telegram channel, which amplified alleged claims by Russian tourists that the bridge was closed to traffic.
Bloggers from the aggressor country regularly comment on both successful and allegedly unsuccessful Ukrainian strikes on Russian logistics. And last time, on June 22, they reacted to the AFU strike on the Chongar bridge with general outrage and concern.
"The Chongar bridge is a notable bottleneck on a critical Russian land line of communication and it is unlikely that Russian bloggers would voluntarily ignore any - successful or not - Ukrainian strike on it," ISW expressed their belief.
It previously assessed that some Russian propagandists may be shaping their coverage of the war in Ukraine in a way more favorable to Kremlin narratives, fearing Kremlin punishment following the "removal" from the information space of such critics of the war as terrorist Igor Girkin (Strelkov) and PMC Wagner chief Yevgeny Prigozhin.
"However, a general fear of punishment from the Kremlin is unlikely to have led to such an almost universal lack of coverage of a dramatic military event. It is more likely that this lack of news coverage is due to a specific directive from the Kremlin not to cover failures in critical logistical paths of the Russian Armed Forces," ISW concluded.
As reported by OBOZREVATEL, according to the Institute for the Study of War, the Kremlin is forcing bloggers to lie more and more about the counter-offensive of the AFU. Analysts pointed out how this could turn out for the authorities of the aggressor country.
Only verified information from us in Telegram-channel Obozrevatel, Threads and Viber. Do not fall for fakes!