Trending:
"One in a million": what happened to the twins of colour whose pictures have travelled the world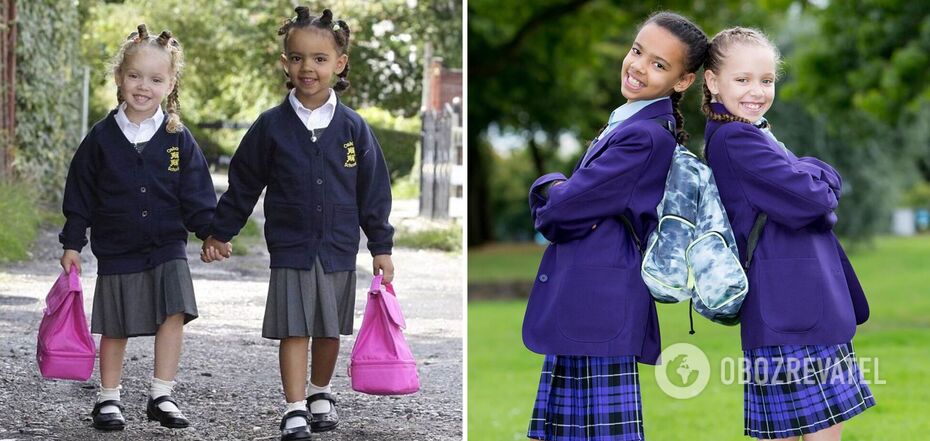 How the fate of Marcia and Millie Biggs, twins with different skin colours, developed
In 2006, an Englishwoman named Amanda Biggs gave birth to two twin girls, Marcia and Millie, in Birmingham. They looked exactly alike, but the older they got, the more changes their parents noticed. At 10 months old, Millie's skin began to get darker and darker, while Marcia had a fair face and snow-white hair.
Now the girls are 16 years old and have different skin colours. Many people simply do not believe Marcia and Milly when they say they are sisters, let alone twins. OBOZREVATEL decided to tell how the fate of the unique children, whose photos once went viral, shocked the world with the news that twins could be like that.
Over time, the colour of the girls' eyes has also changed. Millie is brown-eyed, and Marcia has blue eyes. Moreover, the dark-skinned girl is a few centimetres taller than her sister.
"Sometimes people don't believe us when we say we are twins... They think we are just lying," the English girls said.
Their parents call their girls "one in a million miracles". And it is almost true. Millie and Marcia are identical twins. Such children are born when two eggs are released in the mother's body during one cycle and fertilised by two different sperm. Identical twins are born from one egg and one sperm. Thus, identical twins have a 100% DNA match, while dissimilar twins have only a 50% match. When a mixed-race couple expects such twins, there is a 1 in 500 chance that the children's skin colour will be different.
The girls' father, Michael Biggs, is a black man, which is explained by his Jamaican heritage. And it so happened that out of the two children, only Millie looks like him. But the truth is, she is a copy of her mother. She loves pink and everything shiny, and she is also quite calm. The same cannot be said about Marcia. Her skin and hair are white, like her mother's, but the girl inherited her mischievous nature and love of sports from her father.
"Marcia loves gymnastics and prefers blue. And Millie is a princess, she loves pink and everything shiny. In this she is a bit like me," said the mother of the unique twins.
In 2018, the unusual sisters caught the interest of the journalists of the famous National Geographic magazine, so they decided to dedicate an entire issue to them, placing a photo of the girls on the cover of the magazine. Below it is the inscription: "Black and white. These twin sisters are making us rethink everything we know about race."
In the issue, the girls shared their thoughts on racism. They asked readers to judge people not by the colour of their skin, but by their actions and behaviour. Millie and Marcia are aware of how unique they are, but they are most proud of the fact that they can convey important messages to the masses.
Now the twins are studying at school, playing sports and actively running personal blogs on TikTok and Instagram.
"They don't see things in black and white. They are different," Michael Biggs says of his daughters.
As OBOZREVATEL previously reported, identical twins Rachel and Kim Saunders from the United States became pregnant almost simultaneously and then gave birth to children just two hours apart. This happened despite the fact that the doctors' predicted due dates did not match. At the same time, the sisters did not marry twins, but got married on different dates. Read more about the unique case in our material.
Only verified information is available in our Obozrevatel Telegram channel and Viber. Do not fall for fakes!