Trending:
Lilya Zwit's recipe for a choux Easter cake that doesn't get stale for a long time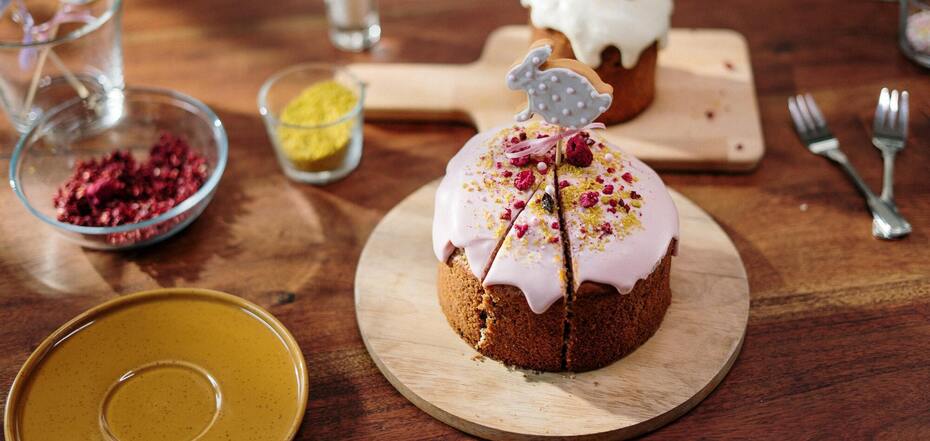 Easter cake recipe
Easter cake is the main symbol of the Easter holiday, which in Ukraine will be celebrated on April 16. They can be made with yeast, custard dough, and cottage cheese. With different fillings, dried fruit, nuts, condensed milk, cottage cheese cream and berries.
On her YouTube channel, chef Lilya Zvit shared a recipe for an airy, custardy pastry that doesn't get stale for long.
Ingredients:
Custard base:
hot milk - 200 ml
flour - 50 g
Batter:
milk - 200 ml
sugar - 1 tbsp.
pressed yeast - 40 g
flour - 130 g
+ choux pastry
batter:
yolks - 7 pcs + 1 protein
sugar - 150 g
vanilla sugar - 2 packs
salt - 1 tsp.
83% butter - 100 g
flour - 600 gr
turmeric - 1/4 tsp.
raisins - 200 gr
zest - 1 tsp.
starch - 1 tbsp.
egg yolk for greasing
Method of preparation:
1. Custard base: add the flour to the hot milk and beat with a mixer and let it cool.
2. The batter: add the sugar to the milk, mix and add the yeast, then add the flour and beat with a mixer, then add the custard base, but not hot, and beat again. Cover with a towel and leave for 40 minutes.
3. Whisk the yolks with the sugar and salt until white, also leave to stand for 30 minutes.
4. Then add the yolks to the stew that has risen and mix.
5. Next, add in several stages of sifted flour, add some turmeric and knead the dough by hand.
6. Then add butter, but not melted. Knead the dough well with your hands for about 30-40 minutes.
7. Add the dried fruit mixed with the starch to the dough, mix well, cover with cling film and leave to rise for 1 hour.
8. Knead the finished dough again and fill the molds with the dough.
9. Make a puncture in each Easter cake to ensure that it will bake well and that any excess air will escape. Leave to rise in the molds for 1 hour. Then brush with a mixture of egg yolk and milk.
10. Bake the Easter cakes for 1 hour at 160 C.
You can also find recipes on OBOZREVATEL:
<a href="https://food.obozrevatel.com/vyipechka-i-desertyi/paska-kraffin.htm" target="_blank">Easter cake with dried fruits</a>