Trending:
Lazy Napoleon cake in 1 hour: no need to make dough for the dessert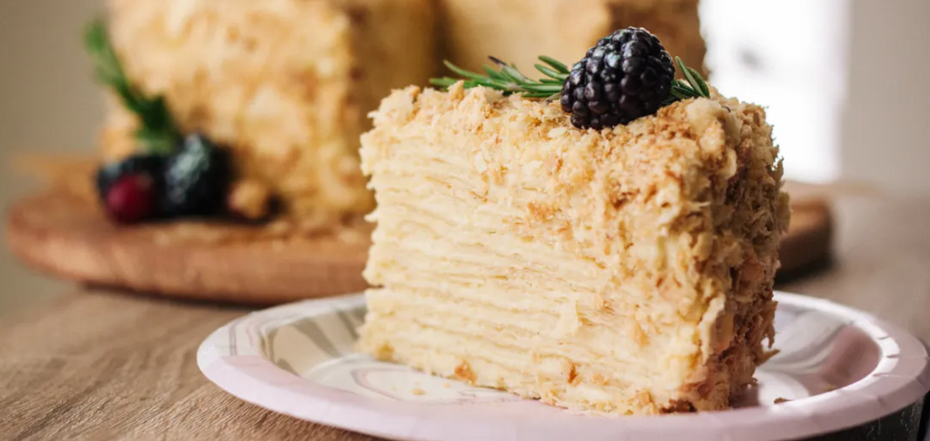 Napoleon Cake Recipe
One of the easiest and tastiest desserts is the "Napoleon" cake . You can make it without making the dough, using ready-made puff pastry. The ideal cream for this cake would be custard, and you can add condensed milk to it.
Cook Tatiana shared on Instagram a recipe for a delicious, lazy Napoleon cake that's made without making dough.
Base:
For the cream:
eggs - 3 pcs.
sugar - 50 g
milk - 350 g
condensed milk - 1 jar
flour - 2 tablespoons
butter - 150 g
vanilla sugar - to taste
Method of preparation:
1. Defrost the puff pastry, roll out a little and cut into random squares. Transfer to a baking tray and bake for 20 minutes at 180 C.
2. Cream: put milk on the fire and bring to a boil, beat eggs with sugar and vanilla, add flour and mix to avoid lumps. Next, add some of the hot milk to the egg mixture, stir and return everything to the pan with hot milk, add condensed milk, return to the fire. Cook constantly stirring over low heat until boiling, then remove and add butter and stir until smooth until it is completely melted.
3. Assemble the cake: put the ready squares into a bowl, add the cream, mix, put the mass into a suitable form, and flatten it with a spatula.
4. Put the cake in the refrigerator for at least 4 hours, preferably overnight.
Also on OBOZREVATEL you can read the recipes:
<a href="https://food.obozrevatel.com/vyipechka-i-desertyi/tort-bez-vyipechki-iz-pechenya-i-smetanyi.htm" target="_blank">Bake-less cake with cookies and sour cream</a>
<a href="https://food.obozrevatel.com/vyipechka-i-desertyi/tort-bez-vyipechki-iz-pechenya-i-bananov.htm" target="_blank">Bake-less cake with cookies and bananas</a>