Trending:
It was a real "revolution"! When did trousers become part of women's wardrobes and why were they thrown in jail for wearing them?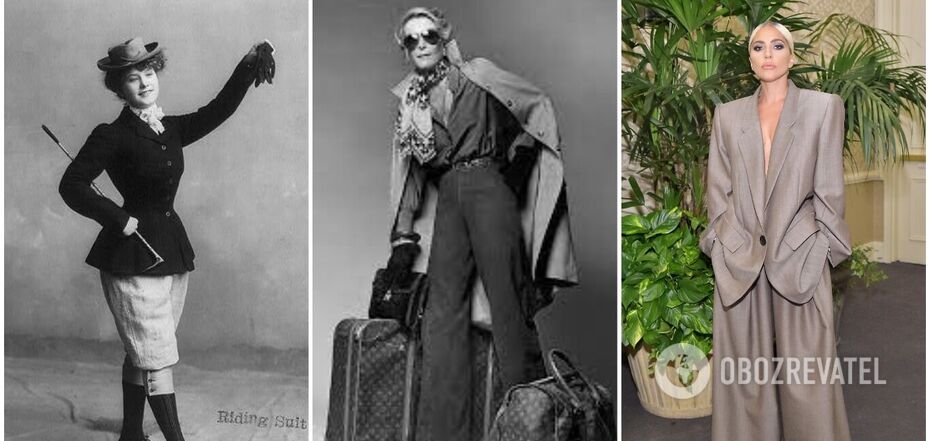 The history of trousers in women's wardrobe
It's hard to imagine a modern fashionista's wardrobe without a few pairs of trousers, jeans or shorts. Girls are increasingly opting for trousers rather than skirts or dresses. And it's not just about comfort, but also about style, because a high-quality trouser suit or trendy wide-leg jeans always look sophisticated and extravagant on a lady. Imagine that not so long ago, beauties in trousers were considered a curiosity, they were criticised by society, and they were forced to fight for the right to wear not only skirts.
Today, when we take our favourite pair of jeans out of the closet, we don't think about it. But if there hadn't been brave girls in the last century who decided to make a real fashion revolution, who knows whether trousers would be in women's wardrobes today or not. OBOZREVATEL decided to find out how it was.
Surprisingly, China turned out to be the most progressive country in this matter. Women there wore trousers as early as the first millennium BC. These were working-class women, so it would be correct to call them a uniform. In ancient Greece, women warriors wore trousers. At least that's how they were depicted on painted ceramics.
Now think about how long women have had to fight for the right to wear trousers, if French women were officially allowed to do so only 10 years ago. You read that right - on February 1, 2013, France lifted the ban on women wearing trousers that had existed for two centuries.
But let's get back to the pioneering ladies, or rather only to the most famous of them, because the list is actually very long.
By 1850, Amelia Bloomer, a feminist and the world's first publisher of a women's newspaper, popularised the so-called trousers - loose trousers gathered at the ankles, like the women's harem trousers worn in East and Central Asia.
However, the situation remained neglected. In England, France, and the United States, a woman who dared to wear trousers could be imprisoned! The fact is that such "cross-dressing" was perceived as an attempt to impersonate another person. For example, Dr Mary Edward Walker was arrested seven times for wearing trousers in public. At the time of her last arrest in 1913, she was 80 years old. And this is despite the fact that she was a respected surgeon and was famous for her services throughout America.
When the First and then the Second World Wars broke out, women started working in production, so trousers and overalls appeared in their wardrobes as work uniforms.
It was not only women who defended their rights in this matter. Some progressive men helped them. For example, in 1911, the Parisian couturier Paul Poiret introduced trousers as part of his efforts to rethink and "liberate" Western women's fashion. His contemporary Coco Chanel, who often dressed in men's suits herself, began to create comfortable riding suits for women.
Film stars of the time certainly played an important role. Katharine Hepburn and Marlene Dietrich appeared at the premieres of their films in pantsuits, causing an unprecedented sensation, and with it a flurry of criticism from the public. People, especially men, who for some reason used to think that women were just a "decoration" for their grey everyday life, and therefore they should please the male eye with dresses and heels, were not ready to see actresses in "masculine" outfits.
"I put on trousers 50 years ago and declared a kind of revolution," Katharine Hepburn once commented in an interview, stressing that as a child she was constantly wearing out her clothes after her older brother.
Her namesake Audrey Hepburn was the first to appear in trousers in a film. It was the 1956 film Funny Face. Her image with trousers and a headscarf is still considered one of the most iconic.
The 1960s saw the start of the "second wave of feminism", but the attitude towards women in trousers was still a source of heated debate. In 1962, the legendary Yves Saint Laurent even presented the first tuxedo for women, but this caused a flood of indignation towards him and his creation.
The hippie revolution of the 1970s was a turning point in the history of women's trousers, as it was then that fashionistas first began to wear shorts, jeans and trousers in public. Since then, the hype around trousers in women's wardrobes has decreased significantly. Moreover, trousers were worn by influential celebrities, whose example women simply could not help but follow. For example, the late Queen Elizabeth II of Great Britain demonstrated many trouser looks.
It is hard to imagine that all this happened not so long ago. But what's worse is that "trouser discrimination" against women still happens. Some firms officially tell their employees what they should wear to the office - skirts and high-heeled shoes, of course. And for non-compliance with the rules, a fine and a reprimand are in order. So, if you don't face such harassment, you're lucky, but that doesn't mean it doesn't exist. And this is pure sexism, which modern feminists, including many public figures, continue to fight to eradicate.
Earlier, OBOZREVATEL told you how and when the first bras appeared. It turns out that the First World War contributed to their popularity. Read more about it in our article.
Only verified information is available in our Obozrevatel Telegram channel and Viber. Do not fall for fakes!