Trending:
"I will not surrender alive": Kharkiv resident shoots dead two occupants who attacked his house and goes to fight near Bakhmut Video.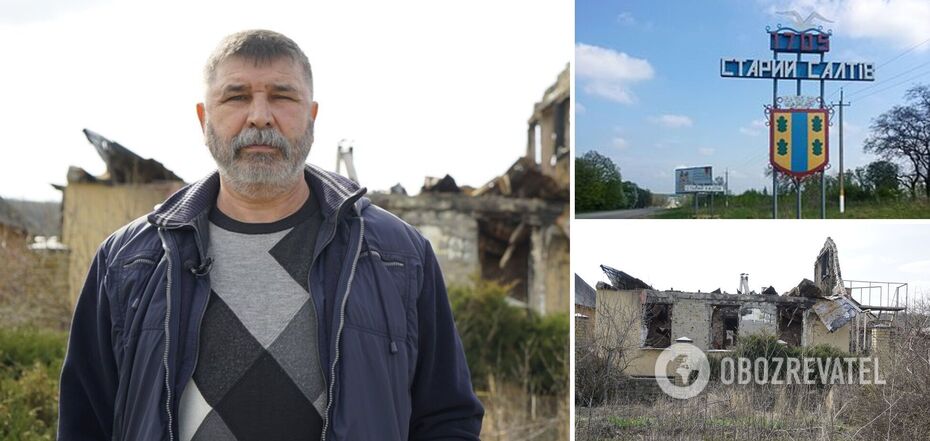 Mykola, 59, fought with several Russian soldiers on his own
Mykola Kovalyov, 59, from the village of Staryi Saltiv in the Kharkiv region, told how he killed two occupiers who attacked his home, escaped, and then joined the Armed Forces of Ukraine to defend his country. The man spent nine months at the front, took part in the battles near Bakhmut, and has now returned home.
Mykola told his story to Suspilne. The invaders entered Staryi Saltov, 40 km from Kharkiv, on March 19, 2022 (to watch the video, scroll to the end).
The then village head Eduard Konovalov gave the invaders the keys to the school, and they settled in the village. On the same day, they showed up at Mykola Kovalev's house: someone told them that the man had an "ardent anti-Russian position".
"Several cars drove up. They stopped, got out and went down the street. I told my wife: "They're coming to us, run to the outbuilding to your mum, I will not surrender to them alive," Mykola said.
The gate was closed, so the Russian soldiers climbed over the fence.
"I hear the door open and someone shouting: 'Master'. I said: 'I'm here'. 'Come out'. I went out like a normal person. He thought that I was not a threat to him, but he did not count on the fact that I had a gun behind my back. I shot him in the boiler room," the man recalls.
Mykola defended himself against the invaders with their own weapons, which he managed to take from the vehicles of a broken Russian Guard column near the neighbouring village of Shestakove. The enemy had left assault rifles, pistols, and grenades there. At that time, the area was already cut off from Kharkiv.
Seeing that their comrade had been shot dead, the Russian military first started running away, and then opened fire on the house, firing everything they had.
"I threw a few grenades and in my slippers, I climbed out the bathroom window and ran into the forest. But one of the locals orientated them, the Russians blocked my escape, I had to fight there for a while, and killed another one," Mykola said.
The women managed to hide in the outbuilding, but after the visit of the "guests", Mykola's mother was taken by ambulance to Vovchansk with a hypertensive crisis, and the occupiers grabbed his wife and took her to Vesele. She was held there for two weeks "on a bottle of hot water and half a pack of biscuits".
"The FSB came, they shot at her, knocked out her teeth, but she didn't know where I was. Eventually, she was released after two weeks. But my wife was under surveillance," the man said.
Mykola was in hiding for four days, walking to Kharkiv at night. When he got there, he was stopped at a checkpoint by our military: they checked and interrogated him because he had no documents.
His daughter picked him up near Kulynychi. It was there that Mykola came under mortar fire for the first time and began to get used to military life. He found out from his daughter that the house Mykola had been building and furnishing for over 30 years was now just ashes.
In Kharkiv, Mykola went to the military enlistment office, but was refused: he was 59 years old. Then he went to Zakarpattia, where he was recruited into the infantry.
"Someone had to stop them, but who? I believe that men like me should go to war rather than young people. We still need young people, the gene pool," he says.
He spent 9 months at the front: first in the Kherson region, then on the outskirts of Bakhmut.
"My battalion is all volunteers. They've been there since February, and the first battles they fought were with machine guns and grenade launchers. They are all patriots, they left everything behind. One of my comrades has 250 beehives. Before the war, our company commander earned 250 thousand hryvnias, but he went to war, was wounded and returned to the front," Mykola said.
In December, the man turned 60 and was demobilised. In the past, he worked as an entrepreneur, selling scrap metal for recycling.
Now he is restoring his documents to receive compensation for his lost home. His family is now in western Ukraine, and Mykola himself is in Kharkiv: "I haven't decided what to do next yet."
As reported by OBOZREVATEL:
- During the occupation, cows began to gnaw each other's tails from hunger on a farm in Husarivka, Kharkiv region. In addition, the cowsheds were constantly shelled.
- According to local authorities, the occupiers committed the same crimes in the Kharkiv region as they did near Kyiv. They did not even spare women and children.
- A resident of the Kharkiv region told how the enemy was shooting at cars of people who were trying to leave for safe areas. The occupiers saw that there were children in the cars.
Only verified information is available in our Obozrevatel Telegram channel and Viber. Do not fall for fakes!