Trending:
How to use your iPhone in the cold and what to do if your phone switches off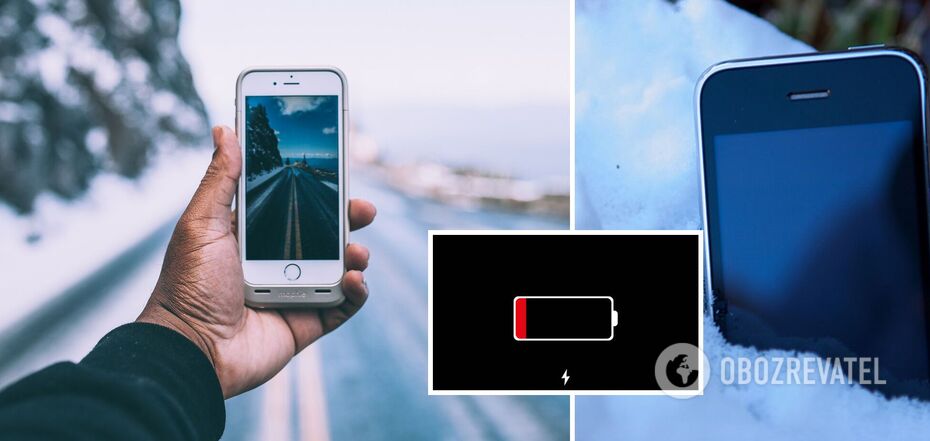 How to use your iPhone in the cold
iPhone owners often complain about problems that arise when using the gadget in the cold. We're talking about a significant drop in temperature when the thermometer drops below -15...-25°C.
Often, the iPhone simply shuts down from the effects of low temperatures, and you may be left without communication when you need to make an important call or send a message. Read the OBOZREVATEL article on how to use your iPhone in the cold and what to do if the gadget turns off.
At what temperatures the iPhone may not work
Apple's official website states that the iPhone is designed to be used at temperatures from 0 to 35 °C and stored at temperatures from -20 to 45 °C.
That is, if you use your iPhone at temperatures outside this range, the gadget may have problems with functionality. Applications may not load and there is a high probability that the iPhone will simply turn off. Battery life at low temperatures is also significantly reduced.
How to use your iPhone in the cold
At low sub-zero temperatures, it's best to keep your iPhone in a more or less warm place. For example, in the inside pocket of a jacket. Experts also advise putting your iPhone in your trouser pocket in winter, preferably with the screen facing your leg. This way, hypothermia of the gadget can be avoided.
But in the outer pockets of a jacket, in bags or backpacks in very cold weather, the iPhone should be kept on the trail. There is a high probability that it will quickly turn off when exposed to frost.
Minimise the use of your device in the cold. Don't try to browse social media or take photos. If you really need to make a call, talk quickly, postpone long conversations until you are warm again. At the same time, hide your smartphone under your hat. It's better to take off your glove while you're talking, so your iPhone will cool down more slowly.
Instead of typing long text messages, record voice messages.
According to recent studies, Android smartphones are much less affected by cold weather than iPhones.
If your iPhone does switch off, the best way to do so is to go into a warm room, wait until the gadget warms up, and then switch it on.
Frost can affect the battery and you will notice that it is low when you switch on. Connect your smartphone to a charger. There is a high probability that the charge level will be at the same value.
But be careful - do not connect a cold gadget to the charger immediately. Give it time.
In a critical situation, when your iPhone has switched off, there is no warm room nearby, and you need to make an important call, try this life hack. Remove the case from your iPhone and hide it in a warm place on your body, for example, under your armpits. The temperature should be high, so trying to warm your iPhone with a glove may fail.
Earlier, we told why your iPhone loses battery power quickly.
Only verified information is available in our Obozrevatel Telegram channel and Viber. Do not fall for fakes!