Trending:
How to plant winter garlic to have bountiful harvest: auspicious days in 2023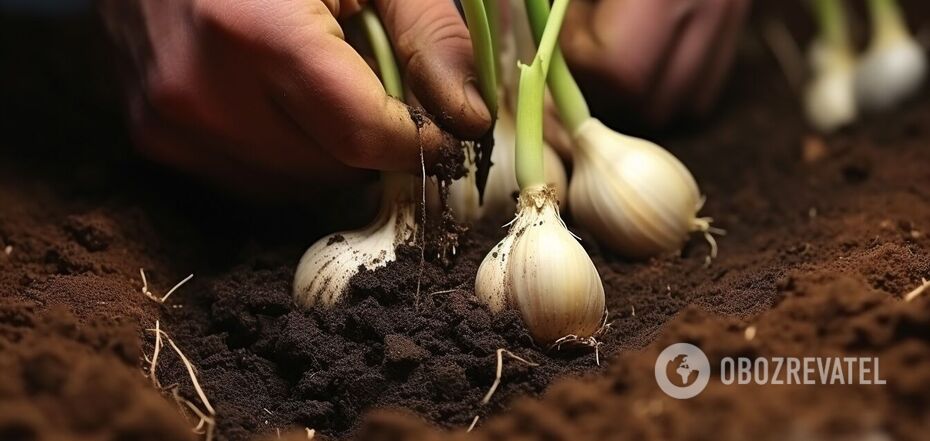 Winter garlic
Winter garlic is unpretentious in cultivation, but it is still necessary to create favorable conditions for its growth during the cool season to harvest a bountiful crop. The owners start planting garlic in October or early November, depending on the weather conditions.
The main thing is to have time to plant the crop about 25 days before the onset of stable frosts. OBOZ.UA has collected effective tips to help you cope with this.
Location
One of the important factors affecting the harvest is the right place. Garlic should be planted in a spacious and sunny area. Avoid trees, shade, and places with high humidity. The ideal choice is raised beds, where the crop will be slightly elevated.
Soil
Do not plant winter garlic in the same place as onions because these crops have the same diseases and therefore a fungal pathogen may appear in the soil. The best predecessors are cucumbers, zucchini, or cabbage because these fruits are usually fertilized with a lot of organic fertilizer.
Fertilizers
The soil should not be fertilized with fresh humus, as it is too concentrated and will negatively affect the growth of the plant. Use humus or compost. If possible, avoid soil with high acidity, choosing a neutral or slightly alkaline area instead.
Disinfection
Before planting, you need to disinfect the garlic. Peel the cloves and soak them in a solution of copper sulfate for 10 minutes. You can also use a chlorhexidine solution or hydrogen peroxide, but the garlic should be in the liquid for one to five days.
Wrap the cloves in a dry cloth to absorb excess moisture. Choose dry weather for gardening. The distance between the beds should be at least 20 cm and 8-10 cm between the garlic.
Favorable days for planting garlic in October 2023 according to the lunar calendar are 16, 17, 18, 19, 20, 2, 29, and 30;
November: 3, 4, 12, 13, 14, 20, and 23.
Unfavorable days:
October: 13, 14, 15, and 28;
November: 1, 2, 4, 5, 6, 7, 9, and 10.
Earlier, OBOZ.UA shared what you need to do in the fall to get rid of pests and stimulate the harvest.
Subscribe to OBOZ.UA on Telegram and Viber to keep up with the latest events.