Trending:
How to get the best seats on a plane for free: 5 tricks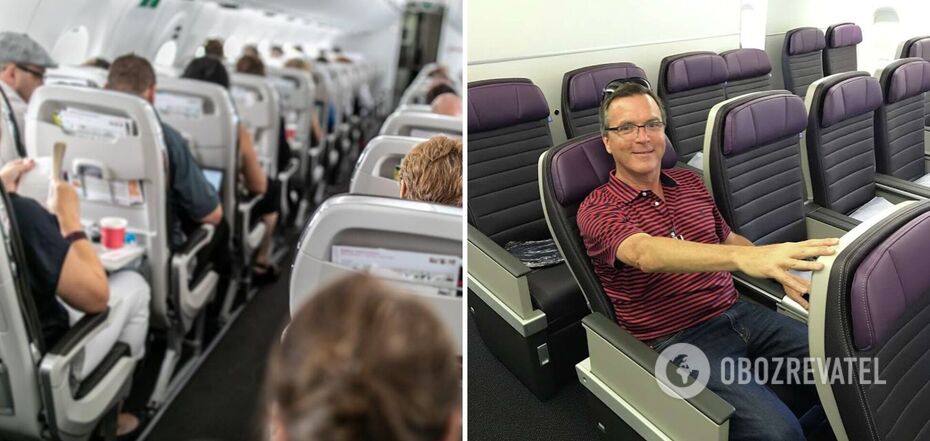 Lack of legroom is one of the most common complaints of airline passengers
One of the most common complaints from airline passengers is the lack of legroom near the seat. Because of the tightly spaced seats, tall passengers have difficulty.
Some airline customers even agree to pay extra for seats with extra legroom, which the carriers are happy to take advantage of. Meanwhile, the Daily Star lists five ways to get such a seat for free.
Avoid early check-in
This advice works best for those who are traveling alone or don't mind sitting apart from their companion. In that case, your patience at check-in may be rewarded by the airline checking you into a seat with extra space for free simply because that seat was left unoccupied for some reason.
Use loyalty programs for frequent flyers
Airlines often have loyalty programs for passengers who use their services often, but do not advertise them unnecessarily. So take a step towards you - ask the carrier whose services you often use if you are entitled to additional privileges. Among them may be boarding out of turn, increased carry-on luggage and, of course, extra legroom.
Choose seats in the front row
If you will be flying on a large aircraft and the cabin is divided into classes, feel free to take a seat next to a partition. Yes, you will be staring into a blank wall the whole flight, but you can sit comfortably. After all, most of us during the flight anyway looking at the screen of his gadget.
Try a little risky
If you are traveling with two people, try to outsmart the system. At check-in, reserve seats in the same row near the porthole and in the aisle so that the middle seat is free. If the flight is not fully boarded it is very likely that no one will choose this seat and you will have extra leg room. If a stranger sits between you, just politely ask to change seats so that you can sit with your traveling companion together. For this kind of negotiation you will have a trump card in your hands, such as a seat by the porthole. If you agree to give it up, of course.
Get seat notifications
There are mobile apps and websites that can notify you when a comfortable seat has become available on the flight you want. Also, there's nothing wrong with asking airline staff at the check-in counter if you can change to a larger seat. After all, the risk is sometimes worth it.
As reported by OBOZREVATEL, experienced flight attendants told how passengers can get rid of the feeling of nausea during the flight if they get motion sickness.