Trending:
How to fold towels correctly: an easy and aesthetic method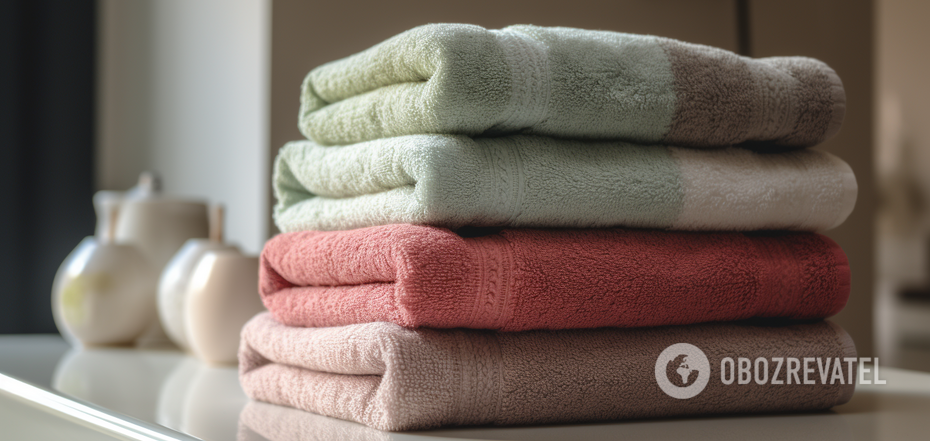 Beautifully folded towels can even serve as a decorative element in a room
Beautifully folded towels give a feeling of coziness. But how to do it, so that it was not worse than in the picture of an interior magazine found in the store of expensive home textiles? The method is very simple and does not need additional skills.
OBOZREVATEL shares a simple method. It will also be important for those who have a monogram on the towels, which you want to keep in plain sight.
Step one: spread out the towel
To neatly roll a towel, you must first lay it out flat on a clean surface with the front side (the one with the monograms or other decorations) facing down. Carefully straighten the object.
Step two: fold three times

The first folding of the towel should be done lengthwise as this will give it a beautiful volume. First, bend one half in the center, then the second. Make sure that its edge is about 2 cm covered by the opposite edge of the towel. However, this rule can be ignored if the front side of the monogram or other decor, which you want to leave in plain sight, takes up a lot of space in width. In this case, the edges can be folded only partially.
Step three: fold in half twice
Now fold the resulting long object in half across. Then do it again. Make sure that the monogram or pattern remains on top. As a result, you should get a perfectly folded voluminous towel. They can be folded into beautiful stacks or pyramids if you have sets of identical in-style items of different sizes. Thus, you can conveniently store them in this way in the closet.
Earlier OBOZREVATEL shared how often you need to wash towels to make them as hygienic as possible.
Subscribe to OBOZREVATEL channels in Telegram, Viber and Threads to be aware of the latest events.