Trending:
How to clean old grease on the oven door: you need two simple ingredients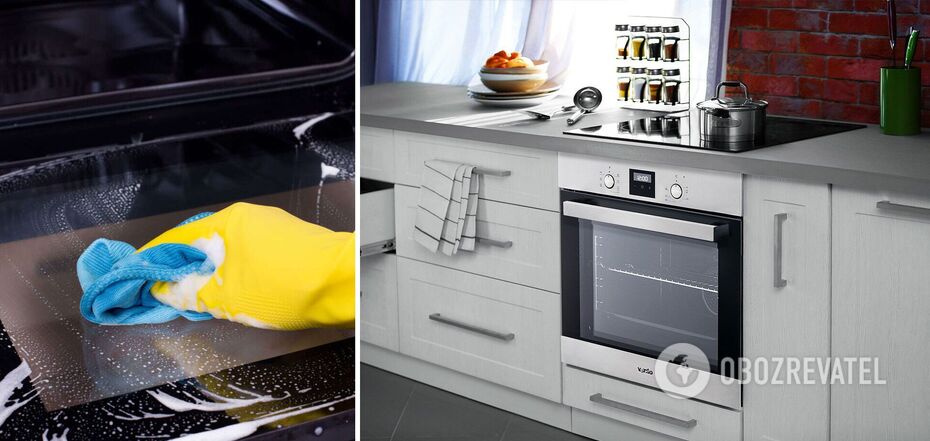 How to clean the oven
Old grease on the oven door is very difficult to remove. Even the most expensive chemicals can't cope with brown stains and smudges.
Only two simple ingredients are needed to clean the dirt quickly and efficiently. What exactly are they, the Express publication told.
On TikTok, Danielle (@danicakesbakes) showed a handy technique that will wash away grease in 20 minutes. Danielle is a mother and a professional baker, so she deals with the problem of cleaning the oven every day.
Mixture with vinegar
The life hack is very simple - you need to prepare a special solution. Take half a cup of baking soda and mix with a little water until the mixture is smooth. Spread it on the oven door and leave it for at least 20 minutes. Then add a little hot water and vinegar and wipe with the stiff side of a sponge.
Baking soda is often recommended for cleaning various surfaces due to its alkaline pH and mild abrasive structure. Since oven grease and burnt food particles are usually acidic, baking soda can neutralise them, while its abrasive structure will remove stubborn marks without leaving any heavy scratches.
White and apple cider vinegar can be used to clean the oven door. Vinegar can dissolve mineral deposits, dirt and grease. It is also effective enough to kill some bacteria.
Danielle noted that she also uses this mixture to deal with carpet stains. To remove stains from carpets, use baking soda, white vinegar, and dishwashing detergent with warm water.
Mixture with baking soda
If you don't have vinegar on hand, baking soda and water can be used to remove stubborn dirt on the oven door. Pour a quarter cup of baking soda into a bowl, then slowly add water until you have a thick paste.
Apply the mixture to the inside of the oven window. You can leave it on overnight if the dirt is too old, but 20 minutes is usually enough. Then moisten a clean microfibre cloth with water and wipe off the paste.
Earlier, OBOZREVATEL told you how to easily clean the kitchen from grease.
Subscribe to OBOZREVATEL's Telegram and Viber channels to keep up with the latest news.