Trending:
How to clean a velvet sofa: tips for different types of dirt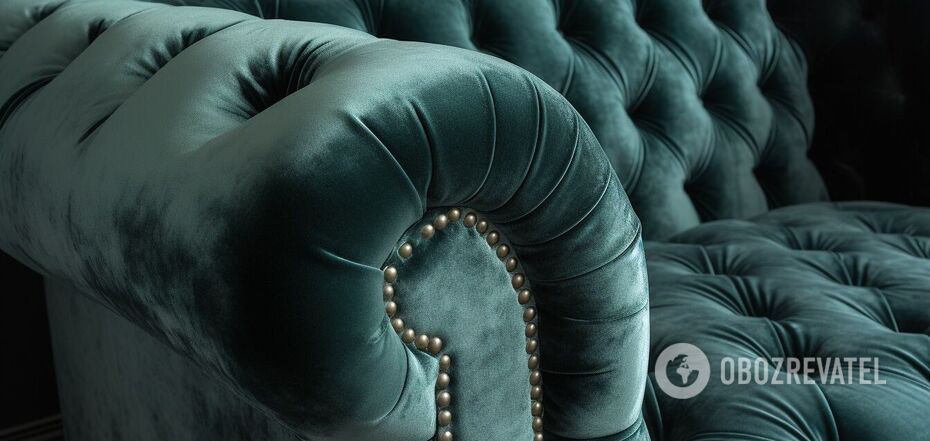 Velvet covering requires careful care
Every housewife wants her furniture to look like new for a long time. Especially velvet flooring requires careful maintenance.
If not properly cared for, soft and smooth fabric can spoil dust and dirt. Therefore OBOZREVATEL collected effective ways to clean your sofa on your own and without damage.
Before you start cleaning your furniture, you should definitely find out if your sofa can lose its color.
Take a piece of white cloth soaked in water and wipe a small section of furniture. If the cloth remains spotless, then the color of your covering is stable and you can safely get to work. But if the fabric has become colored, it is better to ask for help from professionals.
Take care of furniture that has a velvet covering, you need to daily. To do this, with a special soft nozzle for a vacuum clean the surface of dust and debris.
For stubborn stains, a little effort is needed. If you spilled a drink on the couch, it's best to start removing it right away.
Use a damp cloth to easily blot the liquid, but do not rub the sofa, because this will damage the velvet and it will no longer be as soft. If the stain is more persistent, it is better to use a special detergent or soapy water.
You can also make a cleaning mixture yourself.
To do this, mix baking soda and lemon juice, this will not only remove the stains, but also get rid of the unpleasant smell.
If you have a steam cleaner, use a special nozzle for velvet and get rid of the dirt.
After cleaning, allow the furniture to dry in the fresh air. Open a window to air it out, but never use a hair dryer or heater, as this may deform the velvet.
Also, if your pets like to snuggle on the couch, their fur can easily be removed.
Put on kitchen gloves, soak your hands in water, and wipe down the furniture. Any unwanted lint will stick to them. Or use a shower mop.
Previously OBOZREVATEL told you what you should not do during cleaning not to damage the interior.
Subscribe to channels OBOZREVATEL in Telegram and Viber to keep up with the latest events.