Trending:
How to celebrate the first day of Maslenitsa: Ukrainian traditions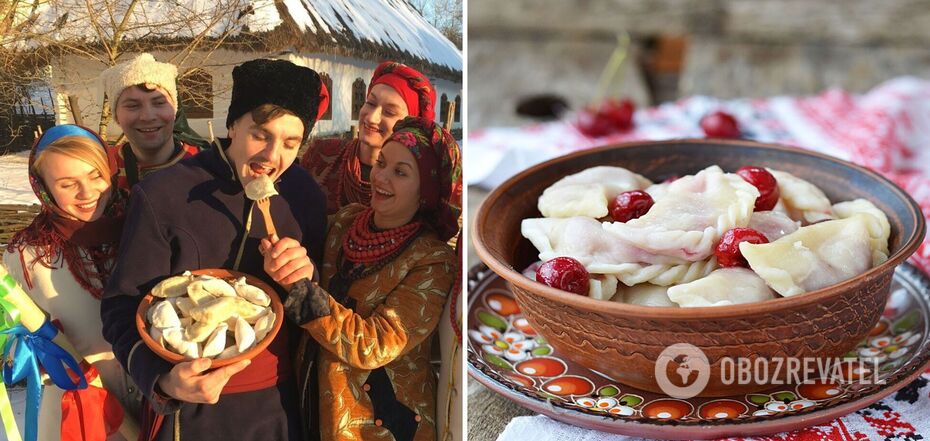 Dumplings were the main dish of Maslenitsa in Ukraine
The cheerful Maslenitsa holiday, which lasts a week and begins this year on February 20, has a lot of interesting traditions. One of them is that each day is called by a different name and is celebrated differently from other days.
OBOZREVATEL tells how Maslenitsa is traditionally celebrated in Ukraine. By the way, its first day is called the Meeting.
It was customary to start the celebration with a loud party. People used to set up ice hills for sledding. It was believed that the longer the slide, the longer the descent and the more laughter around this attraction, the more productive the year would be.
On Monday, Ukrainians would start preparing the main dish of Maslenitsa - dumplings with cheese and butter or nalysnyky. The tradition of baking pancakes, which is more typical for Russia, appeared on Ukrainian lands during the Soviet era.
Meanwhile, in our country, it was customary to give the first dumpling to the poor. The gesture was intended to commemorate all deceased relatives. Guests were also generously treated to varenyky and pancakes from the first batch. In the Ukrainian interpretation, Maslenitsa was intended to reconcile the entire community before the start of Great Lent, a period of soul cleansing before Easter.
Another name for Maslenitsa in Ukraine was Kolodiya. During the week, the main character of the holiday, called a "kolodka" (trunk of a felled tree, log), had to be born, go through a full life cycle, die and be reborn. This symbolises the continuity of the annual cycle and points to the pre-Christian origins of the holiday. So on Monday, the birth of the kolodka was celebrated. They chose a log that served as a symbol of the holiday and brought it to the tavern where the celebration took place.
Another name for Ukrainian Maslenitsa is Women's Week. Women were in charge of the community at this time. They used to punish young men who were in no hurry to get married and procreate. For this, they would tie a kolodka to the unmarried boys' feet. They could pay off the symbolic punishment by pouring girls drinks or giving them money. Traditionally, this week was the season of engagement. In this case, weddings were organised after Easter.
Household chores are allowed at the beginning of Maslenitsa. The holiday is just coming into its own, so there is no ban on work yet.
Earlier, OBOZREVATEL told how the last day of Maslenitsa, called Forgiveness Sunday, is celebrated.
Subscribe to OBOZREVATEL's Telegram and Viber channels to keep up with the latest news.