Trending:
How to celebrate Maslenitsa in Ukraine: traditions, rituals and prohibitions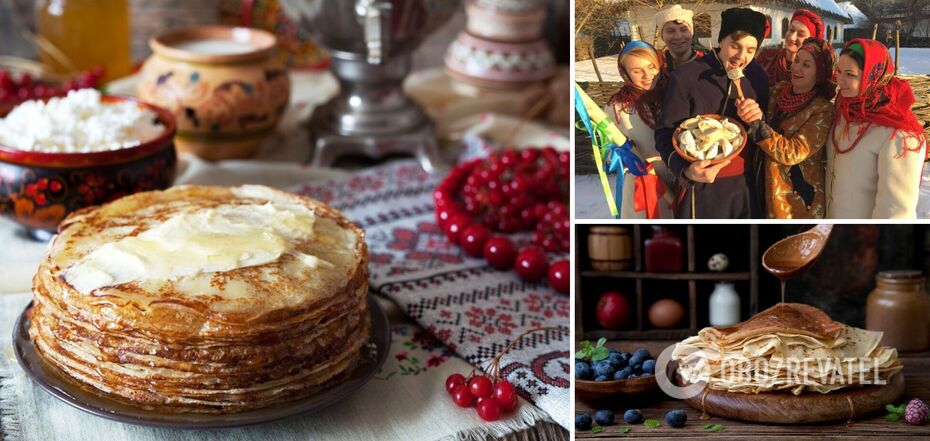 Maslenitsa is an ancient Ukrainian holiday
Maslenitsa is a traditional week of seeing off winter. There are many folk traditions associated with this holiday - from baking pancakes to burning a scarecrow.
However, lately, against the backdrop of the full-scale Russian invasion, more and more Ukrainians are asking: is this holiday ours? OBOZREVATEL looked into the origins of the ancient traditions and how our ancestors used to see off the winter.
The history of Maslenitsa
Let's get this straight: Maslenitsa is a Ukrainian cultural heritage. However, some historians believe that in ancient times, Ukrainians did not cook pancakes for Maslenitsa, but rather had dumplings with cottage cheese as a traditional dish.
The history of the holiday dates back to pagan times. It has long been a holiday of the sun god Yaril. Many centuries ago, the Slavic tribes living on the territory of modern Ukraine used to build straw effigies at the end of winter, which they then sacrificed to pagan gods.
With the advent of Christianity, folk rituals were not destroyed or forgotten, they were simply given a new meaning.
What is celebrated on Maslenitsa?
Nowadays, the main idea of the holiday is to see off the winter. Historically, this is not entirely true, as the ancient Slavs celebrated the vernal equinox, i.e. the coming of spring, on Maslenitsa.
This week is also known as Cheesefare Week, which is associated with Easter. The Church allows the consumption of dairy products, butter, cheese, and fish to prepare for Lenten restrictions.
Maslenitsa week ends with Forgiveness Sunday. This is the time to ask forgiveness for the evil done and to forgive enemies and foes.
Maslenitsa traditions
The date of Maslenitsa is linked to the date of Easter. In 2023, Ukrainians will celebrate Maslenitsa from 20 to 26 February.
Each day, according to custom, was designated for different rituals: Monday was the meeting of Maslenitsa, Tuesday was "courtship" - parents wooed children before Lent, on Wednesday they went to visit their mother-in-law, on Thursday they finished all the housework and spent time having fun, and on Friday they had more guests: The mother-in-law would go to her son-in-law, on Saturday they would also spend the day with their relatives, inviting their husband's family to visit, and on Sunday they would say goodbye to winter and say goodbye to Maslenitsa.
In addition to traditional pancakes with various fillings, pies, dumplings, and casseroles were also prepared.
Maslenitsa is a merry holiday that has always been accompanied by songs, dances and entertainment.
Signs and superstitions
What to do on Maslenitsa
There are many folk signs associated with Maslenitsa.
If you suddenly have guests at Cheesefare Week, welcome them and treat them to some goodies, this is a good luck sign. In general, it is customary to visit and receive guests on Maslenitsa, so you should see off the winter with your family and friends.
Pancakes are also believed to be baked to ensure prosperity and harmony in the home.
Good deeds, help, compassion, mercy or donations to those in need will be returned with goodness and happiness. Selfless help is always rewarded.
Folk prohibitions
Believers did not eat meat dishes during Cheesefare Week, preparing for Lent.
If you set a poor table on Maslenitsa or spare treats, poverty will come to your family.
You can't quarrel, take offence or be mean. According to beliefs, this is fraught with troubles and misfortunes for the whole year.
Earlier, OBOZREVATEL told you in detail how to celebrate every day of Cheesefare Week.
Subscribe to OBOZREVATEL's Telegram and Viber channels to keep up with the latest news.