Trending:
Hidden sights of Rome that not all tourists know about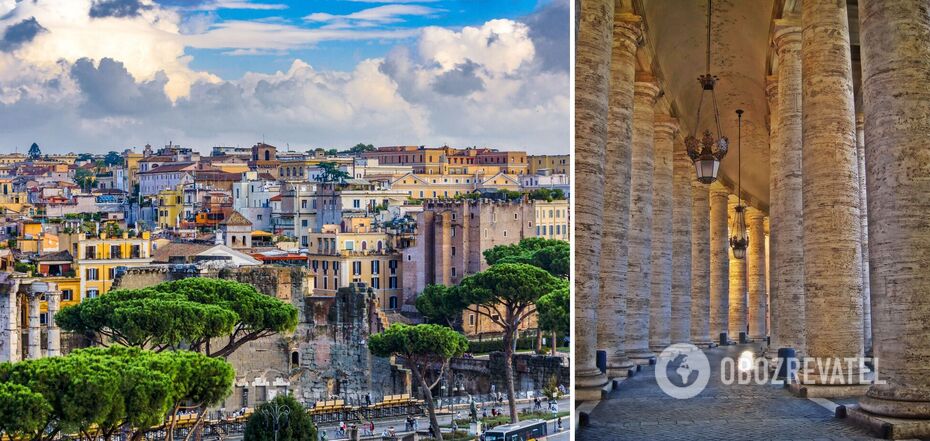 Little-known Rome
Walking between the famous sights of Rome is a pleasure. The first time... The second time is probably not bad either. But the third time is different. The Colosseum becomes just the Colosseum, the Pantheon no longer seems so majestic, and the Trevi Fountain is still good, but there is no desire to take a picture near it anymore.
At this point you have only two choices: continue your walk along the familiar routes, or get to know a completely different, little-known, Rome. What to see in the capital of Italy?
Coppede
A completely non-tourist quarter of Rome, located in the area of Trieste. It was built by the architect Gino Coppedè in the early twentieth century, combining different forms and styles in these streets, creating its own unique atmosphere.
A total of 18 villas and 27 apartment buildings are located here. Neighborhood was created with the expectation that foreigners will not get here and the Italians can live here quietly and calmly (as far as possible with their irascible temperament). Here you can enjoy the real Rome: no decorations, no tour guides, no advertising signs, and noisy street performers.
And there are plenty of cozy cafes and restaurants in Coppeda whose prices will pleasantly surprise you. But it should be noted that they are often open only during breakfast, lunch and dinner, and during the breaks are closed.
The Square Colosseum
This structure you will not find in any guidebook to Rome and even the most experienced guides will not take you there. This is the Square Colosseum, created by order of the dictator Benito Mussolini. The building was inaugurated in 1940 to commemorate one of the anniversaries of the establishment of the Fascist regime in Italy.
Residents of this country do not like to talk about this period. Of course, Italians remember their history, but are silent about its black sides. However, the Square Coliseum itself, as an architectural monument, is worth your attention.
This marble 68-meter palace has served as a place for international exhibitions and expositions from the beginning. It is interesting that the loggias on the facade of the coliseum are arranged in six rows and have nine arches each. In this unusual way the architects tried to glorify Mussolini (his name consists of 6 letters and his surname consists of 9 letters).
Look carefully at the inscription under the roof of the building. It reads in Italian: "A nation of poets, artists, heroes, saints, thinkers, scientists, sailors, settlers. Not surprisingly, this is also a quote from the brutal dictator who erected this coliseum solely in his honor.
Galleria Borghese
This gallery is worth a visit at least once in a lifetime because it has one of the largest art collections in the country. Although not all tourists know about it, there is always a huge line. Villa Borghese attracts painting and sculpture lovers from all over the world to see works by Bernini, Raphael, Titian, and Rubens.
Also after the tour, you can walk through the huge park located on the gallery grounds and enjoy the beautiful views.
Baths of Caracalla
It's hard to believe that once upon a time these impressively sized ruins were the city's bathhouses. A huge courtyard of 400 by 400 meters, a bathing complex of 150 by 200 meters, a large area for recreation. Up to 1,500 people could stay here at the same time.
Needless to say, for the ancient Romans these Baths were a place for meetings, both personal and business. Important agreements (perhaps of historical importance) were even made here.
The Baths of Caracalla was built in the early 3rd century AD and is very well preserved to this day. Walking between the high walls of this building, one has only one question: how could such beauty have been erected without modern technology. It seems that the Romans were well versed in construction.
Schiarra Gallery
Another attraction in Rome that tourists underestimate. Passing by, they often don't even realize that one step away is an amazing 15th-century structure with well-preserved frescoes.
The building itself had no cultural or historical value for a long time until it was taken over in the 19th century by the architect Giulio de Angelis and the artist Giuseppe Cellini. All the walls of the gallery are painted with scenes from the lives of women.
It is important to note that, at the time, the role of women was quite limited, so these subjects could easily be called sexist. But from an artistic point of view, these murals are incredible.
In the frescoes, the artist depicted 12 women, each symbolizing one of the traits: benevolence, courtesy, loyalty, compassion, prudence, chastity, temperance, patience, valor, modesty, economy, prudence.
Don't stop to visit the tourist part of Rome. Its little-known areas can actually impress you even more than the Colosseum or the Vatican.
Previously OBOZREVATEL told you how Italians really live.
Only verified information in our Telegram-channel Obozrevatel and Viber. Do not be fooled by fakes!