Trending:
Gray-haired and bearded Michael Scott: how the actors of the cult TV series "The Office" have changed over 18 years. Photo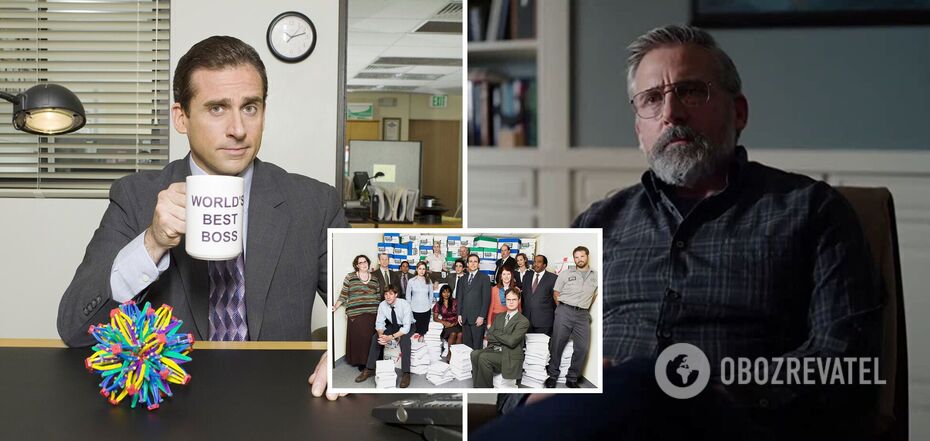 The original British-produced series "The Office" first came out on the screens back in 2001, and in 2003 it won a well-deserved Golden Globe. However, the American adaptation of the sitcom managed to become a true cult, collecting even more prestigious awards and an army of millions of fans, who revisit their favorite series about "the best boss in the world" Michael Scott and his subordinates, even 18 years after the first season.
For many of the actors who played in the series, it was "The Office" that became the impetus for career development, but there are also those for whom the comedy story about the employees of the paper company Dunder Mifflin from Scranton, Pennsylvania, turned out to be the pinnacle of professional triumph. OBOZREVATEL offers a look at how the stars of the iconic American TV project have changed.
Steve Carell (Michael Scott)
Michael Scott's charming idiot boss has had viewers falling in love with him since the first episodes, spawning hundreds of hilarious memes on the Internet. Not surprisingly, Carell won a Golden Globe for this role. However, the actor is not among those who get stuck in one image. With age, he somewhat changed his role and proved himself in many dramatic roles. Now Steve is 60. He has an Oscar nomination for "Foxhunter" in his arsenal. He has been happily married for 28 years to actress Nancy Carell, who played Carol in "The Office." They are raising a son and a daughter.
John Krasinski (Jim Halpert)
Another audience favorite is the hilarious and romantic Jim Halpert. He was embodied on the screens by American actor John Krasinski, now 43 years old. After "The Office," he switched from comedies to horror and thrillers, and switched, for the most part, to film directing and screenwriting. Since 2010, John has been married to popular actress Emily Blunt, with whom he starred in his own film A Quiet Place.
Jenna Fisher (Pam Beasley)
And Jim Halpert's on-screen love was the funny and witty secretary Pam Beasley, played by Jenna Fisher. The actress is now 48 years old. She continues to act in films, particularly in the films "Sexaholic", "You, Me and the End of the World" and others. Fisher also tried herself as a writer. She published a book "Acting Life: a survival guide.
Rainn Wilson (Dwight Schrute)
Whoever doesn't love Dwight Schrute, obsessed with order, beet farm, and boss Michael Scott, probably just hasn't watched "The Office" yet. Rainn Wilson was nominated three times for an Emmy Award for his brilliant transformation of the character. After his success on the show, the actor starred in many more, but those roles did not become as popular. Now the 57-year-old Wilson is engaged in charity work. He has also written a book, an autobiography titled The Fagot King: My Life in Art, Faith, and Idiocy.
Б. J. Novak (Ryan Howard)
Novak not only played intern Ryan, who managed to prove himself to be a boss, a drug addict, and an overbearing boyfriend, but he was also one of the series' screenwriters. After "The Office," his filmography includes such successful films as "Inglourious Basterds," "Saving Mr. Banks," "The New Spider-Man. High Voltage" and others. By the way, the celebrity's girlfriend in life, as well as on the screen, was Mindy Kaling, who played Kelly Kapoor in "The Office."
Mindy Kaling (Kelly Kapoor)
In addition to repeating her character's fate and beginning to date "Ryan Howard," specifically B. J. Novak, Mindy Kaling has also built a successful career. Incidentally, the actress was also a screenwriter for the series. Since "The Office," her filmography has expanded to include such works as "The Mindy Project," "Night at the Museum 2," "More Than Sex," and "The 40-Year-Old Virgin."
Ed Helms (Andy Bernard)
Ed Helms needs no introduction. After his success in "The Office," he had roles in the comedies "The Hangover in Vegas," "The Hangover 2: From Vegas to Bangkok," and "We Are the Millers," which can certainly be called hits. The 49-year-old actor also voices cartoons.
Angela Kinsey (Angela Martin)
Strictly Catwoman Angela Martin, and in life smiling actress Angela Kinsey went on to star in movies after "The Office," but she never quite got over the success she achieved on the show. She is now actively running her own cooking blog. Was married to her "The Office" colleague Paul Lieberstein's brother Warren, and is now happily married for a second time.
Paul Lieberstein (Toby Flenderson)
Another actor who also served as writer and director of "The Office." He has worked on such films, TV series, and cartoons as "King of the Mountain," "News Service," "Greg Rabbit," "Ghosts," "Bad Teacher," "The Mindy Project" and others.
Craig Robinson (Daryl Philbin)
The American actor and standup comedian is now 51 years old. In addition to "The Office," audiences may have seen him in "A Little Pregnant," "Zack and Miri Make a Porno," "Night at the Museum 2," "Time Machine in the Jacuzzi" and others. Also, Robinson's voice is that of Cookie in the iconic animated film "Shrek Forever."
Brian Baumgartner (Kevin Malone)
The actor has acted in numerous comedies and sitcoms. This list continues to grow. Few people know, but Baumgartner also directed several episodes of The Office.
Oscar Nunez (Oscar Martinez)
"The Proposal," "Beethoven: The Big Throw," "Family Tree," "Bad Teacher," "Life in the Details," and "Baywatch" - a far from a complete list of works on which comedian and actor Oscar Nunez, now 64, has worked. Unlike his character, the actor is not gay - he has been married to his wife since 2011.
Leslie David Baker (Stanley Hudson)
Stanley, the perpetually disgruntled crossword puzzle fan, was brilliantly embodied by actor Leslie David Baker, who has played in more than one TV series and movie since "The Office." However, the actor still enjoys the popularity that his role as Dunder Mifflin office worker brought him - he sells postcards and other souvenirs with Stanley's image on his name site.
Phyllis Smith (Phyllis Vance)
Phyllis Smith, after "The Office," starred in popular comedies: "The 40-Year-Old Virgin" (where her partner was Steve Carell), "Very Bad Teacher," "Like Butter," and others. She is now 71 years old. She also lends her voice to cartoon characters. In particular, Sadness in "Puzzle Girl."
Kate Flannery (Meredith Palmer)
Successful stand-up comedian and television host Kate Flannery is a Golden Globe Award winner. She has also won four Daytime Emmy Award statuettes. She has been on the series "The Bold and the Beautiful" for 25 years.
Ellie Kemper (Erin Hannon)
Ellie Kemper rose to fame with "The Office," and received critical acclaim for her starring role in the comedy series "Unbreakable Kimmy Schmidt." Also in her filmography are the films "Escape from Vegas", "The Mindy Project", "American Dad", and "Macho and Nerd".
Earlier OBOZREVATEL told how Hollywood actors, who 20 years ago drove girls from all over the world crazy, changed and what they connected their lives with. Our selection includes Tom Cruise, John Travolta, Jason Priestly, and Antonio Banderas.
Only verified information we have in our Telegram channel Obozrevatel and in Viber. Do not be fooled by fakes!