Trending:
Frosts down to -12 and snow in Ukraine: weather forecaster warned of weather changes and told where it would be coldest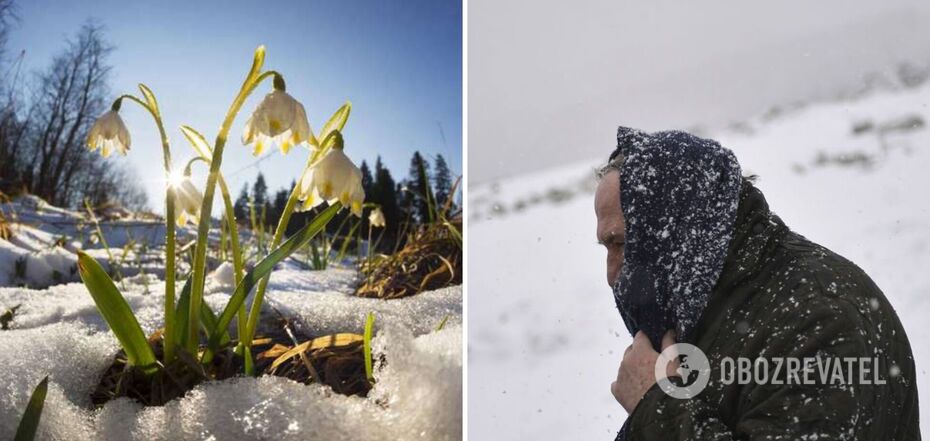 Significant precipitation is expected
A significant cold snap is expected in Ukraine, which will be caused by the so-called Carpathian cyclone. On March 28-29, frosts will hit the entire territory, and in the Carpathians the temperature will drop to minus 12 degrees. Precipitation, including snow, is also expected.
In addition, fluctuations in atmospheric pressure are predicted. This was reported by Ihor Kibalchych, PhD in geography and a weather forecaster.
On Monday, March 27, most of Ukraine will still be warm. During the day, the temperature will fluctuate between +10 and +16 degrees. During the day, moderate, sometimes heavy rains are expected in the western regions. The wind will be mostly south and southwest, 7-12 m/s.
On Tuesday, March 28, weather conditions will begin to deteriorate. The air temperature in the western regions is forecast to reach -2...+3 degrees throughout the day. In the rest of Ukraine, the temperature is expected to reach +5...+10 degrees at night and +11...+17 degrees during the day.
Precipitation in the form of rain with transition to snow is expected in western Ukraine and Kyiv, Chernihiv, Cherkasy and Kirovohrad regions. Southeast and northwest wind, gusty, up to 15-20 m/s.
On Wednesday, March 29, the temperature will drop to -4...+2 at night and -1...+4 during the day. It may rain in eastern Ukraine, and snow is possible in the northern and western regions. Northwest wind, 7-12 m/s, gusts in some places, 15-20 m/s.
On Thursday, March 30, the air temperature at night will remain at -6...-1, during the day it will warm up to +3...+9. Significant precipitation is not expected, only in the east and west it may rain, sometimes with sleet. The wind is cloudy with clearings, 3-8 m/s.
On Friday, March 31, the temperature will warm up to +5...+10 degrees during the day, and +11...+13 degrees in the southern and western regions. It will rain in the western, northern and central regions. Southeast wind, 5-10 m / s.
On the weekend of April 1-2, rains are also forecast in most regions of Ukraine. At the same time, the air temperature will be above zero, moreover, it will remain high.
Recall that the U.S. National Oceanic and Atmospheric Administration and the European Center for Medium-Range Forecasts estimate that spring in Ukraine would be warm. The average air temperature may be 1-2 degrees higher than in previous years.
As OBOZREVATEL reported, in April, Ukraine is expected to have variable weather with temperature variations. The second month of spring will be gloomier than March.
Only verified information on our Obozrevatel Telegram channel and Viber. Don't fall for fakes!