Trending:
For 300 years, mankind has been misreading Newton's first law: but the "wild" correct version still changes nothing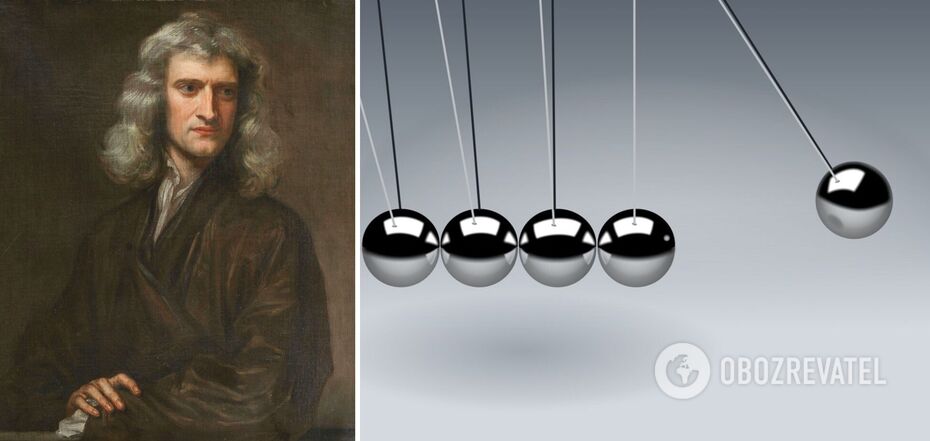 For 300 years, mankind has been misreading Newton's first law: but the ''wild'' correct version still changes nothing. Source: Godfrey Kneller/Pixabay/collage by OBOZREVATEL
In 1687, Isaac Newton formulated his famous laws of motion, including the First Law (of inertia), but it turned out that a mistake was made in the translation of his law, which in some way distorted what the scientist meant. The error was found only three centuries later, but it turned out that it did not affect the essence of the law too much.
This is stated in a study conducted by Daniel Hooke, a philosopher at Virginia Tech, who decided to set the record straight. His work was published in the journal Philosophy of Science.
Newton's law of inertia is as follows:
There are such reference frames in which the center of mass of any body on which no forces act, or the sum of the forces acting on it is zero, maintains a state of rest or uniform rectilinear motion until this state is changed by the forces applied to it.
Simply put, an object will continue to move in a straight line or remain at rest unless an external force intervenes.
According to Hooke, the problem is that Newton wrote his laws in Latin, and during the translation, one of the words was not translated quite correctly, resulting in a "gross mistranslation" into English, which was published in 1729.
However, it was on the basis of this translation that scientists and teachers interpreted Newton's first law of inertia. As the philosopher notes, their interpretation works well, but until you remember that external forces are constantly acting, and Newton undoubtedly understood this.
In the course of his research, Hooke discovered that the error was also reported back in 1999, when two scholars pointed out that the translation of the Latin word quatenus means "insofar as" and not "unless".
According to Hooke, Newton did not mean that an object retains its momentum unless it is acted upon by other forces, but that every change in the body's momentum-every push, dip, turn, and jerk-is caused by external forces.
At the same time, as the philosopher notes, an amendment to Newton's law of inertia has not yet been made.
"Some people think my reading is too wild and unconventional to be taken seriously. Others think that it is so obviously correct that it is hardly worth arguing about," Hooke said.
At the same time, he himself admits that to a large extent this is just a semantic argument that will not change physics.
Earlier, OBOZREVATEL also reported that a "perfect" explosion occurred in space, which makes no sense and contradicts the laws of physics.
Subscribe to OBOZREVATEL's Telegram and Viber channels to keep up with the latest developments.