Trending:
Five celebrities who gained weight and changed beyond recognition. Before and after photos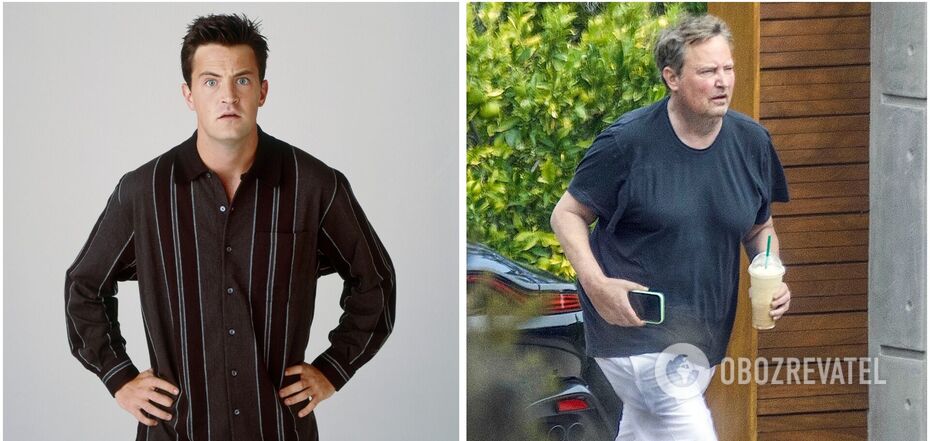 Stars who gained weight and changed beyond recognition
Overweight is a problem with which a large number of people, including many celebrities, are struggling. The cause of gaining unwanted pounds can be more than just an excess of fatty foods. Often it is due to psychological disorders, stress, and hormonal malfunctions. However, if we talk about the stars, they have a hard time also because literally every extra centimeter of their body is watched by intrusive paparazzi, haters and fans.
OBOZREVATEL gathered the stories of five celebrities who for various reasons have faced the problem of sudden weight gain. Some still can't accept their new bodies.
Matthew Perry
Audience favorite "Chandler Bing" is no longer the sarcastic funnyman he was on the iconic '90s TV series "Friends." For the first time fans may have noticed how the actor suddenly and dramatically gained weight just during one of the seasons of the TV project. All the fault of drugs and alcohol, which for a long time "fond" of Perry. In many ways, his weight fluctuations are connected with the years of abuse of forbidden substances. Lately, according to the celebrity, he is clean, but he can't get back to his former form.
Mariah Carey
In the early stages of her musical career, the singer didn't look as bulky as she does now. She faced some eating disorders, mostly related to troubles in her personal life. Every now and then Carey would get rid of the extra weight, and then she would gain it again, and so on in a circle.
Jon Favreau
The famous American actor and director once had a great athletic physique. Along with fame and success, thanks to his films "Iron Man", "The Jungle Book" and "Elf", the celebrity also became overweight.
Keeley Shay Smith
The American TV presenter and actress, and concurrently the wife of "James Bond" Pierce Brosnan, was a stunningly sexy beauty in the 1990s. She was invited as a professional model to shoot for fashion glossies, but after marriage Smith began to gain weight. Fans speculate that the star's body malfunctioned after the birth of a child.
Kelly Clarkson
The successful performer looks absolutely harmonious at her weight, which she began to gain sharply due to thyroid problems. The star repeatedly succumbed to criticism from the press and fans, and did not hide the fact that she was hurt by it. However, in 2018, the singer and TV host did an incredible job and got rid of 16 extra pounds. She normalized her diet and achieved post-shaking results with almost no physical exertion. And even though Clarkson doesn't have the slender figure she had at the beginning of her career, she, to repeat the above, looks absolutely harmonious.
Previously, OBOZREVATEL told which stars dared to radical transformation for roles in movies. Charlize Theron, Jared Leto, Tom Hanks had to "work" on themselves to meet the expectations of directors. Read more in our material.
Only verified information on our Telegram-channel Obozrevatel and Viber. Do not be fooled by fakes!