Trending:
Enabling only one function drains your smartphone battery 4 times faster: what it means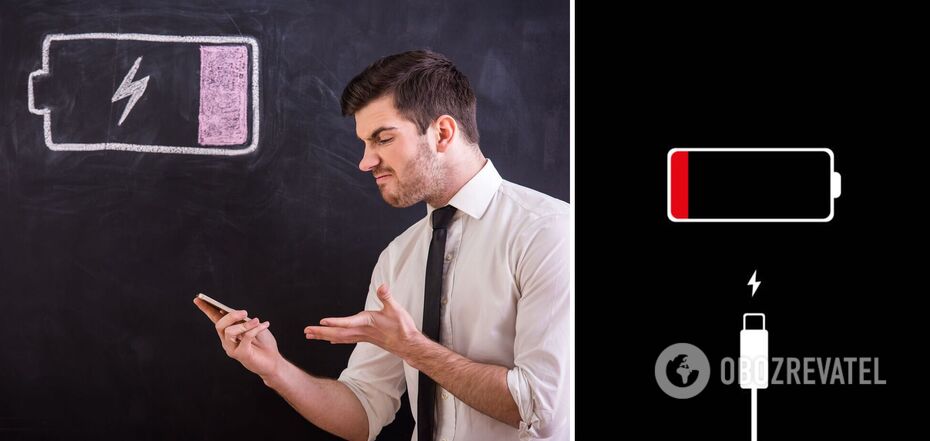 Always-On Display function drains the battery
The display of a smartphone is one of the most energy-consuming parts of the device. Therefore, to save battery power, experts advise that you first of all reduce the brightness and enable the screen auto-lock function. However, the always-on display function is quite popular, and after many years of existence on Android smartphones, the iPhone 14 has now reached Apple gadgets. However, tests have shown that switching on AOD causes your gadget to consume battery power four times faster.
OBOZREVATEL reports on the results of the test conducted by DxOMark experts. For the experiment, we used Apple's iPhone 14 Pro Max and three Android smartphones: Google Pixel 7 Pro, Samsung Galaxy S22 Ultra (Exynos), and Xiaomi 12S Ultra.
What is the always-on display function?
Enabling the AOD function causes the screen of the gadget to actually stay on at all times, allowing the user to see the time, wallpaper, and the gadgets they have switched on. It can display the number of new messages, new mail, weather forecast, and more.
How much battery does the always-on screen function consume
As it turned out, the enabled function caused the gadget's battery to drain four times faster than usual.
The tests were conducted for at least two days in the same conditions. During the test, the phones had the following settings:
Airplane mode on;
Wi-Fi, data transfer, Bluetooth, geolocation services (etc.) were disabled;
Auto-brightness is on;
Adaptive refresh rate was on.
The test results showed that the always-on screen function significantly affected battery life, draining the battery about 4 times faster.
The Google Pixel 7 Pro showed the best battery life, lasting 139 hours with the screen always on. In general, the results were as follows:
iPhone 14 Pro Max - 466 hours on standby and 122 hours on AOD;
Google Pixel 7 Pro - 367 hours and 139 hours;
Xiaomi 12S Ultra - 495 hours and 103 hours;
Galaxy S22 Ultra - 417 hours and 136 hours.
The analysts noted that smartphones with a long battery life performed worse when the AOD function was enabled, which may indicate that manufacturers did not care much about optimising it.
Experts also noted that all the tested gadgets use OLED screen technology, which is more energy efficient than LCD. On OLED screens, black areas in particular do not consume any energy.
Earlier OBOZREVATEL told about why the iPhone loses battery power quickly and how to fix the problem.