Trending:
Egg hunting and distributing coins in bags: how the royal family celebrates Easter. Photo.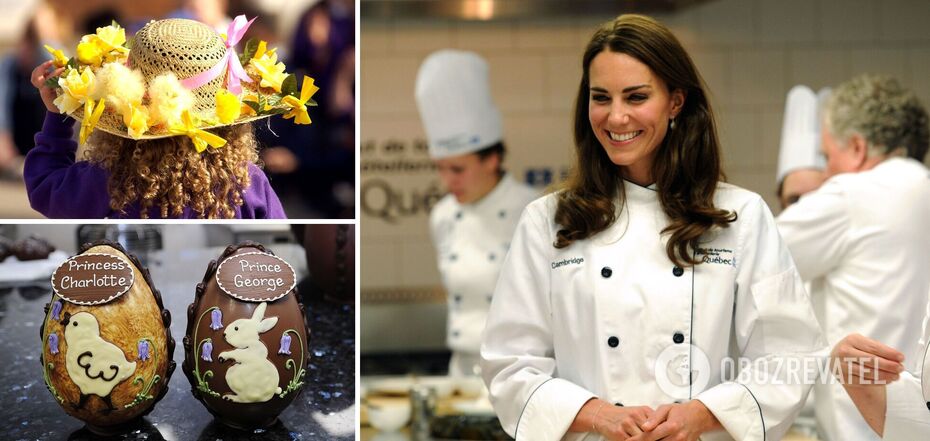 Easter traditions that you will definitely want to borrow.
There are many traditions associated with Easter in the UK, particularly in Windsor. One of them is decorating a tree with eggs, flowers and other decorations. The royal family also celebrates this great holiday without traditional food. They cook lamb and egg dishes, beef pate or a caramelised apple cupcake.
What are the other peculiarities of celebrating Easter "royally"? Read the article by OBOZREVATEL.
Easter holidays
Children in the UK look forward to Easter holidays every year. After all, holidays begin: two weeks in public schools and three weeks in private ones. During the holidays, young princes and princesses take part in games with painted eggs and competitions to create the best Easter Bonnets, which are decorated with ribbons and flowers. By the way, children from ordinary families have also adopted these traditions.
Maundy Thursday
For the Windsors, Easter begins on Maundy Thursday. On this day, Queen Elizabeth II visited cathedrals or abbeys to present money to pensioners for their good deeds in the church community. Her Highness gave people two leather bags of red and white colour, which contained coins of different types: the first one contained a small amount of money, and the second one contained coins with an engraved image of Elizabeth II. Interestingly, the amount of the reward was equal to the age of the ruler. That is, when she was 95 years old, she was awarded 95 pence.
After the death of Queen Elizabeth, it is not known how this tradition will be implemented in 2023. It is possible that Charles III, the new King of the United Kingdom of Great Britain and Northern Ireland, will now present the coins.
Treats for the holiday
It is not customary to bake Easter cakes in the UK. Here they make so-called hot cross buns (buns with raisins and spices (cinnamon, nutmeg and cloves) and a white cross in the centre). The cross on the bun symbolises the crucifixion of Jesus.
English folklore contains many superstitions associated with hot buns. It is said that these delicacies, baked on Good Friday, do not spoil or become mouldy over the next year. Another common belief is that hot buns taken with you on a sea voyage protect you from shipwreck. And if they are hung in the kitchen, they are said to protect against fire.
Symbols of Easter among the British
At Easter, there are always eggs on the royal table. They symbolise new life and the stone that covers the entrance to Jesus' tomb. They used to be painted, but nowadays they are increasingly made of chocolate with a little surprise, caramel or nuts inside. Royal chefs decorate eggs with sugar flowers or draw animals on top of the glaze. Dark chocolate and mint eggs are a particularly sophisticated option.
Another symbol of the holiday is the Easter Bunny. Its figures are often made of dark or milk chocolate. The children in the royal family sincerely believe that this fluffy animal brings them Easter gifts. However, he is very modest, so he leaves the gifts at their homes or in the garden.
Elizabeth II's grandchildren have a favourite game: their parents hide chocolate eggs in their rooms or outside, and the kids wake up and go in search of sweets. This game is called Egg Hunt.
Earlier OBOZREVATEL wrote about the 5 most strange things of the royal family, which were put up for auction.
Only verified information is available in our Obozrevatel Telegram channel and Viber. Do not fall for fakes!