Trending:
Eclipse already today: which signs expect progress and prosperity. Horoscope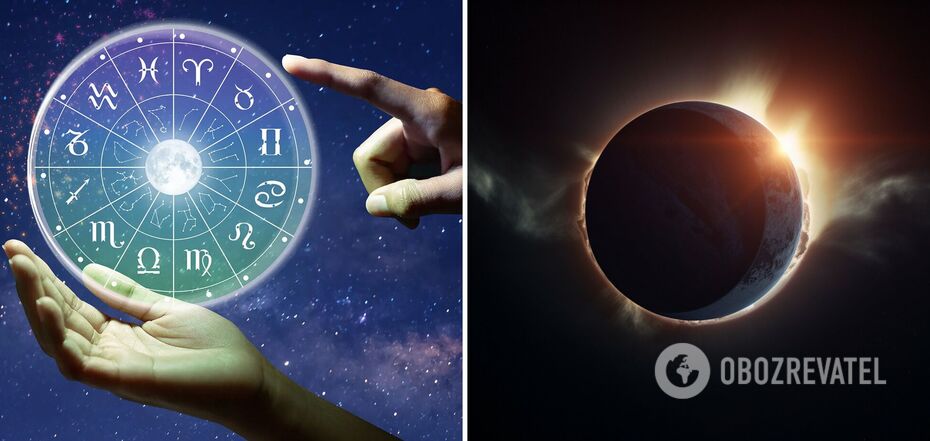 Today, May 5, there will be a lunar eclipse. Astrologers say it encourages all of us to let go of things that have outlived their usefulness - it should bring relief and even success.
The horoscope for all zodiac signs for this challenging day is ready. Find out what the stars have in store for you.
Aries.
You have a busy day ahead of you. Make plans for your work or business, and how to make a profit in the future. Work carefully and it will boost your self-esteem. But don't forget about the good atmosphere at work. You can also expect good news from someone in the family today.
Taurus
This will be a day of progress. Your prestige will rise and your mood will improve. At work, think about the money it will bring you - it will be good for you. For Taurus in business, you should expect an ally to help you succeed. Seek work tips from your partners, primarily romantic ones.
Gemini
You may have to rush your business, but it will give you many advantages. You may close out some important and long-standing projects. Your children will please you today and your family relationships will be cordial. An evening walk will bring you not only benefits but also a good mood.
Cancer
Be very attentive to your health. In work or training, seek the advice of your elders. Excessive expenses are likely for you today, and you will have to go against your will. Solve family problems with the help of parental advice.
Leo
A day of happiness and family well-being awaits you. But in the workplace, you may need help from your colleagues. You will succeed in any job you do with true dedication. But remember to control your anger and watch your words. Spend your free time with your young relatives.
Virgo
Today is a good day to engage in socially useful work. For example, charity work. You also have a chance to get a promotion at work. The deals made on this day will be successful, including the purchase of real estate. But check all the details of the contracts. Your brothers or sisters will help you.
Libra
Expect well-deserved praise. You may also have a new source of profit today. If you have to make decisions about your children, consult their father or mother. Only borrow money from your immediate family today. But it will be good to reveal your feelings for your partner.
Scorpio
The competition at work today will not be in your favor. Your success will come somewhat later but don't forget to consult with specialists. Well-being in the family will compensate for these troubles. Be attentive to your health and consult a doctor immediately if necessary.
Sagittarius
Today is a good day to strengthen your financial situation. This will help you look more confidently into the future. But avoid arguments in the workplace, you risk losing. In all likelihood, you'll have to make some tough decisions today, including about the future of your family.
Capricorn
You'll have a busy day, but you'll be able to make time for your life partner. This will bring you a sense of true happiness. Try to close all the big cases before noon - this can bring you extra success in your work. Your family will be proud of you today.
Aquarius
Luck is on your side, so make big decisions, particularly about starting a business or investing money. You may have to go on a business trip, and that will be helpful. If you're studying, be prepared for a sudden test of your knowledge.
Pisces
Your wishes will come true today as if some kind of magic is at work. You can also expect some significant events in the family. Engage in social activities on this day, so you will be noticed by the right people. If you are seeking a relationship or marriage, take a closer look at those around you. If you're already in a relationship, spend the evening with your partner.
Previously OBOZREVATEL published a horoscope Tarot for May for all zodiac signs.
Subscribe to OBOZREVATEL channels in Telegram and Viber to keep up with the latest developments.