Trending:
Drone canoe successfully attacked Russian ships: what is known about the new development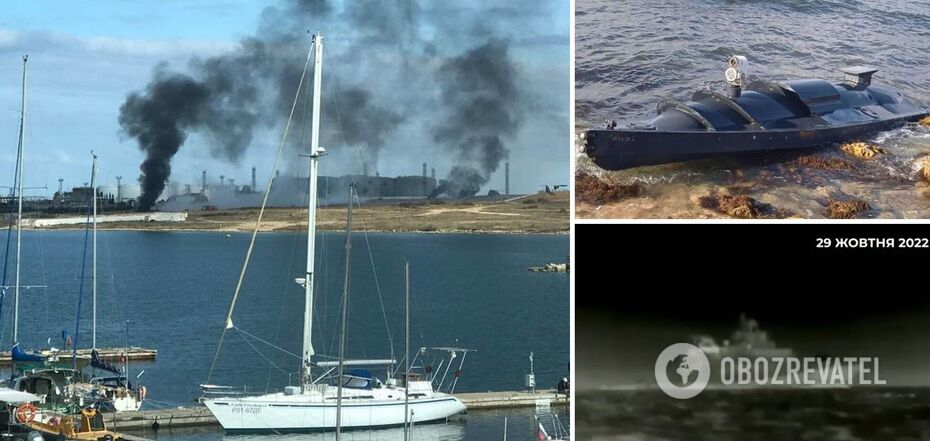 Attack on Russian ships in Sevastopol. Canoe drone
VZNSI: A drone canoe from the makers of borscht and Cossack seagulls
I grew up in the 90s and still had a lot of semi-militaristic clubs. I took aviamodelling classes and apart from gluing straw aeroplane models together with PVA glue, I was also building small rockets - nothing special, but that childish delight when a rocket goes off, flies somewhere, then landed with a parachute or not. Eh...
The following is the text in its original language.
But there was another circle I didn't get into - modeling ships. Those nifty replicas of auroras and all sorts of cruisers. How cool was that? To somehow reach the world of beauty, I used to read the old Soviet magazine Modelist-Konstruktor - the technical playbook of the Soviet schoolboy. Eh...
So, let's take a trip to Sevastopol. Let's take it by drone. As long as they do not give us long-range missiles we should use improvised methods to fight against "calibre" carriers. And in general we should demilitarise Crimea from the Russians.
Once every month or two, ours will organise some major operation in unexpected directions for the Russians. This time, drones flew into Sevastopol from the air again, diverting the air defence system and the city garrison, and canoe drones from the sea.
Once again the AFU have shown that they can easily penetrate the Russian air defence system, flying as far as Sevas - this is nothing new. If they also hit something, that's great.
But these drones-canoes are something new. Although, if I recall, there was some strange news back in August. Then, on September 21, a black canoe drone with a camera and a mysterious inscription "4 5 VZNSI" was thrown onto the seashore.
A month later, this particular drone is successfully attacking Russian ships in the Sevastopol raid. This time it even went so far as to release video from the drone's camera - the video is shaky, but it shows the nose of the drone and the sensor installed there + the distinctive two white rivets on the hull - the same drone that first appeared in September.
Sea kamikaze drones are not a new thing. If you don't have a fleet and the enemy does, you have to get out of it somehow. Except that before it was some civilian boats stuffed with explosives and directed by GPS to the detonation point. This Ukrainian development is somewhat different - special aerodynamic shape, small size, lots of auxiliary sensors, apparently electric engine, apparently controlled via Starlink. For a month the western media still have not found analogues of this drone-canoe among western armament, so most likely it is the work of former readers of magazines of the level of "Modelist-constructor ".
What's to be noted?
- A canoe drone can reach the bay of Sevastopol, which is a minimum of 300+ km
- the drone can select the target visually
- the drone manoeuvres
- the Russians have to deploy helicopters to fight against drones, which could have been deployed in the Kherson direction
- Russians have to withdraw ships from Sevastopol or else drone canoes will get to them sooner or later
- the Russians should not station submarines near Sevastopol in a surface position, because even a hit from such a small drone can take out a submarine for years of repair