Trending:
DNA from a plague that raged 4,000 years ago was found in Britain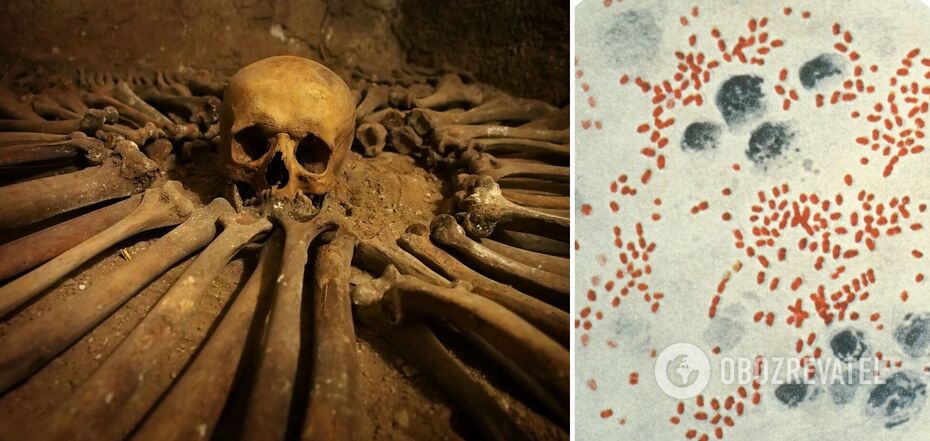 DNA from a strain of Yersinia pestis bacteria was found in the teeth of skeletons
Skeletons of people who lived 4,000 years ago and probably died as a result of the infamous "Black Death" have been discovered during archaeological investigations in Great Britain. Scientists were able to extract DNA from their teeth of a strain of plague bacteria.
This is stated in a study published in the journal Nature Communications. The strain of bacteria detected is different from the one that caused the terrible outbreak in Europe and the Middle East.
Two skeletons with plague were found in a mass grave at Charterhouse Warren in Somerset. Scientists were then able to determine that they were teenagers.
Their bodies were found where the bodies of 28 others had been buried. All showed signs of fatal injuries, indicating that the mass grave may have been used to bury bodies after a violent death. Whether their murders were linked to plague infection is unknown to scientists.
A third skeleton was found in Cumbria. It was possible to establish that it was a woman aged between 35 and 45 years. The exact cause of her death cannot be determined.
Scientists were able to isolate DNA from a strain of Yersinia pestis, which is different from the strain of the bacteria that caused the plague, which ravaged Europe and the Middle East for 500 years, claiming millions of lives.
The strain found is the oldest known case of Y.pestis infection known to scientists to have been found in Britain. Scientists suggest that the discovery of the strain indicates that the plague was spreading easily even before the mutations that contributed to recurrent outbreaks appeared in the 14th century.
The researchers hope that the discovery will help them better understand the spread and evolutionary changes of pathogens in the past. They will also be able to learn which genes may be important in the spread of infectious diseases.
The emergence and spread of plague remains a mystery to scientists, even though the history of the disease is fairly well known. Traces of plague have previously been found in Eurasia among specimens that are 5,000 years old.
The discovery suggests that the Y.pestis strain spread from continental Europe to the British Isles earlier than thought. Such an early and widespread geographic spread indicates that the pneumonic plague did not just spread far, but rather easily.
Further research may help to reveal the impact it had on mankind at that time.
Previously OBOZREVATEL also told that the glaciers of the Arctic are teeming with "zombie" bacteria.
Subscribe to the channels of OBOZREVATEL in Telegram and Viber to keep up with the latest developments.