Trending:
Chocolate-cherry cottage cheese Easter cake: how to make a tasty holiday treat in no time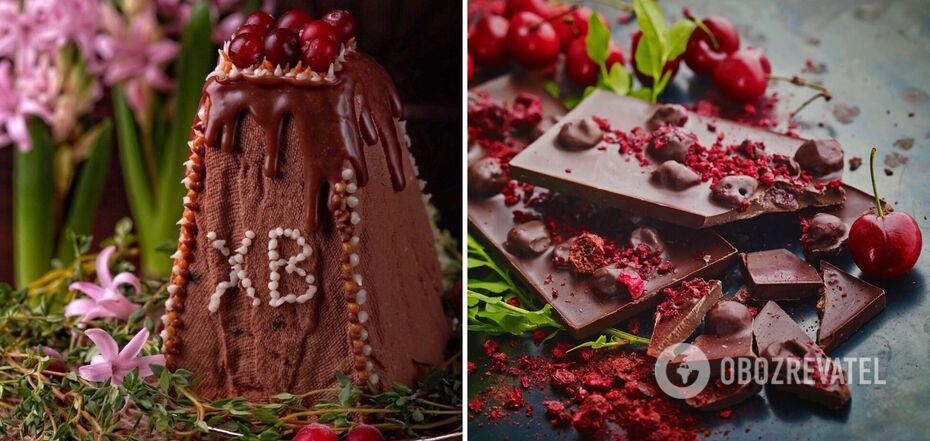 Easter cake recipe
The cottage cheese easter cake is the perfect Easter dish for those who don't eat baked goods. In addition, such pastries are almost always very tasty and successful. You can add fresh berries, dried fruit, nuts, fresh cherries and jam, chocolate, condensed milk, and salted caramel for a brighter flavor.
Culinarian Kristina shared a recipe on Instagram for a delicious chocolate-covered cottage cheese and cherry-filled Easter cake.
Ingredients:
Fat cottage cheese - 400 gr
Yolk - 2 pcs.
Butter - 40 gr
Sweetener - to taste
Milk chocolate - 100 g
Cream 33% - 120 gr
Filling:
Cherry - 200 gr
Corn starch - 1 tsp.
Sweetener - to taste
Chocolate - 15g
Method of preparation:
1. Combine the cottage cheese, yolks, butter and sweetener, beat with a blender and put on the fire. Heat constantly stirring until hot, but do not boil. Afterwards, beat again with a blender.
2 Add the chocolate to the hot curd, let it dissolve and beat again with a blender. Put it in a cold place so that the curd mass cools down.
3. Whip the cream to peaks and add to the curd mixture, mix very gently.
4. Transfer the cherries to a saucepan, add the starch, stir and place on the fire. Add the chocolate, stir until completely dissolved.
5. Cover the pastry mold with damp gauze in two layers. Place 2/3 of the cottage cheese, then the filling and the remaining cottage cheese. Cover the ends of the gauze and leave in the refrigerator for 24 hours, draining the whey periodically.
Take the finished Easter cake out of the mold, cut it up, and you're ready to serve!
Also on OBOZREVATEL reported how to make a delicious Easter cake "3 chocolate" at home.