Trending:
Alexei Moskalev, sentenced to 2 years for his daughter's anti-war drawing, detained in Belarus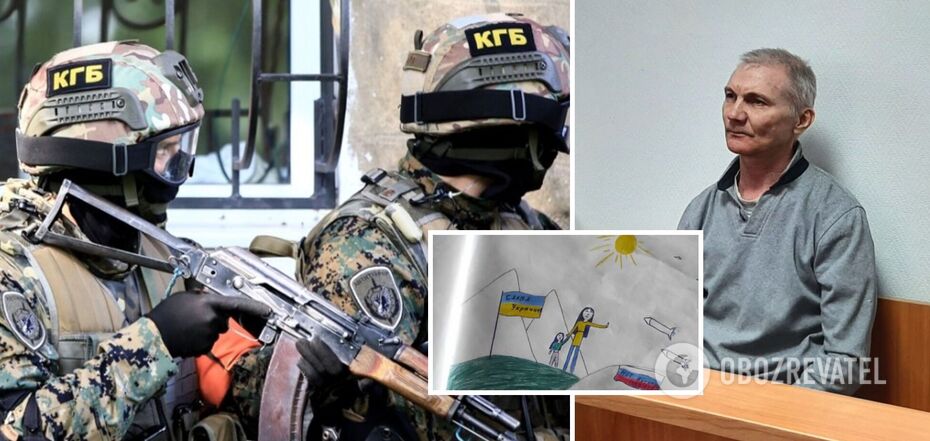 Russian convicted for anti-war drawing of daughter detained in Minsk
Russian citizen Alexei Moskalev, whose daughter Maria drew an anti-war drawing in school, failed to escape from the Putin regime. The man was detained in Minsk by the KGB of Belarus.
This was reported by Russian media. 53-year-old Alexei Moskalev, who has already been sentenced to two years for "discrediting the army", now faces a new trial for attempting to escape.
He is also likely to be tried for possession of weapons allegedly found during a search. It has become known that a criminal case was opened against Alexei Moskalev in Russia under the article on illegal handling of weapons. Back in the winter, during a search, an unregistered sawed-off shotgun, gunpowder and ammunition were allegedly found in his possession.
Moskalev's lawyer, Dmitriy Zakhvatov, spoke about his client's detention in Belarus. According to him, the KGB raided the apartment where Moskalev was staying.
The defence lawyer suggested that the operation to detain Moskalev was supervised by the Russian FSB, and that everything was agreed at the highest level. The lawyer also said that there is no contact with Alexei now.
"According to circumstantial evidence, the apartment where he was staying was raided, the apartment was smashed, he was dragged out and taken to an unknown destination. According to circumstantial evidence, it was the KGB of Belarus," - the lawyer said.
Propagandist Marina Ovsyannikova also commented on the detention of Alexei Moskalev in Belarus.
"There is no connection with Moskalev. Probably, he or someone who was with him violated the rules of digital security. The basic rule of escape is that you switch off your phone and remove the sim card. He did it too, but I don't know what went wrong," said Ovsyannikova.
The Belarusian Interior Ministry has already confirmed the detention. They stated that Moskalev was detained by police officers at the request of the Russian police.
Recall that the man is separated from his daughter. Sixth-grader Masha Moskaleva has been in a shelter for a month now, she is not allowed to communicate with her family, and on April 6, the court will consider the deprivation of the girl's father of parental rights.
As OBOZREVATEL previously reported:
Russian citizen Alexei Moskalev, whose daughter Maria drew an anti-war drawing in a school lesson, was sentenced to two years in prison. However, the defendant was not present at the announcement of the verdict: on the day of the hearing, he disappeared from house arrest.
On February 28, 2023, it became known that a case had been opened in Russia against the father of a girl who had drawn an anti-war drawing at school. On March 2, the man was detained. The girl was taken to an orphanage.
On March 3, Alexei Moskalev was placed under house arrest, where he waited for the trial, unable to see his daughter.
Only verified information in our Telegram channel Obozrevatel and Viber. Don't be fooled by fakes!