Trending:
A simple habit to help you live longer: do it every day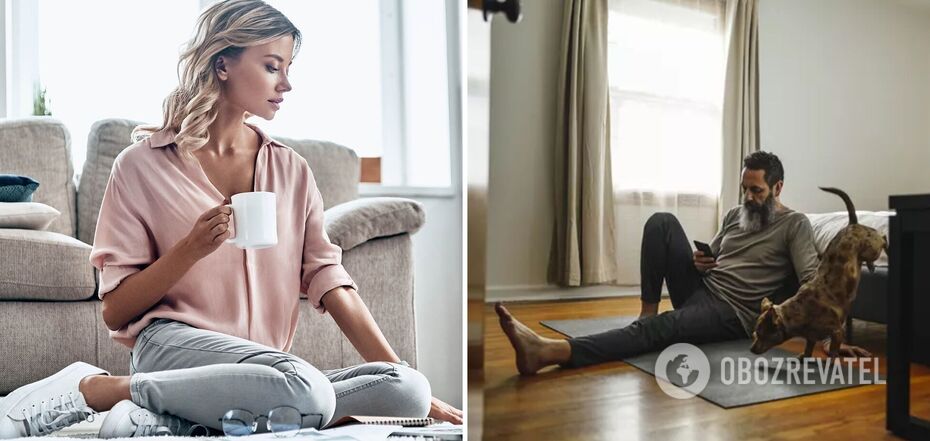 People who can sit on and get up from the floor in adulthood live longer lives
When furnishing a new dwelling, we always think about where to put a sofa and a comfortable chair. But these comfortable pieces of furniture for sitting do not bring as much benefit as the usual hard floor. Especially when it comes to older people.
As Live Strong writes, this is evidenced by the results of a study published in July 2014 in the European Journal of Preventive Cardiology. It turned out that the ability to get up from the floor is a predictor of longevity in people from 51 to 80 years old. The results of the study showed that those who had the most difficulty with this action were five to six times more likely to die during the period of observation of the researchers than those who could easily sit on the floor and get up from it.
In 2020, another team of researchers did a similar study and confirmed the preliminary findings. The habit of sitting on the floor proved to be very beneficial.
The reason is that how well you can move from standing to sitting and vice versa is a reflection of your overall health, fitness and body functionality. This was explained by Gbolahan Okubadejo, MD, a spinal and orthopedic surgeon in New York City.
He explained that sitting down on and getting up from the floor every day is a simple and effective way to maintain strength, performance and vitality as we age. And gave some explanations as to why it is so beneficial.
Better balance, stability and coordination
According to Dr. Okubadejo, something as simple as sitting down on the floor and then standing up can engage balance, stability and coordination of the entire body. Thus, the more you perform this exercise, the better your balance will be. This is especially important for people entering old age. They are prone to falls and related fractures, and a more balanced body can keep this from happening.
Greater mobility
The doctor also explained that moving to a sitting position on the floor engages the muscles surrounding several joints and body parts such as shoulders, elbows, wrists, hips, knees and feet. And this is able to improve their mobility. The joints remain able to perform a full range of motion, which is crucial to the ability to move fully. It can also help you avoid injuries and pain as you age.
Strong torso and legs
This exercise also strengthens the muscles of the body and legs, because they are also involved in the process of sitting on the floor. Therefore, the orthopedic doctor recommended repeating this exercise several times a day. In addition, in addition, lifting from the floor forces a person to perform movements similar to squats, which are considered one of the most useful exercises. So, when you regularly sit on the ground, you are essentially doing several repetitions of a lower body exercise throughout the day.
Healthy Posture
Sitting on the floor can help improve posture. And here we come back to balance. As you move from standing to sitting and back again, you must work your joints in a way that keeps your body balanced. According to the U.S. National Osteoporosis Foundation, proper body alignment has to do with how your head, shoulders, spine, hips, knees and ankles stack up against each other. Moreover, sitting on the floor encourages you to sit up straight instead of slouching - another factor in healthy aging.
How to sit properly on the floor for a healthy longevity
Of course, not all sitting on the floor is correct and beneficial. Dr. Okubadejo explained how to do it most effectively to maintain health.
Avoid slouching. When your back is in a bent position, it can put extra strain on your spinal discs and vertebrae. Sitting should be done so that the torso is tall and straight. The shoulder blades should be lowered and gently brought together.
Sit on a small pillow or towel. This will help avoid discomfort in the tailbone. It also allows for better alignment of the pelvis in relation to the spine.
Move your legs. Any position, even the most correct one, can become a problem if you stay in it for too long. Try sitting cross-legged at first, then extend your legs straight out in front of you, and even later bend your knees with your feet on the floor. Or perform these movements in any other order. This will avoid the feeling of discomfort.
Earlier OBOZREVATEL told how scientists found a mixture of bacteria and viruses in the human body, how to help achieve longevity.
Subscribe to OBOZREVATEL channels in Telegram, Viber and Threads to keep up to date.