Trending:
10 Top Mistakes of Tourists Visiting Rome for the First Time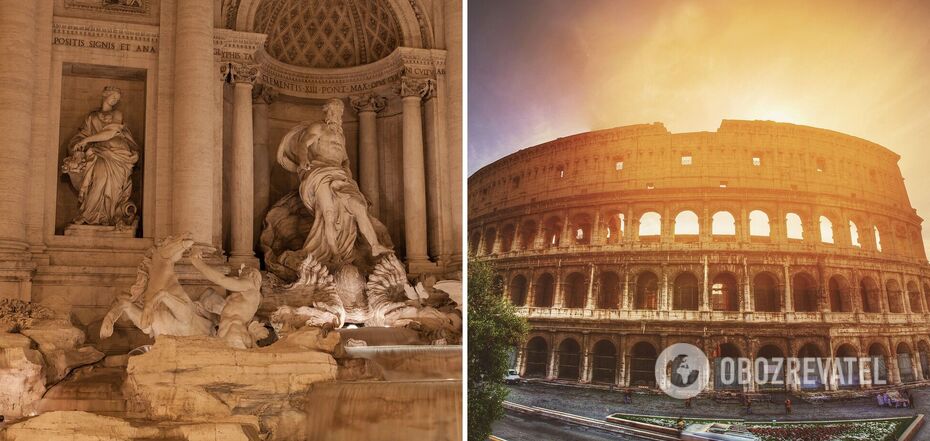 What you need to know before you go to Rome
Rome is one of the most popular tourist destinations in Europe, which is located in the historical center of Italy. However, when visiting this beautiful city, foreigners often make various unfortunate mistakes that can spoil their impression of the trip. Read more about each of them in the selection of OBOZREVATEL.
The first mistake
Many tourists try to visit all popular places in one or two days. Rome is a large city with many interesting locations and historical sites, and it is not worth trying to visit them all in a short period of time. It is recommended to plan your itinerary and distribute all excursions over several days to have enough time to enjoy the trip.
The second mistake
Some tourists try so hard to visit every possible attraction that they forget about relaxation. Although Rome is a city where there is always something to do or see, it is important to find time for peace and relaxation. Visiting restaurants and cafes, walking in parks and through local markets is a great way to enjoy Italian culture and sate your emotions.
The third mistake
It is allowed even by experienced tourists. This misconception applies to clothing. Locals are well aware that you may not know all the rules, but you must respect at least the basic cultural traditions. In particular, you should not come to temples or museums in short shorts and beach shoes, you should choose a more discreet image.
The fourth mistake
Many tourists forget about their own safety when they come to Rome. It seems that nothing bad can happen in this beautiful city. But, unfortunately, thefts often occur here. So do not carry money and valuables, as well as leave bags unattended. At the same time we advise you to ask in advance how the locals dress, so as to attract less attention of pickpockets hunting foreigners.
The fifth mistake
Eating only in tourist establishments is the most common mistake foreigners make. Italy is famous for its incredible cuisine, but you can enjoy it fully only in small restaurants and pizzerias, which are chosen by locals. It should be noted that not all of them are available to foreigners, some you can get into only by recommendation.
The sixth mistake
It is not advisable to choose summer, especially August. During this time in Italy is so hot that most businesses stop the work of their companies and industries. Yes, and the crowds of tourists during this period will make you spend your vacation in constant queues. The best time to travel to Rome are September, October and the winter months after the Christmas holidays.
The seventh mistake
Many foreigners who believe in local legends try to climb into the Trevi Fountain. It is said that the water here is curative and can give you eternal youth. But unfortunately, after such adventures tourists get only a huge fine and problems with law enforcement. In addition, bathing in fountains can pick up fungus and other unpleasant diseases.
The eighth mistake
Not all tourists know that standing for hours in kilometer-long lines in Rome is not necessary. Italians have long run online sales of tickets to almost all popular museums. And on their official websites there is an opening schedule and hours when you can go inside for free. But it is worth noting that, although you will not stand at the ticket office, but before entering you still have to spend some time waiting until you are allowed inside.
The ninth mistake
The biggest mistake tourists make in Europe is to assume that everyone knows English. Locals will disappoint you in this matter. So do not be lazy and learn a few phrases in Italian, it will come in handy. Or at least always carry a phone with Internet access, so you can use an interpreter at any time.
The tenth mistake
Most foreigners see only the most popular attractions in Rome. But if you step away from the guidebooks just a little bit, you can immerse yourself in the authentic Italian atmosphere. We advise not to stop at the city center, and walk through other, no less interesting areas.
When visiting Rome, it is important to remember that this city has its own traditions, culture and rules. Following them, you will be able to fully enjoy your trip and keep only pleasant impressions.
Previously OBOZREVATEL told about what surprises tourists in Italy.
Only verified information in our Telegram channel Obozrevatel and Viber. Do not be fooled by fakes!