Trending:
What to make with peaches: salad, cocktail and dessert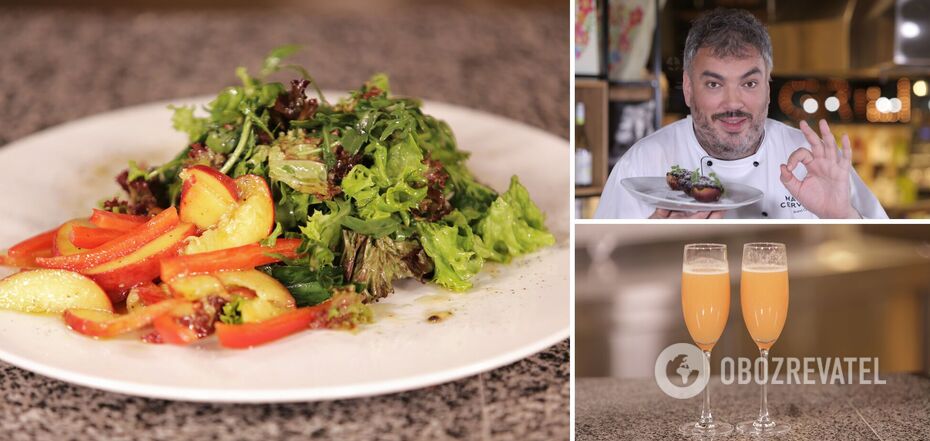 What to make with peaches: salad, cocktail and dessert
Three recipes for delicious dishes with peaches.
Stuffed peaches
Ingredients:
● Peaches - 640 g
● Almond biscuits - 120-150 g
● Walnuts - 100-120 g
● Cocoa powder - 30-40 g
● Sugar - 25 g
● Butter - 75 g
● Mint and powdered sugar for decoration - 2/2 g
How to prepare:
1. Wash and dry the peaches. Cut each peach in half and remove the seed. Remove the pulp with a teaspoon and transfer to a separate bowl. Add baking powder.
2. Crash walnuts and add to the filling. Add sugar and cocoa powder. Stir vigorously.
3. Spoon the filling into each peach half. Place the peaches in a dish mold lined with baking parchment and place in an oven roasted to 180° for 20 minutes. Decorate the peaches with powdered sugar and a leaf of fresh mint.
Paradise salad with peaches
Ingredients:
Peaches - 1 pc
Bell pepper - 50 g
Basil - 3 g
Arugula - 15 g
Parsley - 3 g
Salad mix - 100 g
Lemon - 1 pc
Olive oil - 50 g
Salt - 1 g
Pepper - 0.5 g
How to prepare:
Remove the seeds from the peaches and cut the halves into thin slices.
Peel the bell peppers and then cut them into thin slices.
Place peppers and peaches in a separate bowl, salt, pepper and add olive oil and juice of half a lemon. Stir and leave to marinate.
Tear arugula, basil and lettuce with your hands. Drizzle the juice of the other half of the lemon over all the greens, salt, add a little olive oil and stir.
Place the seasoned herbs on a plate. Top with the peaches and peppers. If necessary, pepper them.
Bellini cocktail
Bellini was created by Giuseppe Cipriani in Venice in the first half of the twentieth century. He used a special variety of peaches with a soft white center. The drink had a very colorful and delicate color. Giuseppe decided to name the cocktail after the famous artist Giovanni Bellini, whose paintings had the same creamy color.
Ingredients:
Sparkling dry wine (Prosecco) - 100 ml
Peach puree - 50 ml
Raspberry syrup
How to prepare:
Peel the peaches: remove the seed, peel the skin. Put them in a blender and puree them. Process it.
Add a little raspberry syrup or juice to the puree so that the color of the puree becomes tender-rosy.
Add wine, stir carefully and pour the cocktail into high glasses.