Trending:
Street food in Ukrainian: where to taste shawarma, doner, hot dogs, pizza, burgers, croissants and fries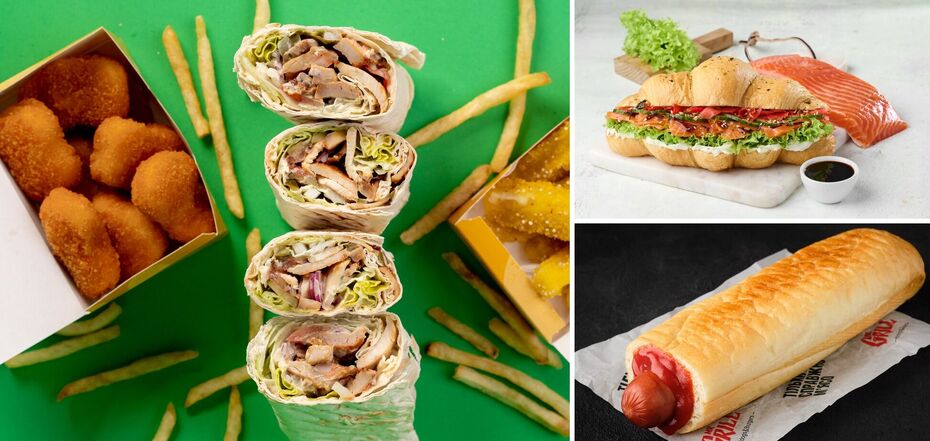 Street food in Ukrainian: where to taste shawarma, doner, hot dogs, pizza, burgers, croissants and fries
Having a hot dog for breakfast on the way to work, going out for shawarma with your colleagues for lunch, and feeding your family a delicious pizza in the evening is a great plan that will save you a lot of energy at least once or twice a week. Moreover, over the past ten years, street food has become not only safer, but also tastier, because you have to admit that high-quality meat and vegetables taste better.
So, where to eat shawarma, hot dogs, pizza, burgers, croissants, and fries - we found out in the partner material of Obozrevatel.
Shawarma from Döner Market
What's on the menu: shawarma and doners, fries, nuggets, chicken wings
Where to try: more than 150 outlets all over Ukraine (find the nearest one here)
Editorial recommendation: specialty shawarma with chicken, doner with beef and chicken wings in APERO BBQ marinade
Shawarma is an Arabic and Middle Eastern appetizer, and doner is from Turkey. They are united by the way meat is cooked - it is fried on a vertical spit. Shawarma is traditionally wrapped in pita bread, while doner is served in a bun with a minimum of vegetables and sauces so that nothing distracts from the taste of good meat.
Once upon a time, they were cooked in suspicious-looking stalls and with equally suspicious-looking ingredients. But those days are over, and shawarma has become a delicious and safe street food. Moreover, it is now even served in restaurants (some even with a sheet of edible gold).
Despite the fact that shawarma can be bought on almost every corner, it is still worth choosing it responsibly. The Döner Market chain, which is being developed by MHP and its franchise partners, carefully monitors the quality of raw materials, transportation and storage conditions. Nasha Ryaba chicken and Skott Smeat beef are used for cooking. Sauces are also developed by MHP technologists. Other suppliers are carefully checked. Safe shawarma is the company's main feature.
"We have auditors and mystery shoppers. The former check for compliance with quality standards, storage conditions, etc., while the latter check for service. I also have my own team of chefs who travel all over the country and train people, help open new outlets and improve existing ones. On average, they cover 5-7 thousand kilometers in a month. Recently, we recorded video tutorials for chefs and even made tests for them to track gaps in their knowledge in this way," says Andriy Denysiuk, MHP's brand chef of street food.
Shawarma is served in pita bread, and doner is served in Turkish style, in a bun. In addition to meat, there are fresh vegetables, pickled onions, cucumbers, and special sauce inside. There are variations without onions, as well as with falafel instead of meat. You can also order the filling without a bun or pita bread - in a bowl format. All outlets use the same industrialized ingredients, so the taste of shawarma in Kyiv, Lviv, Zaporizhzhia, or any other city will be identical.
"One of the important components of shawarma or doner taste is the sauce. We use only fresh ingredients to make it. We can afford it thanks to the cold pasteurization technology. With this technology, we create a sauce without adding preservatives that can be stored and not lose its taste for 75 days. For comparison, a sauce made without this technology lasts an average of 12 hours," explains Andrii.
The first Döner Market appeared in Kyiv in 2020. Now there are 159 outlets in 20 regions of Ukraine. Their largest concentration is in Kyiv and the region, but Döner Market shawarma can be bought even in the small town of Vylok in Zakarpattia, where 3,500 people live. Some outlets operate even in frontline areas.
In addition to the actual café format with seats, there are also outlets in food courts in shopping centers, corners next to Meat Markets, compact to-go outlets, and a mobile Döner Track. The largest Döner Market operates in Zaporizhzhia, with an area of 200 square meters, and the smallest in Chernihiv, with a space of only 6 square meters.
Hot dog from Mr. Grill
What's on the menu: French and classic American hot dogs with more than 20 types of sausages and sausages
Where to try: more than 10 thousand partners all over Ukraine (about 2000 gas stations and more than 7000 retail outlets)
Editorial recommendation: French hot dog with a white bun, the very first Premiere milk sausage and a mix of three sauces; hot dog with Bavarian sausage in a dark bun
The crispy bun, which is comfortable to hold in your hands, together with the meat sausage, once revolutionized the filling station. The French hot dog kept its shape and was easy to eat on the go or while driving. It was also very tasty and satisfying. It is not surprising that over time, people began to stop at gas stations specifically for them.
Vitaliy Voitovich and his Premier FOOD Group are behind this story. In 2007, they began to change the way Ukrainians thought about a typical hot dog, which was usually made from cheap raw materials of dubious quality. And judging by the current scale, they have succeeded. Today, Mr. Grill hot dogs are available at about 2,000 gas stations - OKKO, KLO, BRSM, UPG, SHELL, ANP, SOKAR - and more than 7,000 retail outlets (cafes, coffee shops, convenience stores). Moreover, they are even available on Intercity trains and in cinemas.
In the very center of the capital, on Khreshchatyk, there is a branded hot dog bar called Mr. Grill Hotdogs & Burgers. Mr.Grill sausages and frankfurters are also available in national supermarket chains, and recently even in some gas stations. In total, up to 10 million hot dogs are sold per month.
"Nowadays, Ukrainians buy our hot dogs much more often - more than four times a month. What is the secret? Premier FOOD Group makes sausages and sausages at its own full-cycle production facility. Fresh meat from the deboning shop goes straight to the line. The finished products are shock frozen. This way it can be stored for a long time without adding preservatives.
But the most important feature is a special grilling technology, thanks to which sausages and sausages retain their freshness and look appetizing for 4 hours on the grill," says Natalia Kudelska, Production Director.
The products are developed by Premier FOOD Group technologists in their own R&D hub. The team is constantly working on innovations - researching global trends, taking into account the tastes and preferences of consumers.
"We currently have more than 500 unique recipes. Our production is certified according to European ISO standards and operates in accordance with the HACCP system. The main principle of Premier FOOD Group is to produce a product that is safe for our children to eat," adds Natalia.
Croissants from Lviv Croissants
What's on the menu: large croissants with salty and sweet fillings, broth
Where to try: more than 150 outletsin Ukraine and Poland
Editorial recommendation: Double cheeseburger, Galician and almond cream croissants
The croissant is known as a symbol of French cuisine, but it wasn't exactly invented by the French. Rather, they improved it and made it famous all over the world. Some people attribute its creation to the Austrians, while others say it was Muslims, because the crescent shape of the croissant is a symbol of Islam. In the Ukrainian tradition, there are bagels, similarly twisted products, but made of a different dough, not puff pastry.
Lviv Croissants was born out of a mistake. The founder of Lviv Croissants, Andriy Halytskyi, used to develop another chain of restaurants and test semi-finished croissants for it. The latter were forgotten on the stove, and when they remembered them, they were already the size of a Sykhiv loaf. All that was left was to fill them, and the croissant we know today was born. And which even Angelina Jolie tasted during her visit to Ukraine.
The first Lviv Croissants opened in 2015 in Lviv. It was a small cafe with an area of 14 square meters and a dozen croissants on the menu. Nowadays, the chain's outlets offer croissants with beef cutlet and toasted cheese, salami and scrambled eggs, prosciutto and even salmon. The company has significantly expanded its assortment, has its own production and is developing a franchise.
"New recipes are developed by the technological department. A lot of our employees taste them. This is how we take into account different opinions and taste preferences. There are flavors that take almost a year to create, and sometimes everything comes together the first time.
We control the quality of the final product throughout its entire journey - from raw materials to the guest's plate. Initially, control takes place at the manufacturer's production facilities. The main criteria for cooperation with the Lviv Croissants chain are the HACCP quality certificate and logistics throughout Ukraine. This way, we will understand that the product that gets to the bakery meets the quality standards we have declared.
Control at the outlets is carried out through the chain's standards: checklists, technical storage standards within the bakery, etc. We regularly train employees on sanitation and hygiene standards. Also, the central office has the right to conduct audits at all levels of work with outlets to anticipate problems before they arise.
The last stage of control is the work of mystery shoppers and guest feedback," says Oleg Bilyk, Lviv Croissants' leading technologist.
Pizza from Pizza Celentano
What's on the menu: about 20 types of pizza, pasta, salads, hot dishes
Where to try it: 46 outlets in Ukrainian cities, 18 of them are in the Ristorante format
Editor's recommendation: Bianco Verde pizza with green sauce, mozzarella and prosciutto and Palermo pizza with three types of meat, mushrooms and olives
Flat cakes were eaten in ancient Greece, where they were greased with olive oil, sprinkled with onions and herbs, and sometimes sheep cheese was added. However, the modern look of pizza was given in the Italian city of Naples. It was originally called the "poor man's cake": the dough was greased with lard or butter, sprinkled with garlic and cheese, and baked like that.
Then they came up with the idea of cutting pizza into triangular slices and started selling it on the street. However, there was no single recipe - everyone cooked it as best they could. In general, there are almost as many theories about the origin of pizza as there are recipes. Celentano came up with the idea of creating their own composition of ingredients in Ukraine - the so-called pizza designer.
The first restaurant of the chain was opened in 1998 in Lviv. It was opened by entrepreneur Mark Zarkhin and his friends. The following year, a second restaurant appeared, and then the project began to develop as a franchise. The 100th anniversary restaurant was opened in Kyiv in 2007. Green walls, bright design, and fast service have long been associated with the chain, but it's impossible to exist on the market for so long without changes. The company underwent a complete rebranding, closed some of its establishments, and almost like a phoenix, it was reborn with a new format - a family restaurant with affordable prices and a more restrained, though still bright interior. Pizza Celentano even jokes that some of its customers have grown up with them and former students now bring their children to master classes.
The menu now includes more than 20 types of pizza, with seasonal novelties appearing regularly. In addition, the restaurants offer their own pasta, salads, burgers, soups, and much more.
"We want to create authentic Italian pizza, but at the same time not forget about Ukrainian tastes. Therefore, we import some ingredients from Italy and buy some in Ukraine. For example, we import Italian flour. It is used in all restaurants of the chain, it is a systemically important product. We also bring tomatoes from the famous Mutti brand from Italy - they have a sweetish taste and are great for sauce. Prosciutto and salami are also from there. Cheeses, on the other hand, are Ukrainian.
All suppliers are checked personally by me and my team, and the quality of products is also controlled by sous chefs in the restaurants on site.
We update the seasonal menu four times a year. As a brand chef, I follow global and local trends. This inspires me in my work. My goal is for guests to get more than they expected," comments Dmitry Novakov, brand chef of Pizza Celentano.
Burger from Burger Farm
What's on the menu: burgers, salads, bowls, snacks
Where to try: in Kyiv at the following locations.56, 19 Mezhyhirska St., and 14B Kniazhyi Zaton St.
Editor's recommendation: "Well-fed farmer" with egg, bacon, cheddar cheese, sweet onions and tomato, which has been cooked here for 10 years
It would seem that there is nothing new to tell about a burger. It is a traditional American dish, a symbol of the country along with jeans and Coca-Cola. But is this dish really as American as we used to think? And what does the German city of Hamburg, which gave this dish its name, have to do with it? There are several versions of the origin. Some people consider the first burger to be the food of the Mongolian army - they used to put meat under the saddle during campaigns and it would bounce back well while riding. Others say that the idea of the burger was brought from Asia by a German merchant. Whatever the case, the patty between the halves of a bun soon appeared in America, from where it spread to the rest of the world.
Burger Farm was one of the first burgers to be made in Kyiv. The first outlet opened back in 2013 in a small space in a former tram control room on Lvivska Square. It was opened by a part of the team from the Fazenda bar, which was located on the floor above. They worked there for two years, and when the lease was not renewed, they found a new place. The next Burger Farm appeared near the Circus, on Shevchenko Street, and is still operating there today. Two more establishments operate in the corner format in Konteyner bars in Podil and Osokorky.
There are more than 10 burgers on the main menu. There are both classic variations and burgers with falafel or a vegetable meat substitute. Unusual ingredients include apple, pumpkin, macaroni and cheese, or deep-fried mozzarella (yes, it's all inside the burger).
"No matter how many locations we have changed and how many years have passed, our concept remains stable. We make honest burgers for an honest price. This applies primarily to the ingredients. We make minced meat for the patties ourselves every day and use halal beef. We make our own sauces. Soon we will launch our own smokehouse again. We just don't grow our own vegetables yet," jokes Maksym, one of the founders.
At the same time, Burger Farm is quite conservative - the team does not make seasonal menus.
"We have dishes that have been with us for 10 years. For example, our flagship, the Well-Fed Farmer. It's a classic burger with nothing supernatural about it. But we keep this taste and haven't changed the recipe since the first restaurant opened. Or the Chickenburger, which we initially removed from the menu because it was not always possible to find fresh, tasty pumpkin for it. However, two years later, we had to bring it back at the request of our guests, because they are our main value," adds Maksym.
French fries by Kartofan
What's on the menu: French fries , hot dogs, onion rings, chicken nuggets, churros, etc.
Where to try: there are10 outlets in Kyiv
Editor's recommendation: French fries with sauce according to your mood, sweet churros for dessert
French fries are usually perceived as an addition to the main dish. Traditionally, they are served with burgers. However, they are also worthy of attention on their own - especially if you top them with fried bacon and onions.
The French and Belgians are competing for the right to be called the author of deep-fried potatoes. Sometimes the Spaniards also enter the arena - thanks to their favorable geographical location, they had every chance to be the first to get potatoes, as this vegetable first came to Europe from the New World (modern America and Australia).
In Ukraine, potatoes have been elevated to the level of a separate dish in the KARTOFAN chain. The first outlet appeared in 2017 in Kyiv. It quickly paid for itself, so the owners, inspired by their success, opened four more outlets within a year. Currently, there are 10 outlets in Kyiv, some of which are franchised. Several outlets are in the process of opening, and KARTOFAN is also preparing to open in a cafe format.
The chain pays special attention to the choice of raw materials.
"We tasted more than 30 different types of potatoes, and we couldn't find the one that would meet all our requirements. Then we met with the leading agronomist of the Lamb Weston plant (one of the leading producers of French fries in Europe - ed.) He told us at length how many different varieties of potatoes his company had been growing for several decades to find the perfect option for making fries. In the end, they chose a Class A product. At the production site, it undergoes additional processing - spraying starch on the already prepared potatoes. Thanks to this, the potatoes have a crispy crust and allow the dish to stay hot longer when already cooked," says Andrii Zlunitsyn, Development Director of the KARTOFAN franchise network.
The potatoes are served in a special laminated bag that is impervious to fat. In addition, sauces are offered, there are more than 20 to choose from: curry-pineapple, mango-chili, tartar, cheese, sweet and sour, garlic-olive, etc.
Enjoy!