Trending:
Charlotte, croissant and crostata: three easy recipes for baking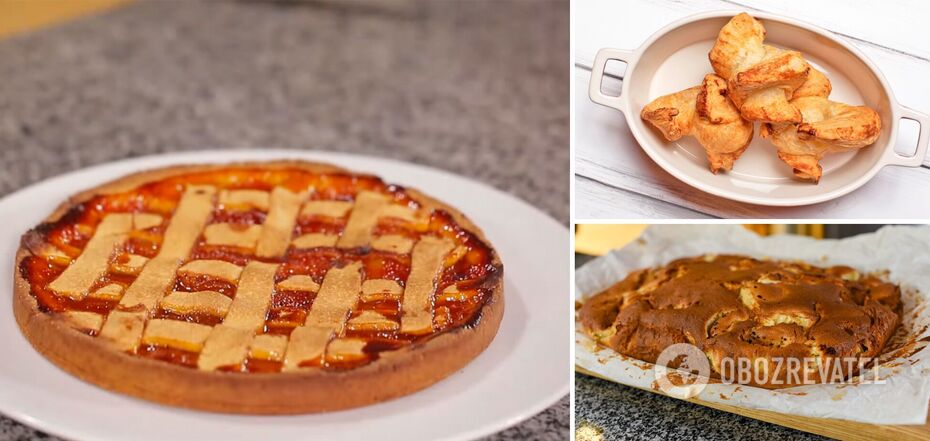 Charlotte, croissant and crostata: three easy recipes for baking
I'm sharing three recipes for my favorite fall pastries. Charlotte with apples, crostata with jam, and cinnamon rolls.
All dishes are very quick and easy to prepare, but taste great.
Charlotte with apples
Ingredients:
Eggs - 3 pcs.
Sugar - 250 g
Butter - 150 g
Flour - 400 g
Baking powder - 1 package
Apples (preferably hard and sour) - 1 kg
Milk - 100 g
Powdered sugar
How to cook:
Mix eggs and sugar, beat with a mixer, add flour and beat again.
Melt butter, cool it down a bit and pour it into the batter. Mix with a blender until smooth.
Add milk, mix again, add baking powder and mix one last time. The batter is ready.
Add sliced apples and mix with a spoon.
Take a baking dish and cover it with baking parchment. Pour the batter into the mold and put it in the oven preheated to 180 C° for 35-40 minutes.
Cool the cake, cut into rectangles, and sprinkle with powdered sugar.
Video recipe:
Crostata pie
Ingredients:
Flour - 600 g
Egg yolks - 6 pcs
Apricot or quince jam - 250-300 g
Butter - 200 g
Sugar - 300 g
Salt - 1-2 g to taste
How to cook:
Mix egg yolks with sugar. But don't beat ir with a mixer: we don't need excess air for shortbread dough.
Add flour and salt, knead the dough with your hands, and then add soft butter at room temperature.
Knead the dough again, form it into a ball, cover with plastic wrap and refrigerate for an hour.
Take the dough out of the fridge and divide it in half. Place one part on a table sprinkled with flour and roll out the dough with a rolling pin to fit the mold. For example, put the mold on the dough upside down, and cut out a circle, the bottom of the crostini. Put this circle in the mold, greased with butter. Cut off more dough, form "sausages" from it and line the sides of the crostini with them, one and a half centimeters high.
Now pour the jam over the dough.
Use the rest of the dough to make strips of the same width and place them on top in a crosswise pattern. Put the crostata in a preheated to 180°C oven for half an hour.
Allow the crostata to cool: it will cut well and not crumble.
Video recipe:
Croissant with cinnamon
Ingredients:
Butter - 50 g
Maple syrup - 20 g
Cinnamon - 0.5 g
Puff pastry - 500 g
How to cook:
Melt butter in a small saucepan, add maple syrup and cinnamon. Stir and set aside.
Unroll the thawed puff pastry and cut into strips along the fold lines. Lay the strips on top of each other and roll them with a rolling pin to combine them. Fold in half and roll again. Repeat this several times to form the layers of the croissant. Then roll the dough into a rectangle. If it is irregular, cut off the edges so that it is flat.
Now cut the dough into future croissants, triangles. For each of them, stretch out the two corners that form the base of each triangle.
Brush each triangle with a mixture of butter, syrup, and cinnamon and roll it up from the base of the triangle to the top. Place the croissants on a baking sheet with parchment, and brush each croissant with butter again.
Put the croissants in the oven preheated to 180° for 10-15 minutes.
Video recipe: