Trending:
Z-s, grannies, and cossack "heroes": Babkina gave the occupiers a ridiculous concert and parting advice on how not to die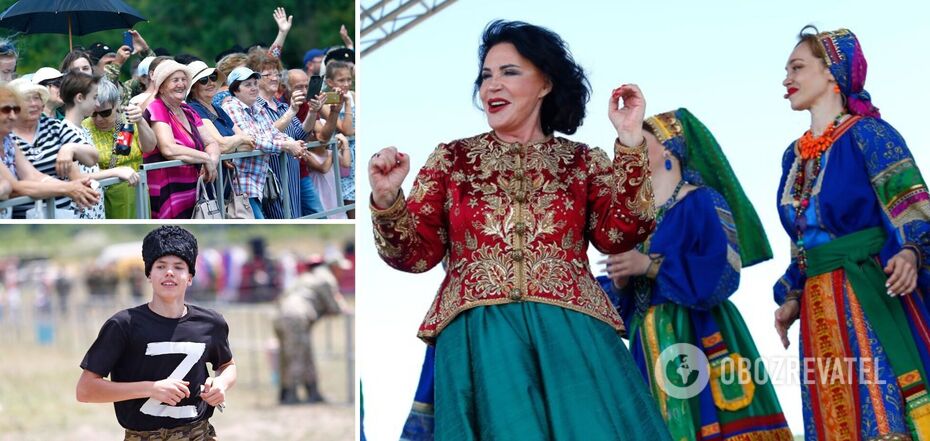 Babkina gave a propaganda concert to the occupiers
Famous Russian singer Nadezhda Babkina, who stubbornly supports the bloody terrorist regime of dictator Putin, gave the occupying cossacks a ludicrous concert. She danced and sang in front of the terrorists and finally gave advice on how not to die at the front in Ukraine.
This circus was attended not only by the military of the terrorist country, but also by Putin's target audience - "zazombified" pensioners. The photos were shared by Russian propagandists, who were called to broadcast the event for the people (scroll to the bottom of the page to see the pictures).
As noted, Babkina showed up at the "volunteer cossacks" to support them and inspire them to kill Ukrainians. The occupants were called heroes and showed them a "patriotic" concert, with dancers in national costumes and a Putinist in the title role.
The event was also accompanied by the Rascist Z symbol on her clothes and speeches to the occupiers, who are sent from the landfill to terrorize Ukrainians. Babkina not only praised the murderers, but also advised them to "take care of themselves" so that they would not die quickly.
"Kuban cossacks successfully fight at the front, are the guards of the state, and serve faithfully. They pass on this glorious tradition from generation to generation. To me you are winners, heroes who know what they are fighting for. Cossacks have it in their blood to defend their great motherland to the end. The most important thing is to take care of yourselves, don't forget about the value of your lives," the singer said.
She also dreamed of a Russian victory in the war, although she knows for sure that the Ukrainians are not waiting for the Russians. She herself said this in an interview, when she brazenly called the destruction of Mariupol "a nuisance."
As OBOZREVATEL wrote, earlier Babkina described her only visit to Mariupol, where she posed, smiling, in front of the Drama Theater, on which Russian pilots dropped a bomb on March 16.
Only verified information in our Telegram channel Obozrevatel and in Viber. Do not be fooled by fakes!