Trending:
"Who caught that treasure?" The network noticed that Serdyuchka "lost" her shoe after her performance in the Eurovision 2023 finals. Video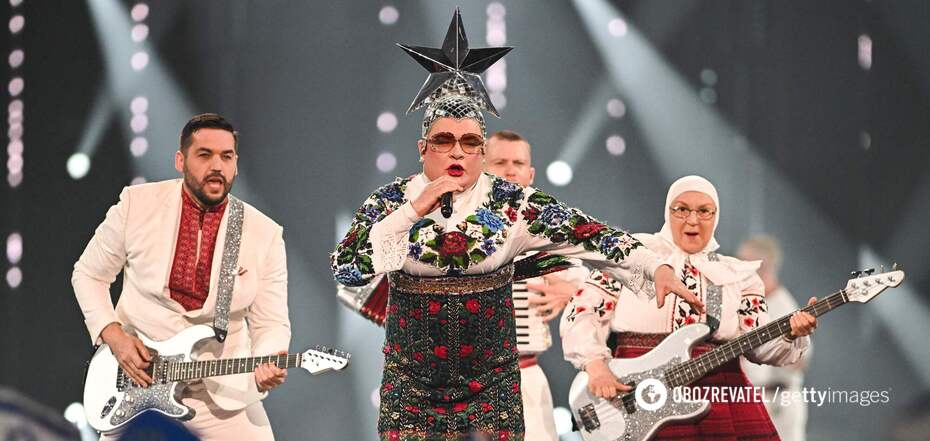 Verka Serdyuchka "lost" her shoe after her performance at the Eurovision 2023 finals
The main favorite of eurofans and not only Verka Serdyuchka performed on behalf of Ukraine at the grand finale of Eurovision-2023, which was held on May 13 in Liverpool. The celebrity sang a fragment of the legendary hit Lasha Tumbai with her stage mom and show ballet during the presentation of all the contestants. However, the performance ended with an amusing embarrassment for the artist, whose image is embodied by Andrey Danilko.
Serdyuchka, while waving her arms and legs, a shoe flew off and went into the hall. The incident was noticed by TikTok users (scroll to the end of the page to see it) .
Interestingly, few people noticed this nuance while watching the live broadcast, and even if they did, they thought they were imagining it. Internet users wrote about it in the comments under the video. The users believe that there is nothing unusual in such an embarrassment, if it happened to Serdyuchka - a shoe flying through half of the audience, which accidentally flew off her foot because of expressive dancing, is quite in her style.
Meanwhile, hilarious comments gathered under the video. The Ukrainian star has already managed to call the new Cinderella. Also, network users are worried about the main question - who is the "prince" who found the slipper of "Cinderella", or rather caught in the crowd of wound up fans.
"Confess who caught Serdyuchka's slipper", "It's an Anti-aircraft warfare in Ternopil", "Who caught this treasure?", "New Cinderella story", "I thought I was imagining it", "How I laugh from this moment", "Who caught it, he must marry", "Serdyuchka - super", - commented the audience.
It should be noted that OBOZREVATEL conducted a text online broadcast of the final of Eurovision-2023. All the key events of the broadcast are in our material.
We also told:
- What place at Eurovision-2023 Ukraine took.
- What Loreen's winning song is about and why she was accused of plagiarism.
- How viewers voted and why their votes changed the standings.
- Who gave Ukraine 12 points, and who was given the highest score by our national jury.
Only verified information on our Telegram-channel Obozrevatel and Viber. Do not be fooled by fakes!